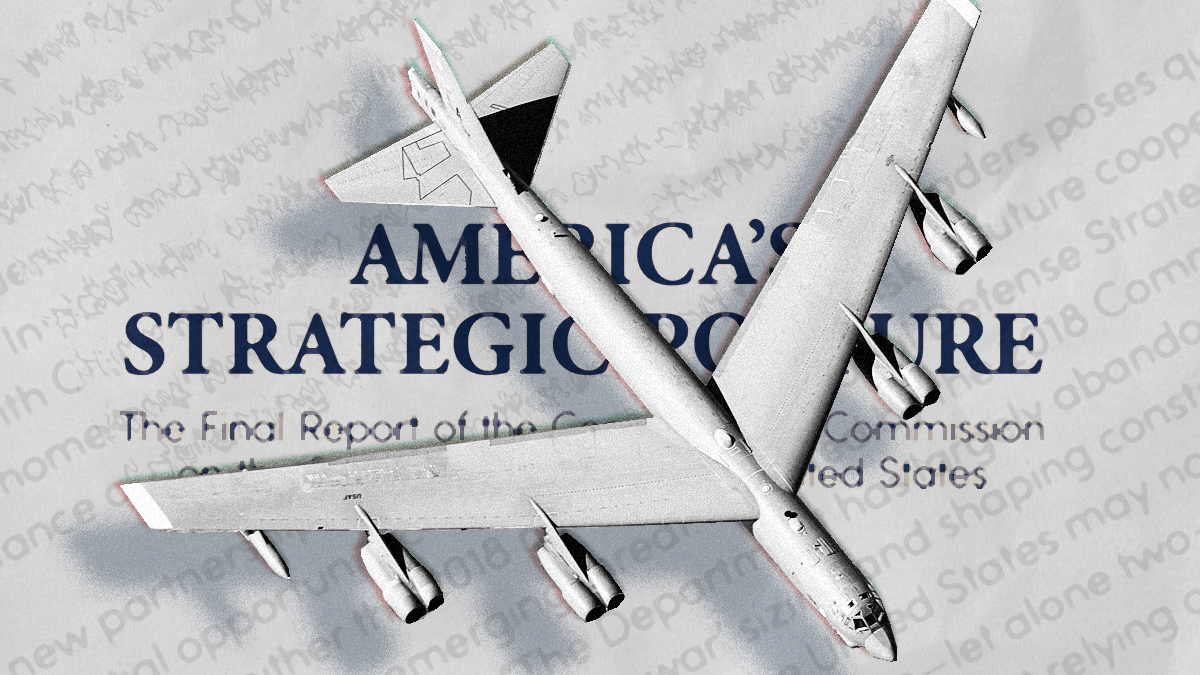 Strategic Posture Commission Report Calls for Broad Nuclear Buildup
On October 12th, the Strategic Posture Commission released its long-awaited report on U.S. nuclear policy and strategic stability. The 12-member Commission was hand-picked by Congress in 2022 to conduct a threat assessment, consider alterations to U.S. force posture, and provide recommendations.
In contrast to the Biden administration's Nuclear Posture Review, the Congressionally-mandated Strategic Posture Commission report is a full-throated embrace of a U.S. nuclear build-up.
It includes recommendations for the United States to prepare to increase its number of deployed warheads, as well as increasing its production of bombers, air-launched cruise missiles, ballistic missile submarines, non-strategic nuclear forces, and warhead production capacity. It also calls for the United States to deploy multiple warheads on land-based intercontinental ballistic missiles (ICBMs) and consider adding road-mobile ICBMs to its arsenal.
The only thing that appears to have prevented the Commission from recommending an immediate increase of the U.S. nuclear weapons stockpile is that the weapons production complex currently does not have the capacity to do so.
The Commission's embrace of a U.S. nuclear buildup ignores the consequences of a likely arms race with Russia and China (in fact, the Commission doesn't even consider this or suggest other steps than a buildup to try to address the problem). If the United States responds to the Chinese buildup by increasing its own deployed warheads and launchers, Russia would most likely respond by increasing its deployed warheads and launchers. That would increase the nuclear threat against the United States and its allies. China, who has already decided that it needs more nuclear weapons to stand up to the existing U.S. force level (and those of Russia and India), might well respond to the U.S and Russian increases by increasing its own arsenal even further. That would put the United States back to where it started, feeling insufficient and facing increased nuclear threats.
Framing and context
The Commission's report is generally framed around the prospect of Russian and Chinese strategic military cooperation against the United States. The Commission cautions against "dismissing the possibility of opportunistic or simultaneous two-peer aggression because it may seem improbable," and notes that "not addressing it in U.S. strategy and strategic posture, could have the perverse effect of making such aggression more likely." The Commission does not acknowledge, however, that building up new capabilities to address this highly remote possibility would likely kick the arms race into an even higher gear.
The report acknowledges that Russia and China are in the midst of large-scale modernization programs, and in the case of China, significant increases to its nuclear stockpile. This accords with our own assessments of both countries' nuclear programs. However, the report's authors suggest that these changes fundamentally call into question the United States' assured retaliatory capabilities, and state that "the current U.S. strategic posture will be insufficient to achieve the objectives of U.S. defense strategy in the future…."
The Commission appears to base this conclusion, as well as its nuclear strategy and force structure recommendations, squarely on numerically-focused counterforce thinking: if China increases its posture by fielding more weapons, that automatically means the United States needs more weapons to "[a]ddress the larger number of targets…." However, the survivability of the US ballistic missile submarines should insulate the United States against needing to subscribe to this kind of thinking.
In 2012, a joint DOD/DNI report acknowledged that because of the US submarine force, Russia would not achieve any military advantage against the United States by significantly increasing the size of its deployed nuclear forces. In that 2012 study, both departments concluded that the "Russian Federation…would not be able to achieve a militarily significant advantage by any plausible expansion of its strategic nuclear forces, even in a cheating or breakout scenario under the New START Treaty, primarily because of the inherent survivability of the planned U.S. Strategic force structure, particularly the OHIO-class ballistic missile submarines, a number of which are at sea at any given time." [Emphasis added.] Why would this logic not apply to China as well? Although China's nuclear arsenal is undoubtedly growing, why would it fundamentally alter the nature of the United States' assured retaliatory capability while the United States is confident in the survivability of its SSBNs?
In this context, it is worth reiterating the words of Secretary of Defense Lloyd Austin at the U.S. Strategic Command Change of Command Ceremony: "We all understand that nuclear deterrence isn't just a numbers game. In fact, that sort of thinking can spur a dangerous arms race…deterrence has never been just about the numbers, the weapons, or the platforms."
Force structure
Although the report says the Commission "avoided making specific force structure recommendations" in order to "leave specific material solution decisions to the Executive Branch and Congress," the list of "identified capabilities beyond the existing program of record (POR) that will be needed" leaves little doubt about what the Commission believes those force structure decisions should be.
Strategic posture alterations
The Commission concludes that the United States "must act now to pursue additional measures and programs…beyond the planned modernization of strategic delivery vehicles and warheads may include either or both qualitative and quantitative adjustments in the U.S. strategic posture."
Specifically, the Commission recommends that the United States should pursue the following modifications to its strategic nuclear force posture "with urgency:" [our context and commentary added below]
Prepare to upload some or all of the nation's hedge warheads; [these warheads are currently in storage; increasing deployed warheads above 1,550 is prohibited by the New START treaty (which expires in early-2026) and would likely cause Russia to also increase its deployed warheads.]
Plan to deploy the Sentinel ICBM in a MIRVed configuration; [the Sentinel appears to be capable of carrying two MIRV but current plan calls for each missile to be deployed with just a single warhead]
Increase the planned number of deployed Long-Range Standoff Weapons; [the Air Force currently has just over 500 ALCMs and plans to build 1,087 LRSOs (including test-flight missiles), each of which costs approximately $13 million]
Increase the planned number of B-21 bombers and the tankers an expanded force would require; [the Air Force has said that it plans to purchase at least 100 B-21s]
Increase the planned production of Columbia SSBNs and their Trident ballistic missile systems, and accelerate development and deployment of D5LE2; [the Navy currently plans to build 12 Columbia-class SSBNs and an increase would not happen until after the 12th SSBN is completed in the 2040s]
Pursue the feasibility of fielding some portion of the future ICBM force in a road mobile configuration; [historically, any efforts to deploy road-mobile ICBMs in the United States have been unsuccessful]
Accelerate efforts to develop advanced countermeasures to adversary IAMD; and
Initiate planning and preparations for a portion of the future bomber fleet to be on continuous alert status, in time for the B-21 Full Operational Capability (FOC) date." [Bombers currently regularly practice loading nuclear weapons as part of rapid-takeoff exercises. Returning bombers to alert would revert the decision by President H.W. Bush in 1991 to take bombers off alert. In 2021, the Air Force's Deputy Chief of Staff for Strategic Deterrence and Nuclear Integration stated that keeping the bomber fleet on continuous alert would exhaust the force and could not be done indefinitely]
Nonstrategic posture alterations
The Commission appears to want the United States to bolster its non-strategic nuclear forces in Europe, and begin to deploy non-strategic nuclear weapons in the Indo-Pacific theater: "Additional U.S. theater nuclear capabilities will be necessary in both Europe and the Indo-Pacific regions to deter adversary nuclear use and offset local conventional superiority. These additional theater capabilities will need to be deployable, survivable, and variable in their available yield options." Although the Commission does not explicitly recommend fielding either ground-launched theater nuclear capabilities or a nuclear sea-launched cruise missile for the Navy, it seems clear that these capabilities would be part of the Commission's logic.
The United States used to deploy large numbers of non-strategic nuclear weapons in the Indo-Pacific region during the Cold War, but those weapons were withdrawn in the early 1990s and later dismantled as U.S. military planning shifted to rely more on advanced conventional weapons for limited theater options. Despite the removal of certain types of theater nuclear weapons after the Cold War, today the President maintains a wide range of nuclear response options designed to deter Russian and Chinese limited nuclear use in both regions––including capabilities with low or variable yields. In addition to ballistic missile submarines and nuclear-capable bombers operating in both regions, the U.S. Air Force has non-strategic B61 nuclear bombs for dual-capable aircraft that are intended for operations in both regions if it becomes necessary. The Navy now also has a low-yield warhead on its SSBNs––the W76-2––that was fielded specifically to provide the President with more options to deter limited scenarios in those regions. It is unclear why these existing options, as well as several additional capabilities already under development––including the incoming Long-Range Stand-Off Weapon––would be insufficient for maintaining regional deterrence.
The Commission specifically recommends that the United States should "urgently" modify its nuclear posture to "[p]rovide the President a range of militarily effective nuclear response options to deter or counter Russian or Chinese limited nuclear use in theater." Although current plans already provide the President with such options, the Commission "recommends the following U.S. theater nuclear force posture modifications:
Develop and deploy theater nuclear delivery systems that have some or all of the following attributes: [our context and commentary added below]
Forward-deployed or deployable in the European and Asia-Pacific theaters [The United States already has dual-capable fighters and B61 bombs earmarked for operations in the Asia-Pacific theaters, backed up by bombers with long-range cruise missiles];
Survivable against preemptive attack without force generation day-to-day;
A range of explosive yield options, including low yield [US nuclear forces earmarked for regional options already have a wide range of low-yield options];
Capable of penetrating advanced IAMD with high confidence [F-35A dual-capable aircraft, the B-21 bomber, and air-launched cruise missiles are already being developed with enhanced penetration capabilities]; and
Operationally relevant weapon delivery timeline (promptness) [the US recently fielded the W76-2 warhead on SSBNs to provide prompt theater capability in limited scenarios and is developing new prompt conventional missiles]."
Unlike U.S. low-yield theater nuclear weapons, the Commission warns that China's development of "theater-range low-yield weapons may reduce China's threshold for using nuclear weapons." Presumably, the same would be true for the United States threshold if it followed the Commission's recommendation to increase deployed (or deployable) non-strategic nuclear weapons with low-yield capabilities in the Indo-Pacific theater.
Strategy
Overall, the Commission suggests that current U.S. nuclear strategy is basically sound, but just needs to be backed up with additional weapons and industrial capacity. However, by not including recommendations to modify presidential nuclear employment guidance –– or even considering such an adjustment, which could reshape U.S. force posture to allow for decreased emphasis on counterforce targeting –– the Commission has limited its own flexibility to recommend any options other than simply adding more weapons.
Three scholars recently proposed a revised nuclear strategy that they concluded would reduce weapons requirements yet still be sufficient to adequately deter Russia and China. The central premise of reducing the counterforce focus is similar to a study that we published in 2009. In contrast, the Commission appears to have assumed an unchanged nuclear strategy and instead focused intensely on weapons and numbers.
The Commission report does not explain how it gets to the specific nuclear arms additions it says are needed. It only provides generic descriptions of nuclear strategy and lists of Chinese and Russian increases. The reason this translates into a recommendation to increase the US nuclear arsenal appears to be that the list of target categories that the Commission believes need to be targeted is very broad: "this means holding at risk key elements of their leadership, the security structure maintaining the leadership in power, their nuclear and conventional forces, and their war supporting industry."
This numerical focus also ignores years of adjustments made to nuclear planning intended to avoid excessive nuclear force levels and increase flexibility. When asked in 2017 whether the US needed new nuclear capabilities for limited scenarios, then STRATCOM commander General John Hyten responded:
"[W]e actually have very flexible options in our plans. So if something bad happens in the world and there's a response and I'm on the phone with the Secretary of Defense and the President and the entire staff, …I actually have a series of very flexible options from conventional all the way up to large-scale nuke that I can advise the President on to give him options on what he would want to do… So I'm very comfortable today with the flexibility of our response options… And the reason I was surprised when I got to STRATCOM about the flexibility, is because the last time I executed or was involved in the execution of the nuclear plan was about 20 years ago and there was no flexibility in the plan. It was big, it was huge, it was massively destructive, and that's all there. We now have conventional responses all the way up to the nuclear responses, and I think that's a very healthy thing."
While advocating integrated deterrence and a "whole of government" approach, the Commission nonetheless sets up an artificial dichotomy between conventional and nuclear capabilities: "The objectives of U.S. strategy must include effective deterrence and defeat of simultaneous Russian and Chinese aggression in Europe and Asia using conventional forces. If the United States and its Allies and partners do not field sufficient conventional forces to achieve this objective, U.S. strategy would need to be altered to increase reliance on nuclear weapons to deter or counter opportunistic or collaborative aggression in the other theater."
Arms control
The Commission recommends subjugating nuclear arms control to the nuclear build-up: "The Commission recommends that a strategy to address the two-nuclear-peer threat environment be a prerequisite for developing U.S. nuclear arms control limits for the 2027-2035 timeframe. The Commission recommends that once a strategy and its related force requirements are established, the U.S. government determine whether and how nuclear arms control limits continue to enhance U.S. security."
Put another way, this constitutes a recommendation to participate in an arms race, and then figure out how to control those same arms later.
The Commission report does acknowledge the importance of arms control, and notes that "[t]he ideal scenario for the United States would be a trilateral agreement that could effectively verify and limit all Russian, Chinese, and U.S. nuclear warheads and delivery systems, while retaining sufficient U.S. nuclear forces to meet security objectives and hedge against potential violations of the agreement." (p.85) However, the prospect of this "ideal scenario" coming true would become increasingly unlikely if the United States significantly built up its nuclear forces as the Commission recommends.
Capacity and budget
The Commission recommends an overhaul and expansion of the nuclear weapons design and production capacity. That includes full funding of all NNSA recapitalization efforts, including pit production plans, even though the Government Accountability Office has warned that the program faces serious challenges and budget uncertainties. The Commission appears to brush aside concerns about the proposed pit production program.
Overall, the report does not seem to acknowledge any limits to defense spending. Amid all of the Commission's recommendations to increase the number of strategic and tactical nuclear systems, there is almost no mention of cost in the entire report. Fulfilling all of these recommendations would require a significant amount of money, and that money would have to come from somewhere.
For example, the Congressional Budget Office estimates that developing the SLCM-N alone would cost an estimated $10 billion until 2030, not to mention another $7 billion for other tactical nuclear weapons and delivery systems. The amount of money it would take to field new systems, in addition to addressing other vital concerns such as IAMD, means funding would necessarily be cut from other budget priorities.
The true costs of these systems are not only the significant funds spent to acquire them, but also the fact that prioritizing these systems necessarily means deprioritizing other domestic or foreign policy initiatives that could do more to increase US security.
Implications for U.S. Nuclear Posture
The Strategic Posture Commission report is, in effect, a congressionally-mandated rebuttal to the Biden administration's Nuclear Posture Review, which many in Congress have critiqued for not being hawkish enough. The report does not describe in detail its methodology for how it arrives at its force buildup recommendations, and includes several claims and assumptions about nuclear strategy that have been critiqued and called into question by recent scholarship. In some respects, it reads more like an industry report than a Congressionally-mandated study.
While the timing of the report means that it is unlikely to have a significant impact on this year's budget cycle, it will certainly play a critical role in justifying increases to the nuclear budget for years to come.
From our perspective, the recommendations included in the Commission report are likely to exacerbate the arms race, further constrict the window for engaging with Russia and China on arms control, and redirect funding away from more proximate priorities. At the very least, before embarking on this overambitious wish list the United States must address any outstanding recommendations from the Government Accountability Office to fix its planning and budgeting processes, otherwise it risks overloading the assembly line even more.
In addition, the United States could consider how modified presidential employment guidance might enable a posture that relies on fewer nuclear weapons, and adjust accordingly.