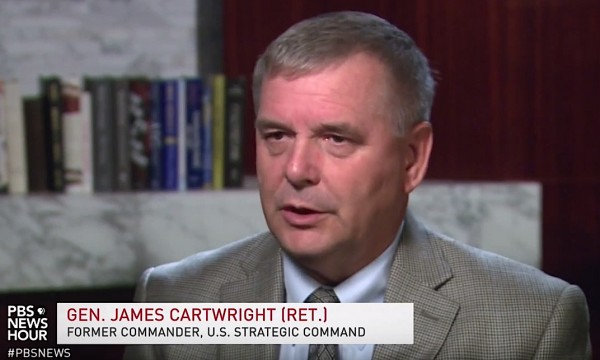 General Cartwright Confirms B61-12 Bomb "Could Be More Useable"
By Hans M. Kristensen
General James Cartwright, the former commander of U.S. Strategic Command and former Vice Chairman of the Joint Chiefs of Staff, confirmed in an interview with PBS Newshour that the increased accuracy of the new guided B61-12 nuclear bomb could make the weapon "more useable" to the president or national-security making process.
GEN. JAMES CARTWRIGHT (RET.), Former Commander, U.S. Strategic Command: If I can drive down the yield, drive down, therefore, the likelihood of fallout, et cetera, does that make it more usable in the eyes of some — some president or national security decision-making process? And the answer is, it likely could be more usable.
Cartwright's confirmation follows General Norton Schwartz, the former U.S. Air Force Chief of Staff, who in 2014 assessed that the increased accuracy would have implications for how the military thinks about using the B61. "Without a doubt. Improved accuracy and lower yield is a desired military capability. Without a question," he said.
In an article in 2011 I first described the potential effects the increased accuracy provided by the new guided tail kit and the option to select lower yields in nuclear strike could have for nuclear planning and the perception of how useable nuclear weapons are. I also discuss this in an interview on the PBS Newshour program.
In contrast to the enhanced military capabilities offered by the increased accuracy of the B61-12, and its potential impact on nuclear planning confirmed by generals Cartwright and Schwartz, it is U.S. nuclear policy that nuclear weapons "Life Extension Programs…will not support new military missions or provide for new military capabilities," as stated in the 2010 Nuclear Posture Review Report.
The effect of the B61-12 modernization will be most dramatic in Europe where less accurate older B61s are currently deployed at six bases in five countries for delivery by older aircraft. The first B61-12 is scheduled to roll off the assembly line in 2020 and enter the stockpile in 2024 after which some of the estimated 480 bombs to be built and, under current policy, would be deployed to Europe for deliver by the new F-35A Lightning II fifth-generation fighter-bomber and (for a while) older aircraft.
For background information, see:
This publication was made possible by a grant from the New Land Foundation and Ploughshares Fund. The statements made and views expressed are solely the responsibility of the author.