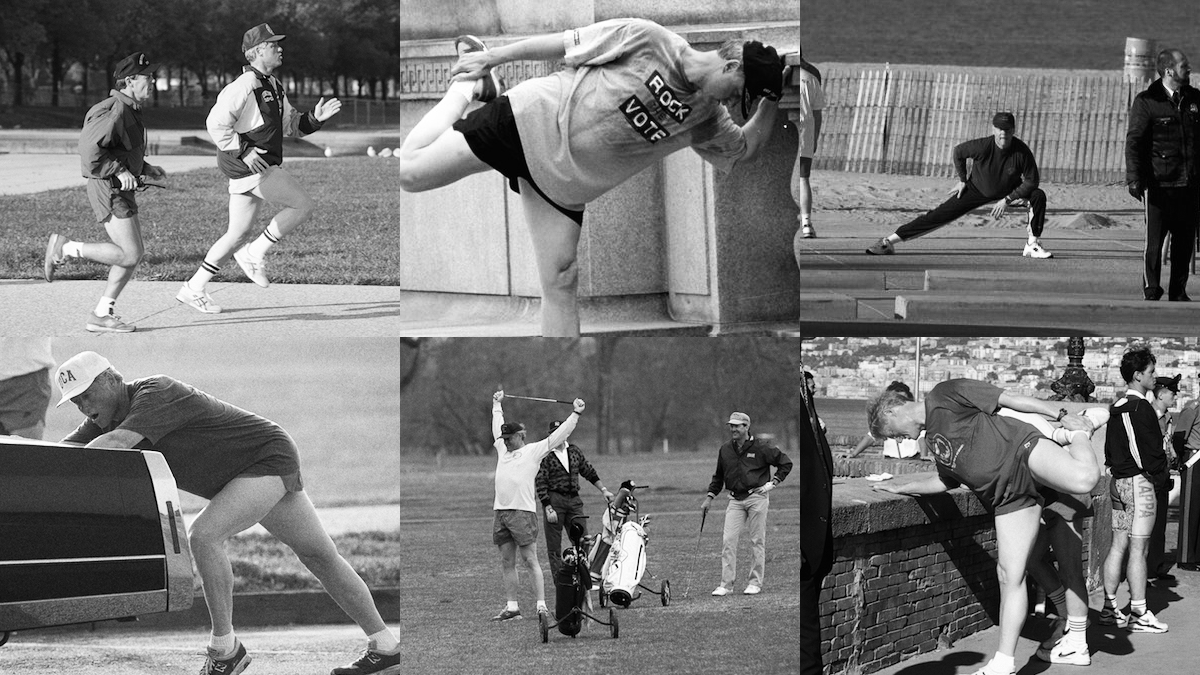 Moving the Nation: The Role of Federal Policy in Promoting Physical Activity
Physical activity is one of the most powerful tools for promoting health and wellbeing. Movement is not only medicine—effective at treating a range of physical and mental health conditions—but it is also preventive medicine, because movement reduces the risk for many conditions ranging from cancer and heart disease to depression and Alzheimer's disease. But rates of physical inactivity and sedentary behavior have remained high in the U.S. and worldwide for decades.
Engagement in physical activity is impacted by myriad factors that can be viewed from a social ecological perspective. This model views health and health behavior within the context of a complex interplay between different levels of influence, including individual, interpersonal, institutional, community, and policy levels. When it comes to healthy behavior such as physical activity, sustainable change is considered most likely when these levels of influence are aligned to support change. Every level of influence on physical activity within a social-ecological framework is directly or indirectly affected by federal policy, suggesting physical activity policy has the potential to bring about substantial changes in the physical activity habits of Americans.
Why are federal physical activity policies needed?
Physical inactivity is recognized as a public health issue, having widespread impacts on health, longevity, and even the economy. Similar to other public health issues over past decades such as sanitation and tobacco use, federal policies may be the best way to coordinate large-scale changes involving cooperation between diverse sectors, including health care, transportation, environment, education, workplace, and urban planning. An active society requires the infrastructure, environment, and resources that promote physical activity. Federal policies can meet those needs by improving access, providing funding, establishing regulations, and developing programs to empower all Americans to move more. Policies also play an important role in removing barriers to physical activity, such as financial constraints and lack of safe spaces to move, that contribute to health disparities. With such a variety of factors impacting active lifestyles, physical activity policies must have inter-agency involvement to be effective.
What physical activity initiatives exist currently?
Analysis of publicly available information revealed that there are a variety of initiatives currently in place at the federal level, across several departments and agencies, aimed at increasing physical activity levels in the U.S. Information about each initiative was evaluated for their correspondence with levels of the social-ecological model, as summarized in the table. Note that it is possible the search that was conducted did not identify every relevant effort, thus there could be additional initiatives that are not included below.
Given the large number of groups with the shared goal of increasing physical activity in the nation, a memorandum of understanding (MOU) may help to promote coordination of goals and implementation strategies.
These and other federal departments and agencies can coordinate action with state and local partners, for example in healthcare, business and industry, education, mass media, and faith-based settings, to implement physical activity policies.
The CDC's Active People, Healthy Nation initiative provides an example of this approach. This campaign, launched in 2020, has the goal of helping 27 million Americans become more physically active by 2027. By taking action steps focused on program delivery, partnership engagement, communication, training, and continuous monitoring and evaluation, the campaign seeks to help communities implement evidence-based strategies across sectors and settings to provide equitable and inclusive access to safe spaces for physical activity. According to our analysis, the strategies of the Active People, Healthy Nation initiative are aligned with the social-ecological model. The Physical Activity Policy Research and Evaluation Network, a research partner of the Active People, Healthy Nation initiative, provides an example of coordinating with partners in other sectors to promote physical activity. Through collaboration across sectors, the network brings together diverse partners to put into practice research on environments that maximize physical activity. The network includes work groups focused on equity and inclusion, parks and green space, rural active living, school wellness, transportation policy and planning, and business/industry.
The Biden-Harris Administration National Strategy on Hunger, Nutrition, and Health, announced in September 2022, also includes strategies that are consistent with a social-ecological model. The strategy outlines steps toward the goal of ending hunger and increasing healthy eating and physical activity by 2030 so that fewer Americans will experience diet-related diseases. Pillar 4 of the strategy is to "make it easier for people to be more physically active—in part by ensuring that everyone has access to safe places to be active—increase awareness of the benefits of physical activity, and conduct research on and measure physical activity." The strategy specifies goals such as building environments that promote physical activity (e.g., connecting people to parks; promoting active transportation and land use policies to support physical activity) and includes a call to action for a whole-of-society response involving the private sector, state, local, and territory governments, schools, and workplaces.
The Congressional Physical Activity Caucus has been active in introducing legislation that can help realize the goals of the current physical activity initiatives. For example, in February 2023, Sen. Sherrod Brown (D-OH), co-chair of the Caucus, introduced the Promoting Physical Activity for Americans Act, a bill that would require the Department of Health and Human Services to continue issuing evidence-based physical-activity guidelines and detailed reports at least every 10 years, including recommendations for population subgroups (e.g., children or individuals with disabilities). In addition, members of the Caucus, along with other members of congress, reintroduced the bipartisan, bicameral Personal Health Investment Today (PHIT) Act in March 2023. This legislation seeks to encourage physical activity by allowing Americans to use a portion of the money saved in their pre-tax health savings account (HSA) and flexible spending account (FSA) toward qualified sports and fitness purchases, such as gym memberships, fitness equipment, physical exercise or activity programs and youth sports league fees. The bill would also allow a medical care tax deduction for up to $1,000 ($2,000 for a joint return or a head of household) of qualified sports and fitness expenses per year.
What progress has been made?
There are signs that some of the national campaigns are leading to changes at other levels of society. For example, 46 cities, towns, and states have passed an Active People, Healthy Nation Proclamation as of September 2023. According to the State Routes Partnership, which develops "report cards" for states based on their policies supporting walking, bicycling, and active kids and communities, many states have shown movement in their policies between 2020 and 2022, such as implementing new policies to support walking and biking and increasing state funding for active transportation. However, more time is needed to determine the extent to which recent initiatives are helping to create a more active country, since most were initiated in the past two or three years. Predating the current initiatives, the overall physical activity level of Americans increased from 2008 to 2018, but there has been little change since that time, and only about one-quarter of adults meet the physical activity guidelines established by the CDC.
Clearly, there is a critical need for concerted effort to implement the strategies outlined in current physical activity initiatives so that national policies have the intended impacts on communities and on individuals. Leveraging provisions in existing legislation related to the social-ecological model of physical activity promotion will also help with implementation. For example, title III-D of the Older Americans Act supports healthy lifestyles and promotes healthy behaviors amongst older adults (age 60 and older), providing funding for evidence-based programs that have been proven to improve health and well-being and reduce disease and injury. Physical activity programs are prime candidates for such funding. In addition, programs under the 2021 Bipartisan Infrastructure Law and the 2022 Inflation Reduction Act are helping to change the current car-dependent transportation network, providing healthier and more sustainable transportation options, including walking, biking, and using public transportation, and are providing investments in environmental programs to improve public health and reduce pollution. For example, states can use funds from the Highway Safety Improvement Program for bicycle and pedestrian highway safety improvement projects, and funding is available through the Carbon Reduction Program for programs that help reduce dependence on single-occupancy vehicles, such as public transportation projects and the construction, planning, and design of facilities for pedestrians, bicyclists, and other non-motorized forms of transportation.
Partnering with non-governmental groups working towards common goals, such as the Physical Activity Alliance, can also help with implementation. The Alliance's National Physical Activity Plan is based on the socio-ecological model and includes recommendations for evidence-based actions for 10 societal sectors at the national, state, local and institutional levels, with a focus on making change at the community level. The plan shares many priorities with those of the Active People, Healthy Nation initiative, while also introducing new goals, such as establishing a CDC Office of Physical Activity and Health.
With coordinated action based on established public health models, such as the social-ecological framework, federal policies can be successfully implemented to make the systemic changes that are needed to create a more active nation.
---
The work for this blog was undertaken before Dr. Dotson joined the Agency for Healthcare Research and Quality (AHRQ). Dr. Dotson is solely responsible for this blog post's contents, findings, and conclusions, which do not necessarily represent the views of AHRQ. Readers should not interpret any statement as an official position of AHRQ or of the U.S. Department of Health and Human Services.