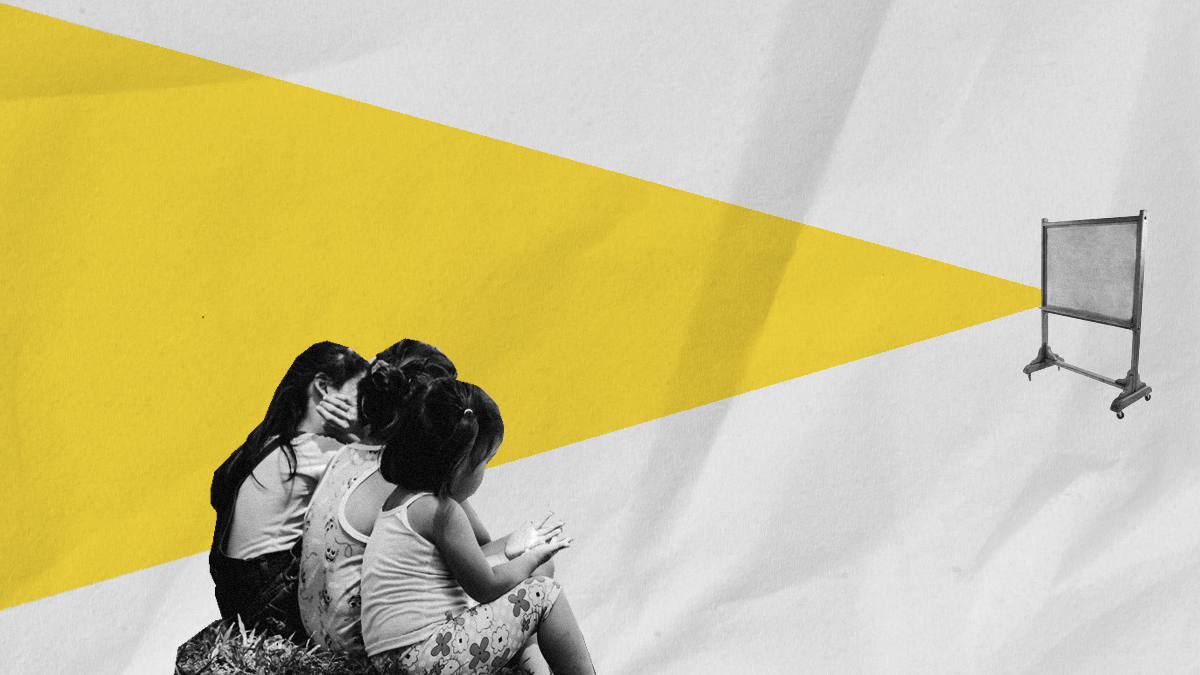 Putting the fun in fundamental: how playful learning improves children's outcomes
When we think back to our childhoods, many of us have fond memories of play. Playing outside, playing at school, or playing with friends and siblings often trump memories of worksheets and teacher lectures. Why is that?
Children are born ready to play and explore the world around them. First games of peek-a-boo with a loving caregiver provide an infant with learning and engagement— the infant develops a positive relationship with a caregiver, begins to develop object permanence, and experiences call and response social interactions – all critical steps in a child's development.
According to the National Association of the Education of Young Children, play is a critical component of early childhood and children's physical, social, and emotional development. Children learn best when they are doing. Playful learning includes opportunities for free play directed by the children themselves and guided play, designed by a teacher to provide children access to specific materials, concepts and guidance through hands-on engagement. These opportunities allow children to explore, expand their knowledge, take risks, develop interests, and practice their social and emotional skills.
Through play, many children are able to demonstrate their knowledge and learning that they otherwise are unable to share on a worksheet or assessment. For teachers, play provides a window into a child's world that is not easily accessed through paper and pencil. Early childhood and early elementary programs have a critical opportunity to impact a child's long term development by providing developmentally appropriate playful learning experiences to all children.
Playful Learning Promotes Child (and Adult) Well-being at a Critical Time
According to the Center for the Developing Child at Harvard University, play can help young children develop resilience and navigate significant adversity. When young children experience playful learning, they benefit from enhanced problem solving, communication, decision-making and creative skills. Teachers and caregivers who encourage play and exploration establish positive relationships. Through this,children develop positive self-esteem and approaches to learning that can carry them for many years. All of these skills are not only critical now, but will increasingly be more important as the next generation moves forward into the future.
Unfortunately, play has become less valued over the last decade or so as school systems have put emphasis on scholastic curricula. We know that kindergarten classrooms are by and large offering less play time and more academic curriculum. Preschool programs are feeling the pressure of getting children "ready for school." However, our children are experiencing unprecedented stress due to the pandemic, community violence and general unrest in the world. In addition, evidence suggests that children have experienced learning and development loss due to the pandemic. Now more than ever is the time to ensure they are getting what they need through playful learning.
Teachers working with our youngest children are also facing significant challenges as children and families return to the new normal of school on top of their own personal stressors. According to EducationWeek, many teachers continue to report high levels of stress and anxiety as a result of working through and post-pandemic. Teachers are not only continuing to manage virus exposure but are expected to address learning loss of their students, navigate mental health needs while all the while meeting increasingly more rigorous standards during a teacher shortage. Could "allowing" teachers to do what's best for children and utilize playful learning as a primary strategy not only support children through this trying time but also provide a more relaxed supportive environment for teachers as well? Rather than spending time copying worksheets, conducting testing and focusing on rote memorization, play would be beneficial for teachers and children alike.
In the United States, play is often considered a four letter word mistakenly associated with less academic instruction and ultimately, lower test scores. However, the tide is changing as more and more communities both in the U.S. and abroad begin to recognize that both free and guided play in early childhood can provide children important opportunities for learning, growth and ultimately success in school and life.
Three Lessons from Quality, Play-based Early Learning Programs
Educators and policymakers alike can learn a lot from other countries' experiences developing quality, play-based early childhood programs. There have been great strides in adopting playful learning — even in low-resource contexts and in school systems where primary schooling tends to follow more traditional teacher-led approaches. Here are three examples of how play has contributed to quality early learning outside the U.S. to show what might be possible.
Playful learning is key to quality early child education: Lively Minds in Ghana
While Ghana introduced two years of kindergarten for four- and five-year olds as part of the universal basic education system in 2007, many schools faced difficulties training and retaining teachers. Large class sizes, limited play and learning materials, and rote teaching approaches are common in preschools. In response to these challenges, Lively Minds, an NGO, developed community-led, play-based early learning programs, known as "Play Schemes" in schools. In partnership with the Ghana Education Service, Lively Minds trained two kindergarten teachers from each participating school who then trained 30-40 mothers to be play scheme facilitators. Four days a week, volunteer mothers run play stations with small groups of children focused on: counting; matching; shapes and senses; books; and building. Parents also participate in monthly workshops to learn to support their children's health, development, and learning at home.
The program is delivered within the existing government system to promote sustainability. Government and Lively Minds staff jointly monitor the implementation of the play schemes. A randomized control trial in rural Ghana found that Lively Minds significantly improved children's emerging literacy, executive functioning, and fine motor skills. Children from poorer households benefited more from the program; emergent literacy skills also improved in this group of children. Participating children's socio-emotional development improved as conduct problems and hyperactive behaviors decreased. Acute malnutrition decreased by a remarkable 22% among children attending Play Schemes. Volunteer mothers improved their self-esteem and mental health as well as their knowledge about child development. They also spent more time on developmentally appropriate activities with their children at home.
Currently, the Ghanaian government is rolling out Lively Minds in 60 of the country's 228 districts, reaching approximately 4,000 preschool classrooms and more than 1.3 million young children. A new study will evaluate the program's effectiveness at scale.
Increasing equity through play: Play Labs in Bangladesh
The second example comes from Bangladesh, where the development organization BRAC created the Play Lab model, a low-cost, non-formal approach to play-based learning for children ages 3-5. These vibrant, child-friendly spaces follow a play-based curriculum and use low-cost recycled materials. Play Leaders, young women selected from the community, give young children space and time to explore their own interests and ideas. Play Leaders also engage young children in culturally-relevant rhymes, stories, and dancing to encourage joy-filled learning. Since 2015, Play Labs have reached over 115,000 children in local communities, government schools, and refugee camps in Bangladesh, Tanzania, and Uganda.
A quasi-experimental evaluation in 2018-2019 in Bangladesh found that the Play Labs improved children's development across physical, cognitive, and socio-emotional domains. In fact, after two years in the Play Labs, children who scored below average at baseline were able to catch up to their peers who entered with the highest scores; no such pattern was found in the control group. By reducing these initial gaps among children, Play Labs helped improve equity and promote school readiness for very disadvantaged young children. Play Leaders not only increased their early childhood knowledge and skills, but also the quality of their interactions with children.
Reaching children experiencing crisis and conflict: Remote early childhood education program in Lebanon
In Lebanon, the International Rescue Committee (IRC) worked with Sesame Workshop to implement an 11-week Remote Early Learning Program for families affected by conflict and crisis. The curriculum focuses on social and emotional learning and school readiness skills and targets mostly (96%) Syrian caregivers with 5-6 year old children living in hard-to-access areas of Lebanon, where exposure to preschool is very limited. As with quality, in-person early childhood education, the remote program focuses on engaging children through hands-on and play-based activities. Participating families receive supplies and worksheets to use in the activities with their children. Teachers use WhatsApp to call groups of parents and send multimedia content (e.g., videos, storybooks, songs) 2-3 times a week. The first five minutes of the call involve the child to help foster their connections with the teacher, while the remainder of time engages the parent on how early childhood activities support children's development and learning.
A 2022 study compared the impact of the Remote Early Learning Program (RELP) alone and in combination with a remote parent support program that focuses more broadly on early childhood development. Both forms of the intervention had significant, positive effects on child development and child play compared to the control group. The authors remark that: "The size of the impacts found on child development is in the range of those seen in evaluations of in-person preschool from around the world, suggesting that RELP is a viable alternative to support children in places where in-person preschool is not feasible."
Enabling Play-Based Policies in the U.S. are Needed
While these different modalities – home-based, center-based, remote learning – are promising approaches to support young children's learning through play, they will not be implemented or scaled in the United States without an enabling policy environment. This means playful learning should be included in policy documents, legislation, standards, and curricula. It should also be supported by committing adequate financial resources for teachers to create playful learning environments and opportunities.
We're seeing this happen in countries that are known for their high scores on international assessments, but less for their child-centered approaches in the early years. For example, in 2019, South Korea introduced a revised curriculum for 3 to 5 year olds that is organized around learning domains instead of by age. The goal is to shift from an academic approach to early childhood education to one that is more child-focused and play-based.
In 2012, Singapore revamped its Nurturing Early Learners curriculum for children ages 4 to 6 with a key objective being "To give every child a good start, preschool education nurtures the joy of learning and children's holistic development." To support implementation, the government developed educators' guides and teaching and learning resources. Coincidentally, or not, Singapore ranks 4th in the Progress in International Reading Literacy Study (PIRLS), an international comparative assessment that evaluates reading literacy at grade 4.
One of the more comprehensive approaches comes from Rwanda, which recently revised its curriculum for pre-primary education through upper secondary grades. The competency-based curriculum recognizes the importance of play-based learning to reach intended learning outcomes across ages. The Ministry of Education is now working with partners to develop a national strategy to institutionalize learning through play into teacher training and pedagogical practices. In addition to pre-service and in-service training, components will include appropriate learning materials, assessments, quality assurance mechanisms, monitoring and evaluation, and advocacy to roll out learning through play within the education system.
Five Ways Policymakers Can Introduce Playful Learning into any Education Model Today
We know why playful learning is important. We can take inspiration from successful programs in some of the most vulnerable contexts. It's time for policy makers in the U.S. to take steps to make learning through play a reality for our youngest learners:
Include playful learning in policy documents including those related to standards and curriculum
Prioritize funding for high quality developmentally appropriate playful learning in Pre-3
Focus on preparing and supporting teachers to create playful learning environments along the P-3 continuum
Support family members to integrate play into everyday activities with their children
Use appropriate technology to complement in-class activities or to reach those who do not have access to early childhood education
---
The Federation of American Scientists values diversity of thought and believes that a range of perspectives — informed by evidence — is essential for discourse on scientific and societal issues. Contributors allow us to foster a broader and more inclusive conversation. We encourage constructive discussion around the topics we care about.