Non-Nuclear Test Will Simulate Nuclear Weapon Strike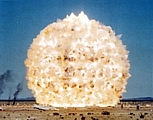 Update (February 22, 2007): DTRA announces that Divine Strake has been canceled.
The Defense Threat Reduction Agency (DTRA) today confirmed to FAS that the upcoming Divine Strake test widely reported in the media to be a non-nuclear event is in fact a low-yield nuclear weapons calibration simulation against an underground target.
A few, including Albuquerque Journal and disarmamentactivist.org, have speculated that Divine Strake was a nuclear-related event, but DTRA has up till now declined to confirm or deny the nuclear connection.
In response to an email earlier today, a DTRA spokesperson confirmed that Divine Strake is the same event that is described in DTRA budget documents as being a low-yield nuclear weapons shock simulation designed to allow the warfighters to fine-tune the yield of nuclear weapons in strikes on underground facilities.
It also turns out that Divine Strake is "an integral part" of STRATCOM's new Global Strike mission, which is normally reported to develop mainly non-nuclear capabilities against time-urgent targets. Global Strike is one of the pillars of the Bush administration's so-called New Triad which is said to be reducing the role of nuclear weapons.
According to a Department of Energy document associated with Divine Strake, the event comes only two years after President George W. Bush in Summer 2004 signed a presidential decision directive that ordered STRATCOM to "extend Global Strike to counter all [Hard and Deeply Buried Targets] to include both tactical and strategic adversarial targets."
Divine Strake was not mentioned during last week's Senate hearing on the Global Strike mission.
More: Divine Strake Background | Global Strike Chronology