New START Data Show Russian Increase, US Decrease Of Deployed Warheads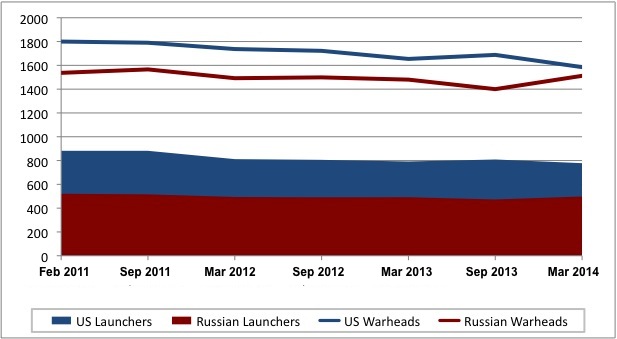 By Hans M. Kristensen
The latest aggregate data released by the US State Department for the New START treaty show that Russia has increased its counted deployed strategic nuclear forces over the past six months.
The data show that Russia increased its deployed launchers by 25 from 473 to 498, and the warheads attributed to those launchers increased by 112 from 1,400 to 1,512 compared with the previous count in September 2013.
During the same period, the United States decreased its number of deployed launchers by 31 from 809 to 778, and the warheads attributed to those launchers decreased by 103 from 1,688 to 1,585.
The increase of the Russian count does not indicate that its in increasing its strategic nuclear forces but reflects fluctuations in the number of launchers and their attributed warheads at the time of the count. At the time of the previous data release in September 2013, the United States appeared to have increased its forces. But that was also an anomaly reflecting temporary fluctuations in the deployed force.
Both countries are slowly reducing their strategic nuclear weapons to meet the New START treaty limit by 2018 of no more than 1,550 strategic warheads on 700 deployed launchers. Russia has been below the treaty warhead limit since 2012 and was below the launcher limit even before the treaty was signed. The United States has yet to reduce below the treaty limit.
Since the treaty was signed in 2010, the United States has reduced its counted strategic forces by 104 deployed launchers and 215 warheads; Russia has reduced its counted force by 23 launchers and  25 warheads. The reductions are modest compared with the two countries total inventories of nuclear warheads: Approximately 4,650 stockpiled warheads for the United States (with another 2,700 awaiting dismantlement) and 4,300 stockpiled warheads for Russia (with another 3,500 awaiting dismantlement).
Details of the Russian increase and US decrease are yet unclear because neither country reveals the details of the changes at the time of the release of the aggregate data. In about six months, the United States will publish a declassified overview of its forces; Russia does not publish a detailed overview of its strategic forces.
For analysis of the previous New START data, see: /blogs/security/2013/10/newstartsep2013/
Detailed nuclear force overviews are available here: Russia | United States
This publication was made possible by a grant from the Ploughshares Fund. The statements made and views expressed are solely the responsibility of the author.