Chinese Submarine Patrols Rebound in 2007, but Remain Limited

By Hans M. Kristensen
China's entire fleet of approximately 55 general-purpose submarines conducted a total of six patrols during 2007, slightly better than the two patrols conducted in 2006 and zero in 2005.
The 2007 performance matches China's all-time high of six patrols conducted in 2000, the only two years since 1981 that Chinese submarines conducted more than five patrols in a single year.
The new information, obtained by Federation of American Scientists from the U.S. Navy under the Freedom of Information Act, also shows that none of China's ballistic missile submarines have ever conducted a deterrent patrol.
In Perspective
Just what constitutes a Chinese "patrol" is secret, according to the U.S. Navy, but it probably refers to an extended voyage away from the homeport area (see here for further definitions). The seven Chinese patrols conducted in 2007 is but a fraction of the number of patrols conducted by the U.S. submarine force, which musters well over 100 patrols per year. But a comparison of U.S. and Chinese submarine patrol levels is not possible because the two navies have very different missions. China has no overseas military commitments and uses its submarine fleet almost exclusively as a coastal defense force, whereas the U.S. submarine force is constantly engaged in forward operations alone or with allies.
The Chinese patrol rate compares better with that of the Russian Navy, which has largely ceased forward submarine operations compared with those of the Soviet Union during the Cold War. Russian general purpose submarines conducted seven patrols in 2007.
Chinese Submarine Patrols 1981-2007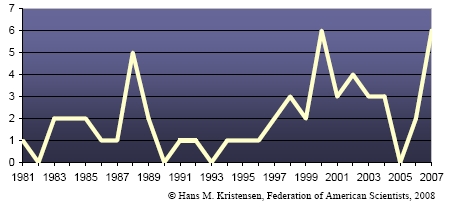 The entire Chinese submarine fleet conducted six patrols during 2007, matching the previous all-time high from 2000. The performance indicates that China operates its submarine fleet almost entirely as a coastal defense force.
–
In historic perspective, the six Chinese submarine patrols conducted in 2007 continues a trend that China in this decade has sent slightly more submarines on patrol than during the 1990s. Whereas Chinese submarines in the 1990s conducted an average of 1.2 patrols each year, the average has been 3.4 patrols since 2000.
About Those Boomers
Twenty-five years after it launched its first ballistic missiles submarine, Xia (Type 092), China has yet to conduct its first deterrent patrol. The new information confirms that neither the Xia, nor the two new Jin-class (Type 094) ballistic missile submarines – the first of which was launched in 2004 – have ever conducted a deterrent patrol.
The single-warhead Julang-1 sea-launched ballistic missile developed for the Xia has been test launched twice, but is not thought to be fully operational and has been referred to by the U.S. intelligence community for years as the CSS-NX-3 (X for experimental). Each Jin-class submarine has 12 launch tubes for the new Julang-2 sea-launched ballistic missile, which the U.S. intelligence community estimates will carry a single warhead.
China's New Nuclear Submarines

China's new Chang-class (Type-093) nuclear-powered attack submarine (top) and Jin-class (Type-094) nuclear-powered sea-launched ballistic missile submarine (bottom) were photographed at the Xiaopingdao submarine base near Dalian by the Quickbird satellite on May 3, 2007, and October 17, 2006, respectively. A comparison of the two images shows the different size of the two submarines: roughly 100 meters versus 135 meters.
–
The future mission of the missile submarines appears to be regional because the range of the missiles and operational constraints facing the submarines limit the targets that can be held at risk. The range of the Julang-2 is estimated by the US intelligence community at more than 8,000 km (4,970+ miles), which brings Hawaii and Alaska (but not the continental United States) within reach from Chinese territorial waters. Assuming they made it out of port past lurking U.S. attack submarines, the Chinese missile submarines would have to sail through the narrow straight between South Korea and Japan into the Sea of Japan for its Julang-2 missiles to be able to strike the Seattle area.
The Bo Hai Bay has been suggested as a possible deployment area for China's missile submarines because it would offer more protection against hostile attack submarines. From the shallow bay, the Julang-2 missiles could be used to target Guam and Alaska, India, Russia, and – at the limit of its range – Hawaii.
There are also rumors – one apparently even with a photo – that China may plan to homeport some of its ballistic missile submarines at the new submarine base under construction at Hainan Island in the South China Sea. The infrastructure includes what appears to be a waterway entrance to an underground facility similar to the underground facility at Jianggezhuang submarine base near Qingdao where the Xia is based. Hainan Island has access to deeper waters than Jianggezhuang, but is also less protected. From Hainan Island the Julang-2 would be within range of Guam, India and most of Russia, but not Hawaii.
The U.S. Navy has assessed that China might build as many as five Jin-class submarines "in order to provide more redundancy and capacity for a near-continuous at-sea SSBN presence," but is yet unclear whether China plans to develop a near-continuous sea-based deterrent or just a surge capability for deployment in a crisis. If all current ballistic missile boats became fully operational, China could deploy a maximum of 36 warheads at sea, although at least one of the boats would probably be in overhaul at any given time. Whatever the future mission, absent any deterrent patrols so far, the Chinese military will first have to learn how to operate the missile submarines in a way that would matter.
Implications
Despite the rebound in general purpose submarine patrols, dramatic reports from recent years about Chinese submarines operating inside Japanese territorial waters or surfacing close to U.S. aircraft carriers have been largely absent in 2007. The meaning of the patrol rebound is yet unclear. After all, it follows a complete absence of submarine patrols in 2005, the fourth year since 1981 that China's submarine fleet did not conduct any patrols despite introduction of several new classes of more advanced submarines for greater reach. That modernization has (not yet) manifested itself in the form of a clear increase in submarine patrols.
The patrol number does not say anything about what the submarines did during the six patrols. They might have been basic attempts to sail far from shore to test navigational equipment or communication with the homebase, or they might have included more advanced tactical operations. They might have been conducted by six different submarines, or only a couple.
Yet for the Chinese submarine force overall, six patrols do not provide very much operational experience for more than 50 submarines and their crews. If China did plan a more extended reach for its submarine force, one might expect the patrol rate to continue to increase in the next couple of years. Only the future will tell. But the operational experience from the 55 patrols conducted by the entire submarine force between 1981 and the end of 2007 suggests that China's submarine force – at least for now – remains a coastal defense force.
More information: browse previous blogs about China | Chinese Nuclear Forces and U.S. Nuclear War Planning