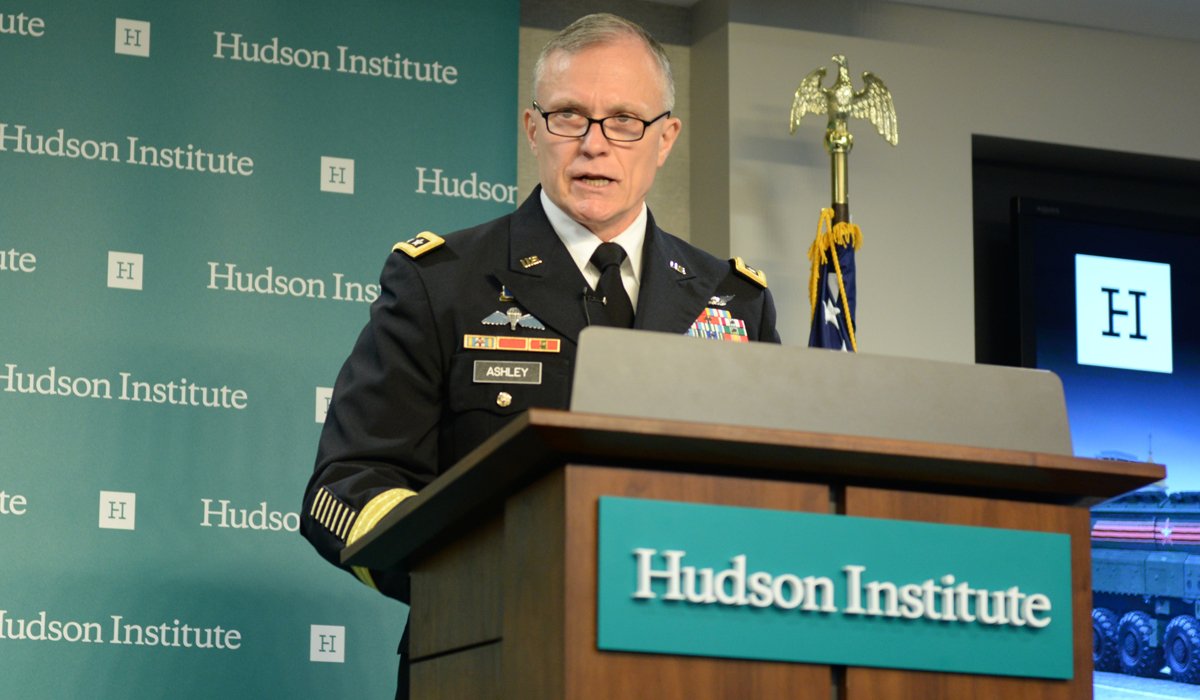 DIA Estimates For Chinese Nuclear Warheads
During a Hudson Institute conference on Russian and Chinese nuclear modernizations, director of the Defense Intelligence Agency (DIA) Lt. Gen. Robert Ashley said in prepared remarks: "Over the next decade, China is likely to at least double the size of its nuclear stockpile…"
This projection is new and significantly above recent public statements by US government agencies. But how reliable is it and how have US agencies performed in the past?
The public record is limited because estimates are normally classified and agencies and officials are reluctant to say too much. But a few examples exist from declassified documents and public statements. These estimates vary considerably – some seemed downright crazy.
But before analyzing DIA's projection for the future, let's examine what the estimated Chinese nuclear stockpile looks like today.
Current Chinese Stockpile Estimate
While warning the Chinese stockpile will "at least double" over the next decade, Lt. Gen. Ashley's prepared remarks did not say what it is today. But in the follow-up Q/A session, he added: "We estimate…the number of warheads the Chinese have is in the low couple of hundreds.
That estimate is close to statements made by DOD and STRATCOM nearly a decade ago. In our forthcoming Nuclear Notebook on Chinese nuclear forces (scheduled for publication in July 2019), we estimate the Chinese stockpile now includes approximately 290 warheads and is likely to surpass the size of the French nuclear stockpile (~300 warheads) in the near future.
Earlier Chinese Stockpile Estimates
Earlier projections made by US agencies of China's nuclear stockpile have varied considerably. DIA's estimates have consistently been higher – even extraordinarily so – than that of other agencies (see graph below). The wide range reflects an enormous uncertainty and lack of solid intelligence, which makes it even more curious why DIA would make them. This record obviously raises questions about DIA's latest projection.
In April 1980s, for example, DIA published a Defense Estimate Brief with the title: Nuclear Weapons Systems in China. The brief, which was prepared by the China/Far East Division of the Directorate for Estimates and approved by DIA's deputy assistant director for estimates, projected an astounding growth for China's nuclear arsenal that included everything from ICBMs, MRBMs, SRBMs, bombs, landmines, and air-to-surface missiles. The brief concluded a curious double estimate of 150-160 warheads in the text and 360 warheads in a table and projected an increase from 596 warheads in 1989 to as many as 818 by 1994. The brief was partially redacted for many years but it has since been possible to reconstruct in its entirety because of inconsistencies in the processing of different FOIA requests.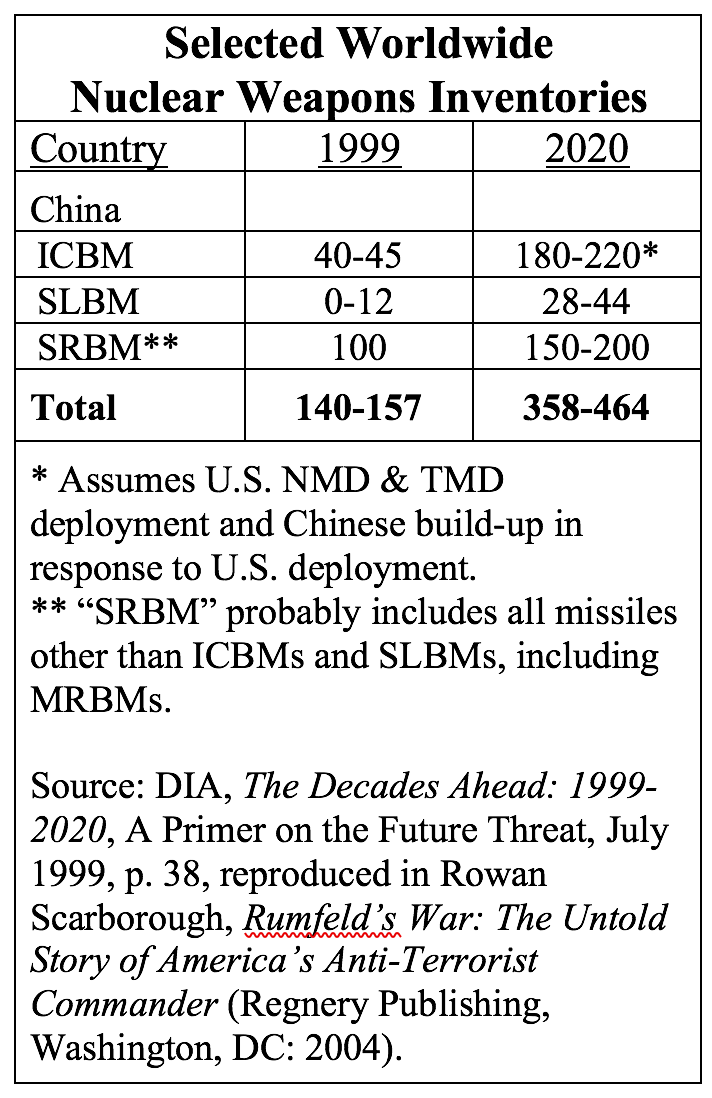 In the 1990s, CIA published three estimates, all significantly lower than the DIA projection from 1984. But DIA apparently was reworking its methodology because in 1999 it published A Primer On The Future Threat that was lower than the CIA estimate but projected an increase of the Chinese stockpile from 140-157 warheads to 358-464 warheads in 2020. The Primer predicted that deployment of US missile defenses would cause China to significantly increase its ICBM force, a prediction that has come through to some extent and is now ironically used by DIA and others to warn of a growing Chinese nuclear threat against the United States.
Following an intense debate in 2010 about Senate approval of the New START treaty, then-principle deputy undersecretary of defense for policy James Miller told Congress in 2011: "China is estimated to have only a few hundred nuclear weapons…."
And when false rumors flared up in 2012 that China had hundreds – even thousands – of warheads more than commonly assumed, STRATCOM commander Gen Kehler rebutted the speculations saying: "I do not believe that China has hundreds or thousands more nuclear weapons than what the intelligence community has been saying," which is "that the Chinese arsenal is in the range of several hundred" nuclear warheads.
Since then, China has started to deploy the modified silo-based DF-5B ICBM that is equipped with multiple warheads (MIRV) – part of the response to the US missile defenses that DIA predicted in 1999, and deployed a significant number of dual-capable DF-26 IRBMs. Even so, Ashley's most recent statement roughly matches the estimates made by Miller and Kehler nearly a decade ago, when he says: "We estimate…the number of warheads the Chinese have is in the low couple of hundreds."
How Could The Chinese Stockpile More Than Double?
Although Ashley predicted a significant expansion of the Chinese stockpile, he did not explain the assumptions that go into that assessment. What would China have to do in order to more than double its stockpile over the next decade?
There are several potential options. China could field a significant number of additional launchers, or deploy significantly more MIRVs on some of its missiles, or – if the MIRV increase is less dramatic – a combination of more launchers and more MIRV. It seems likely to be the latter option.
Additional MIRVing seems to be an important factor. China is developing the road-mobile DF-41 ICBM that is said to be capable of carrying MIRV. It is also developing a third modification of the silo-based DF-5 (DF-5C) that may have additional MIRV capability compared with the current DF-5B. Finally, the next-generational JL-3 SLBM could potentially have MIRV capability, although I have yet to see solid sources saying so. There are many rumors about up to 10 MIRV per DF-41 (even unreliable rumors about MIRV on shorter-range systems), but if China's decision to MIRV is a response to US missile defenses (which DIA and DOD have stated for years), then it seems more likely that the number of warheads on each missile is low and the extra spaces used for decoys.
China is also expanding its SSBN fleet, which could potentially double in size over the next decade if the production of the next-generation Type-096 gets underway in the early-2020s. And China reportedly has reassigned a nuclear mission to its bombers, is developing a new nuclear-capable bomber, and an air-launched ballistic missile that might have a nuclear option. Assuming a few bomber squadrons would a nuclear capability by the late-2020s, that could help explain DIA's projection as well. Altogether, that adds up to a hypothetical arsenal that could potentially look like this in order to "at least double" the size of the stockpile:
Conclusions
Whether DIA's projection comes through of a Chinese stockpile "at least double" the size of the current inventory remains to be seen. Given DIA's record of worst-case predictions, there are good reasons to be skeptical. It would, at a minimum, be good to hear what the coordinated Intelligence Community assessment is. Does the Director of National Intelligence agree with this projection?
That said, the Chinese leadership has obviously decided that its "minimum deterrent" requires more weapons. To that end, the debate over how much is enough, what the Chinese intentions are, and what the US response should be, are important reminders that the Chinese leadership needs to be more transparent about what its modernization plans are. Lack of basic information from China fuels worst-case assumptions in the United States that can (and will) be used to justify defense programs that increase the threat against China. The recommendation by the Nuclear Posture Review to develop a new nuclear-armed sea-launched cruise missile is but one example. Both sides have an interest in limiting this action-reaction cycle.
Even if DIA's projection of a more than doubling of the Chinse stockpile were to happen, that would still not bring the inventory anywhere near the size of the US or Russian stockpiles. They are currently estimated at 4,330 and 3,800 warheads, respectively – even more, if counting retired, but still largely intact, warheads awaiting dismantlement.
But despite the much smaller Chinese arsenal, a significant expansion of the stockpile would likely make US and Russia even more reluctant to reduce their arsenals – a reduction the Chinese government insists is necessary first before it will join a future nuclear arms limitation agreement. So while China's motivation for increasing its arsenal may be to reduce the vulnerability of its deterrent, it may in fact also cause the United States and Russian to retain larger arsenals than otherwise and even increase their capabilities to threaten China.
Whether DIA's projection pans out or not, it is an important reminder of the increasingly dynamic nuclear competition that is in full swing between the large nuclear weapons states. The pace and scope of that competition are intensifying in ways that will diminish security and increase risks for all sides. Strengthening deterrence is not always beneficial and even smaller arsenals can have significant effects.
This publication was made possible by generous contributions from the Carnegie Corporation of New York, the John D. and Catherine T. MacArthur Foundation, the New Land Foundation, the Ploughshares Fund, and the Prospect Hill Foundation. The statements made and views expressed are solely the responsibility of the authors.