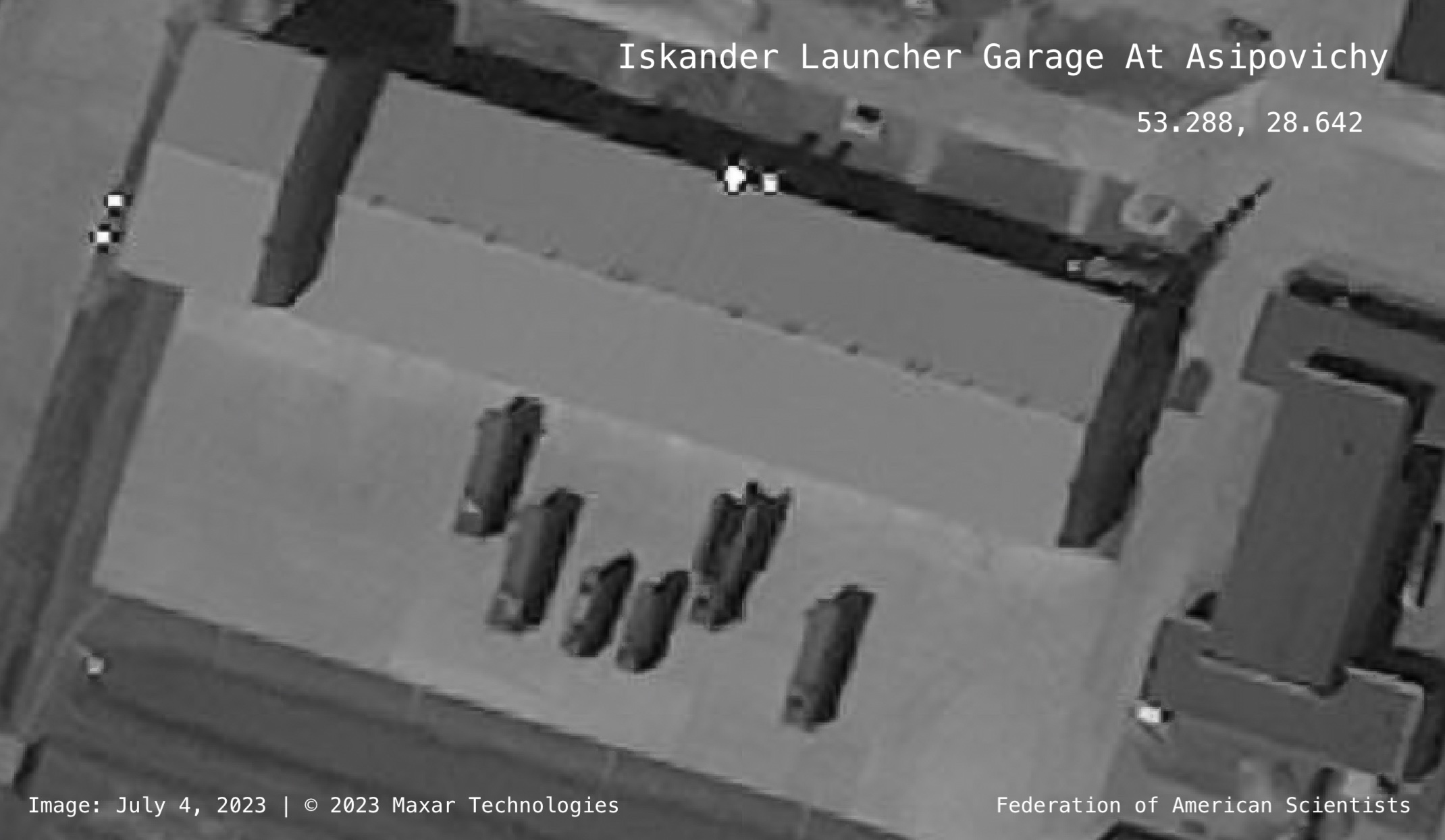 Belarus' "Nuclear-Capable" Iskanders Get A New Garage
The Belarusian military has completed what appears to be a new garage facility for the allegedly nuclear-capable Iskander missile launchers it received from Russia.
The new facility was added to an existing base in Asipovichy in central Belarus (53.288, 28.642), which is home to the 465th Missile Brigade. Satellite images indicate construction began in October 2022 and was completed in April 2023.
A Maxar satellite image taken on July 4, 2023, shows what appears to show four 13-meter Iskander launchers (and/or transporters) and two smaller support vehicles outside the garage. The missile storage compartment on one of the launchers is open.
The new facility is located only seven kilometers (4.4 miles) from the training ground (53.296, 28.536) where the Iskander launchers were first geolocated, and only 12 kilometers (7.3 miles) from a weapons depot (53.317, 28.813) that might be undergoing a potential upgrade to a temporary nuclear warhead storage facility.
Belarusian President Alexander Lukashenko and Russian President Vladimir Putin have repeatedly described plans to equip Belarusian Iskander launchers with the capability to fire Russian nuclear-tipped missiles and to build a nuclear storage facility in Belarus. They also said Russia would upgrade some Belarusian military jets (potentially Su-24 or Su-25) to deliver nuclear bombs.
If so, this would be the first time since the Cold War that Russia is equipping another country to launch its nuclear weapons and undercut Russian criticism of U.S. nuclear sharing arrangements with NATO allies.
So far there has been no clear visual confirmation of these plans, and public Western intelligence reports have not confirmed that Russia has actually deployed nuclear warheads in Belarus. Russia is thought to keep its non-strategic nuclear warheads in central storage facilities in Russia.
Additional information:
• Russian Nuclear Weapons Deployment Plans In Belarus: Is There Visual Confirmation?
• Video Indicates That Lida Air Base Might Get Russian "Nuclear Sharing" Mission In Belarus
• Nuclear Notebook: Russian Nuclear Weapons, 2023
---
This research was carried out with generous contributions from the John D. and Catherine T. MacArthur Foundation, the New-Land Foundation, Ploughshares Fund, the Prospect Hill Foundation, Longview Philanthropy, the Stewart R. Mott Foundation, the Future of Life Institute, Open Philanthropy, and individual donors.