Argentina Declassification Project Sets New Standard
Against all odds, the Trump Administration last week successfully completed one of the most extensive, complex and meaningful declassification initiatives ever, releasing thousands of newly declassified records concerning Argentina's former military dictatorship and the ensuing human rights violations.
The records were presented to Argentina's Minister of Justice Germán Garavano by David S. Ferriero, the Archivist of the United States, at a ceremony at the National Archives on Friday.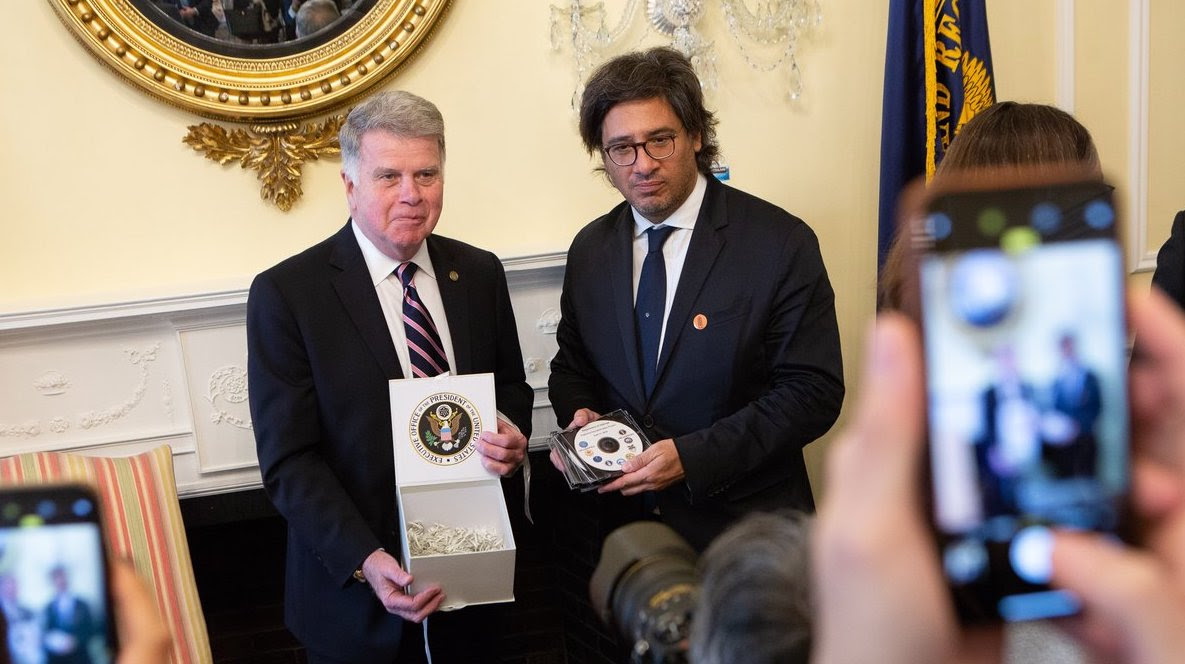 "There have been other declassification projects in the past," Mr. Ferriero said. "But this one stands out for several reasons. First, the project spanned two Presidential administrations. President Barack Obama directed agencies to conduct this project after receiving a request from Argentine President Mauricio Macri. And after President Macri renewed his request early in this Administration, President Donald Trump directed that it continue."
"The project is unparalleled for its scope and breadth," the Archivist said. "Sixteen Executive branch agencies participated, including intelligence, defense, and law enforcement agencies. Over 380 employees from these agencies spent almost 32,000 hours searching for and reviewing records on a word-for-word basis."
As a result, over 43,000 pages were publicly released on Friday. The release rate was 97%, far higher than is normally the case.
While prior releases focused on diplomatic records, last week's release included an abundance of intelligence agency records. The entire release was posted by the Office of the Director of National Intelligence at intel.gov/argentina. All or some of the records were also posted by the National Archives and the Department of Defense.
*
Whenever tears are shed about declassification, they are likely to be tears of frustration or anger at the inadequacy of the process. But at Friday's ceremony there were tears of gratitude from Argentine Justice Minister Garavano.
The Argentine delegation and others in attendance appeared genuinely moved at the level of effort that was devoted to this project by the U.S. government, which was by all accounts extraordinary.
"We have never witnessed the intensity and commitment by the professionals in the National Security Council and the agencies themselves to finding all the documents and declassifying them as fully as possible," said Carlos Osorio of the National Security Archive at George Washington University. The Archive helped advance the process and published its own descriptive selection of the documents.
While the new releases date from decades ago, they nevertheless "hold many lessons for today, and remain highly relevant as the debate over U.S. foreign policy and human rights is revisited," said Mr. Osorio, who spoke at Friday's ceremony.
Thanks to an unusually forward-leaning declassification effort, "they are rich in detail," Mr. Osorio said. "They are riveting in their content."
More important, "the release of these records is a uniquely valuable contribution to the cause of human rights, the cause of justice" and to Argentina's ongoing reckoning — said to include 400 pending investigations — with the military dictatorship, which ended in 1983. They are all the more valuable, he said, "because these documents name names."
"They name the names of the perpetrators and the names of their victims," Mr. Osorio said. "And because they name those names, they provide a level of truth and accountability that many other declassification projects have failed to achieve."
Against the backdrop of a declassification system that is severely backlogged and frequently unresponsive even with respect to documents that are decades old, the Argentina Declassification Project stands out as a somewhat mysterious success. Its productivity appeared to result from a combination of uninterrupted White House support, effective NSC leadership, sustained agency cooperation, a compelling diplomatic and human rights rationale for the effort, and popular support from NGOs in Argentina and the US.
If the U.S. government can successfully execute a declassification effort of this complexity and sensitivity, then what else might be possible? What is the next frontier in declassification?
"I'm thinking about it," said Archivist Ferriero.