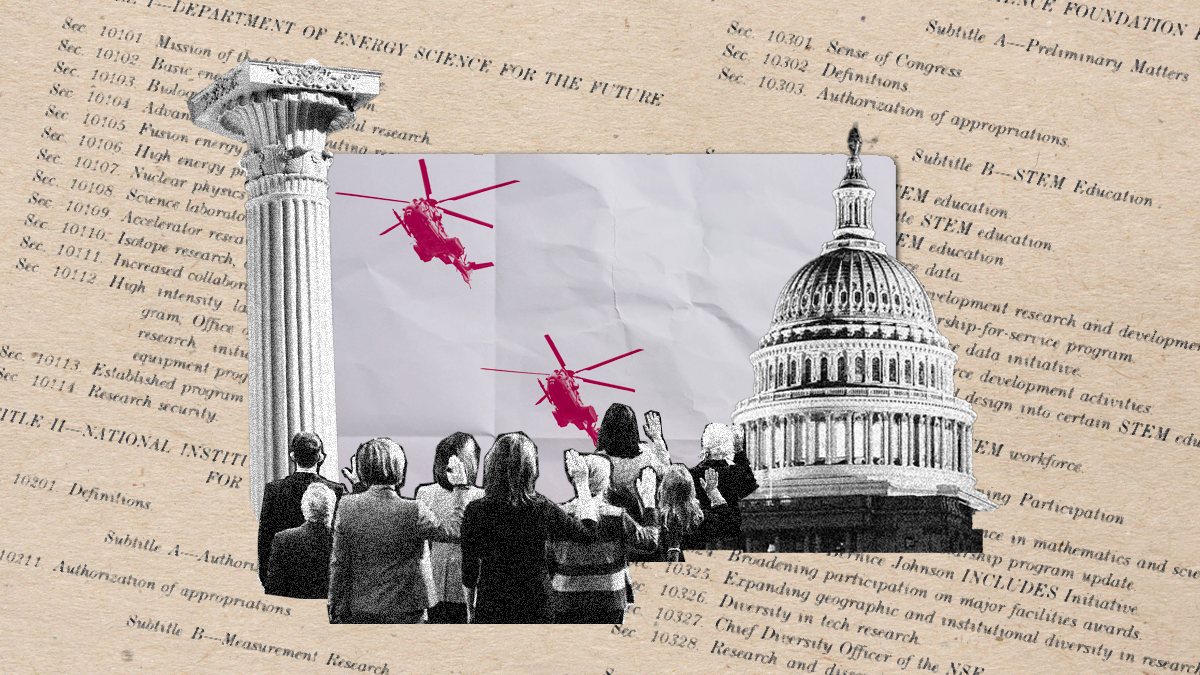 118th Congress: National Security
The 21st century will be shaped by the US-China strategic competition. The United States and China are locked in a battle for global power, influence, and resources, and are fighting for control of the world's most important geopolitical regions, including the Indo-Pacific and Africa. They are also vying for leadership in cutting-edge technologies such as artificial intelligence (AI), 5G, quantum computing, and cybersecurity. This competition is not just about economic dominance; it is also about ideology and values. To ensure that we can lead in today's world, the United States must innovate. If we don't, we may fall behind.
Below, we provide concrete, actionable policy proposals to help the 118th Congress meet this moment. These proposals will protect our troops, cultivate an agile and effective military, and develop a national security industrial base that allows America to lead in critical emerging technologies.
Medical Readiness. To support our troops, Congress should take steps to maintain military medical readiness. Generally, at the start of a given war, the American battlefield mortality rate is higher than it was at the end of the previous war, suggesting that military medical capabilities erode between wars. This erosion is responsible for the deaths of hundreds of American troops. To better protect our troops, Congress should direct the Department of Defense to expand military-civilian partnerships (MCPs) to pursue a national goal of eliminating preventable deaths, as detailed in the above memo.
Cultivating a 21st Century National Security Innovation Base. The National Security Commission on AI warned that a digital-talent deficit at the Department of Defense (DoD) represents the greatest impediment to the U.S. military's effective embrace of emerging technologies. To address this challenge:
Congress should create a national civilian "STEM Corps" modeled after the Reserve Officers' Training Corps and the National Guard, as introduced in HR 6526 in the 116th Congress. A competitive process would select students to receive full tuition to attend public universities. In return for accepting the scholarship, graduates would commit to several years serving in either the "active" or "reserve" STEM Corps. Additionally, Congress should work with the DoD lengthen Defense Innovation Unit (DIU) rotations, allowing DoD representatives more time to establish strong networks in Silicon Valley. The DIU should also continue to hire rapidly from those ecosystems.
Combating Increasing Global Threats. Many threats to national security can only be effectively countered by working with allies. To effectively combat such challenges, we must strengthen U.S. Engagement in International Standards Bodies. The U.S. should also lead in the formulation and ratification of a global treaty on artificial intelligence in the vein of the Geneva Conventions, the Chemical Weapons Convention, and the Nuclear Non-Proliferation Treaty to establish guardrails and protections for the civilian and military use of AI, as recommended by the Future of Defense Task Force.
Increasing Military Efficiency. Greater military efficiency can also be achieved by cutting down on unnecessary expenses. We can save billions on the U.S. nuclear deterrent by directing the Pentagon to wind down its current efforts to deploy an entirely new missile force, instead extending the life of our current arsenal of Intercontinental Ballistic Missiles (ICBMs).
Appropriations Recommendations
To protect American technological advantage and compete with China across all aspects of America's national security strategy:
The National Defense Education Program: The Department of Defense is not only working to create high end emerging technologies, but also putting resources into training the STEM workforce, which is essential for the safety of our country. To ensure that this expertise comes from a variety of backgrounds, we must offer chances to students and teachers of all ages in underprivileged and underrepresented communities, those with ties to the military, and veterans. The National Defense Education Program does just that, and we must ensure it continues receiving full support of Congress. The program element was funded at $145 million in FY 2022.
The role of the Bureau of Industry and Security (BIS) has become especially important on the technology competition front, as previously highlighted by members of the Foreign Affairs Committee. By enforcing export controls, BIS can limit China's access to technologies like AI which are used for military ends, thereby protecting America's national security. To ensure that BIS can effectively enforce these export controls, we recommend appropriating additional funding to BIS to support their critical work.
The National Defense Authorization Act of 2019 established the National Security Innovation Capital (NSIC) program in response to worries that American hardware startups were unable to secure sufficient funds from trustworthy domestic sources. Less than 30% of U.S. venture capital investments go towards hardware businesses, and less than 10% is invested during the early phases when it's needed most. Many times, these startups have had to depend on overseas investors, leaving them open to the risk of their intellectual property being taken by possible adversaries. In February 2021, the DIU established this fund as a result of $15 million in appropriations from Congress. Ensuring this program is fully funded every year is critical to our global competitiveness and national security.