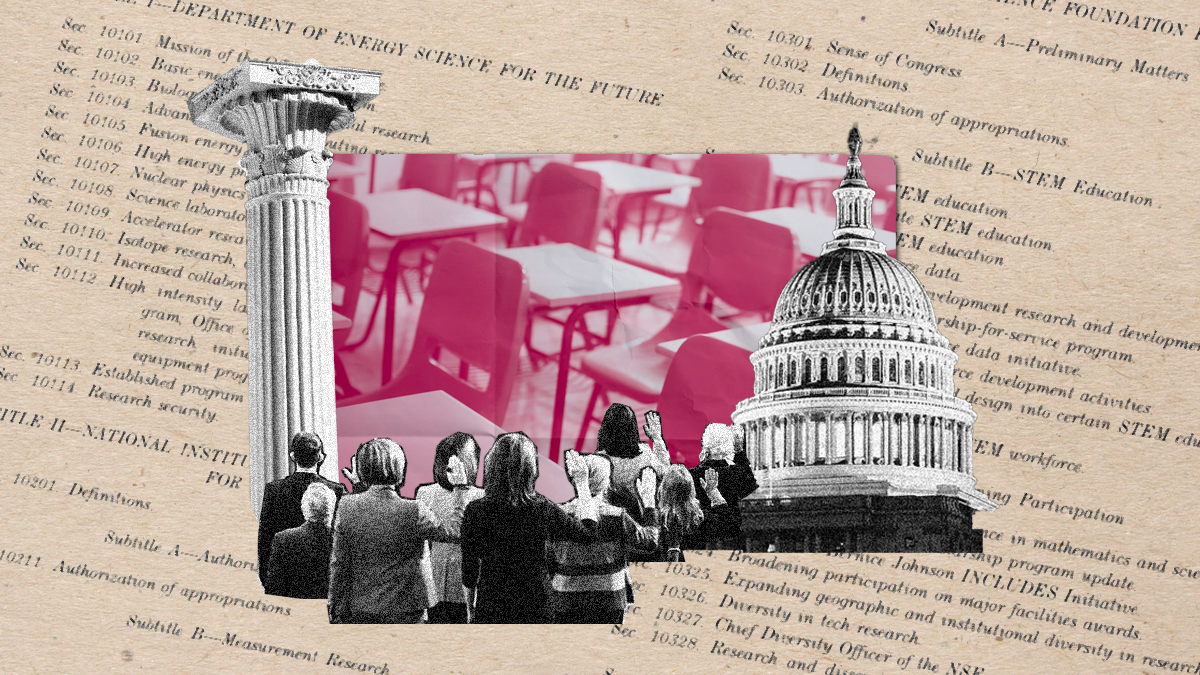 118th Congress: Education & Workforce
Amid growing global competition in emerging technologies, increasing adoption of automation and artificial intelligence, and economic and national security trends upended by the pandemic, the United States is facing a generational challenge. In the labor market, major shifts that were once the product of future-casting are now squarely upon us, demanding a strategic approach to help the modern workforce adapt, and ensure the education system fosters the next generation of innovators.
Individuals in the STEM workforce have made substantial contributions to the nation's innovation, growth and technological competitiveness, and will continue to be at the core of the economy. According to the U.S. Bureau of Labor Statistics, STEM employment is projected to increase by 11 percent from 2020 to 2030. The Department of Defense and leading experts agree that the future of national security relies on advanced technologies such as artificial Intelligence (AI), cybersecurity, quantum computing and robotics, all of which require a strong STEM education pipeline. Unfortunately, STEM education trends in the United States have not kept up. According to the World Economic Forum, China had 4.7 million STEM graduates in 2016, India had 2.6 million STEM graduates, but the US had 568,000. The most recent National Assessment of Educational Progress (NAEP) results reported that the average score for 9-year-old students fell 7 percentage points between 2020 and 2022, representing a 2 decade backslide in performance. And a 2021 National Academies review finds that only 22 percent of American high school graduates are proficient in science, with the average elementary classroom devoting less than 20 minutes per day to science, and 69% of elementary teachers say they are not well prepared to teach science.
The 118th Congress must act in this historic convergence of economic and educational demands. Much as the nation once rallied around its SPUTNIK moment and the Space Race, we now have an opportunity to reverse current education and workforce trends through a series of strategic investments.
Fostering a competitive job market and a strong economy. The United States built the 20th century in part through investments in education and training pathways to quality, economically-sound jobs. But today, according to a recent McKinsey Global Institute survey of 750 executives, almost 30 percent of respondents perceived the skills gap to be the biggest challenge their companies are confronting.
To help American workers adapt and upskill, Congress and federal agencies should implement training and transition strategies for high-tech sector-specific workforces, such as in the fields of quantum computing, clean energy transition, or semiconductors, as was the intent of the CHIPS for America Workforce and Education Fund included in the CHIPS and Science Act. Congress should also leverage existing programs for work-based learning and retraining by reauthorizing and modernizing federally-registered apprenticeships. Similarly, effective government programs such as the Trade Adjustment Assistance Program should be revisited and reformed to promote worker upskilling and assistance. Congress should also ensure robust appropriations for the Workforce Innovation Fund authorized by the Workforce Innovation and Opportunity Act (WIOA).
Further, the modern labor market calls for still bolder reimagining of workforce training opportunities. Just as the nation recognizes the value to national security, energy, and health presented by the Advanced Research Projects Agency (ARPA) model, so too should we adapt this model to prioritize worker training at scale through an ARPA for Labor.
Amid a backdrop of historic and controversial layoffs from giants within the tech industry, Congress should take steps to ensure competitive labor markets for all Americans, through increased oversight of overly restrictive non-disclosure agreements and suffocating non-compete agreements that diminish labor mobility and competition.
Strengthen STEM Education & Training Pipelines to Compete Globally. The ability of employers and workers to compete on the global stage is inextricably linked to the education and training students receive today. But as mentioned above, the system is slipping. The U.S. Chamber of Commerce reports that our education system is failing to produce enough graduates with critical STEM and technical skills, while results from the Program for International Student Assessment (PISA) indicate that US students continue to lag behind their peers in East Asia and Europe in reading, math, and science. This stunts employers' ability to hire and workers' ability to secure higher-paying jobs.
Fortunately, Congress put STEM education reform at the core of the bipartisan CHIPS and Science Act, which authorizes new and expanded investments in STEM education and training at all schooling levels. One of the major priorities of the new Congress should be to follow through with full funding for CHIPS and Science education programs at NSF and other science agencies at authorized levels. This includes $2.5 billion in FY 2024, and $13 billion total over five years, for the NSF STEM Education directorate (see more details below). These programs scale up research and innovations in preK-12 instruction, in addition to bolstering support for R&D to improve STEM education at undergraduate and community colleges, and other scholarship & fellowship programs.
The Act also tasks the NSF to update the Graduate Research Fellowship Program (GRFP) by increasing the number of science and engineering graduate fellows supported annually, by increasing the cost education allowance, and by recruiting a more diverse pool of applicants. As was recommended by the Trump Administration's President's Council of Advisors on Science and Technology (PCAST), expanding the NSF Graduate Research Fellowship Program is a logical and easy way to expand and retain the critical American innovation pipeline.
To ensure today's students catch up to their international peers (and that we are already looking ahead to the challenges of the next decade) the US must prioritize R&D in education in a manner similar to fields like medicine and commerce. This requires a strategic investment in the research capacity at the Department of Education, as well as in the basic data infrastructure that will allow parents and districts to understand how their students are faring in comparison to their domestic and global peers.
Appropriations Recommendations
Full Funding for CHIPS and Science STEM Education. As mentioned above, Congress has the critical opportunity to invest in STEM education programs at the National Science Foundation (NSF) authorized in the CHIPS and Science Act. These programs support vital teacher training and collaboration with the scientific workforce, improved STEM education in afterschool programs, and a dedicated focus to diversify STEM fields through higher education programs. The full authorization for NSF Stem Education is $2.5 billion in FY 2024, which includes the following top-level programmatic investments:
$80.4 million for the Robert Noyce Teacher Scholarship Program to support STEM educators;
$64.9 million for the NSF Research Traineeship program for STEM students and future scholars;
$454.1 million for the Graduate Research Fellowship program for students earning advanced STEM degrees;
$8 billion for Fellowships, Traineeships and Scholarships;
And robust funding for Education and Human Resources Directorate operations and award management to support established STEM programs in K-12, informal, and other education setting
Other Strategic Investments in Economic Security. In addition to the initiatives laid out in CHIPS and Science, there are several other high-leverage investments Congress can make. Note: the top four recommendations are from the Alliance for Learning Innovation, a coalition advocating for research-based innovations in education, of which FAS is a member.
$900 million for the Institute of Education Sciences. Funding for IES research and development will help identify promising evidence-based practices to counteract pandemic induced drop in NAEP scores especially in mathematics and reading. IES appropriations should rise to $900 million in FY 2024, representing an 11% increase above FY 2023.
$514 million for the Education Innovation and Research program. The EIR program is a critical resource in supporting the development and scaling of education research in areas like STEM, social and academic learning, teacher development, and other areas. Within the $514 million allocation, funding would support projects to identify and scale use of evidence-based strategies and practices that emphasize the innovative implementation of education research, existing and new, at the school level that can lead to increased student outcomes.
$100 million for Centers for Transformative Education Research and Translation (CTERT). The CHIPS and Science Act establishes the NSF Directorate for Technology, Innovation and Partnerships (TIP), which will prioritize new programs that support technology commercialization, regional innovation and workforce development. Congress should allocate an additional $100 million for the Centers for Transformative Education Research and Translation that will ensure support for emerging technology areas crucial for United States leadership.
$100 million for Statewide Longitudinal Data Systems. Statewide Longitudinal Data Systems (SLDS) hold the promise of identifying promising programs and gaps where intervention may be needed. The funds will support competitive grant awards to states to focus on modernizing systems and support efforts to align investments that have been made in States with Department of Labor Workforce Data Quality Initiative (WDQI) investments.
$122.5 million for the Department of Labor's budget for Evaluation & Research. The Evaluation & Research programs authorized by the Workforce Innovation and Opportunity Act (WIOA) are required to use "appropriate and rigorous methodology and research designs" that address the general effectiveness and impact of WIOA-authorized programs. Congress should be equipping DOL to understand which workforce interventions will actually provide Americans with the training they need to attain quality jobs with 21st century skills, and leading to smarter investments for our workers.
$5 million to support the creation of a new STEM office at the Department of Education. Following the announcement of the Department of Education about newly dedicated staff and resources to guide the future of STEM education for the US' approximately 50 million students, Congress should properly invest in the success of this endeavor as a down payment on America's future economic security.
An additional $750 million for 21st Century Community Learning Centers. A longstanding bipartisan priority, the afterschool and summer learning programs supported by the 21st Century Community Learning Centers provide students with safe environments that often provide authentic STEM learning opportunities not otherwise available to them, while simultaneously allowing their parents to remain at work. Additional investment in this program will continue to bolster both STEM education for K12 students and the current workforce.