New Environmental Assessment Reveals Fascinating Alternatives to Land-Based ICBMs
A new Air Force environmental assessment reveals that it considered basing ICBMs in underground railway tunnels––or possibly underwater.
On July 1st, the Air Force published its Draft Environmental Impact Statement (EIS) for its proposed ICBM replacement program, previously known as the Ground-Based Strategic Deterrent (GBSD) and now by its new name, "Sentinel." The government typically conducts an EIS whenever a federal program could potentially disrupt local water supplies, transportation, socioeconomics, geology, air quality, and other related factors.
A comprehensive environmental assessment is certainly warranted in this case, given the tremendous scale of the Sentinel program––which consists of a like-for-like replacement of all 400 Minuteman III missiles that are currently deployed across Colorado, Montana, Nebraska, North Dakota, and Wyoming, plus upgrades to the launch facilities, launch control centers, and other supporting infrastructure.
The Draft EIS was anxiously awaited by local stakeholders, chambers of commerce, contractors, residents, and… me! Not because I'm losing sleep about whether Sentinel construction will disturb Wyoming's Western Bumble Bee (although maybe I should be!), but rather because an EIS is also a wonderful repository for juicy, and often new, details about federal programs––and the Sentinel's Draft EIS is certainly no exception.
Interestingly, the most exciting new details are not necessarily about what the Air Force is currently planning for the Sentinel, but rather about which ICBM replacement options they previously considered as alternatives to the current program of record. These alternatives were assessed during in the Air Force's 2014 Analysis of Alternatives––a key document that weighs the risks and benefits of each proposed action––however, that document remains classified. Therefore, until they were recently referenced in the July 2022 Draft EIS, it was not clear to the public what the Air Force was actually assessing as alternatives to the current Sentinel program.
Missile alternatives
The Draft EIS notes that the Air Force assessed four potential missile alternatives to the current plan, which involves designing a completely new ICBM:
Reproducing Minuteman III ICBMs to "existing specifications" by washing out and refilling the first- and second-stage rocket boosters; remanufacturing the third stages and Propulsion System Rocket Engine––the ICBM's post-boost vehicle; and refurbishing and replacing all other subsystems;
The Air Force appears to have ultimately eliminated all four of these options from consideration because they did not meet all of their "selection standards," which included criteria like sustainability, performance, safety, riskiness, and capacity for integration into existing or proposed infrastructure.
Of particular interest, however, is the Air Force's note that the Minuteman III reproduction alternative was eliminated in part because it did not "meet the required performance criteria for ICBMs in the context of modern and evolving threats (e.g., range, payload, and effectiveness." It is highly significant to state that the Minuteman III cannot meet the required performance criteria for ICBMs, given that the Minuteman III currently performs the ICBM role for the US Air Force and will continue to do so for the next decade.
This statement also suggests that "modern and evolving threats" are driving the need for an operationally improved ICBM; however, it is unclear what the Air Force is referring to, or how these threats would necessarily justify a brand-new ICBM with new capabilities. As I wrote in my March 2021 report, "Siloed Thinking: A Closer Look at the Ground-Based Strategic Deterrent,"
"With respect to US-centric nuclear deterrence, what has changed since the end of the Cold War? China is slowly but steadily expanding its nuclear arsenal and suite of delivery systems, and North Korea's nuclear weapons program continues to mature. However, the range and deployment locations of the US ICBM force would force the missiles to fly over Russian territory in the event that they were aimed at Chinese or North Korean targets, thus significantly increasing the risk of using ICBMs to target either country. Moreover, […] other elements of the US nuclear force––especially SSBNs––could be used to accomplish the ICBM force's mission under a revised nuclear force posture, potentially even faster and in a more flexible manner. […] It is additionally important to note that even if adversarial missile defenses improved significantly, the ability to evade missile defenses lies with the payload––not the missile itself. By the time that an adversary's interceptor was able to engage a US ICBM in its midcourse phase of flight, the ICBM would have already shed its boosters, deployed its penetration aids, and would be guided solely by its reentry vehicle. Reentry vehicles and missile boosters can be independently upgraded as necessary, meaning that any concerns about adversarial missile defenses could be mitigated by deploying a more advanced payload on a life-extended Minuteman III ICBM."
Of additional interest is the passage explaining why the Air Force dismissed the possibility of using the Trident II D5 SLBM as a land-based weapon:
"The D5 is a high-accuracy weapon system capable of engaging many targets simultaneously with overall functionality approaching that of land- based missiles. The D5 represents an existing technology, and substantial design and development cost savings would be realized; but the associated savings would not appreciably offset the infrastructure investment requirements (road and bridge enhancements) necessary to make it a land-based weapon system. In addition, motor performance and explosive safety concerns undermine the feasibility of using the D5 as a land-based weapon system."
The Air Force's concerns over road and bridge quality are probably justified––missiles are incredibly heavy, and America's bridges are falling apart at a terrifying rate. However, it is unclear why the Air Force is not confident about the D5's motor performance, given that even aging Trident SLBMs have performed very well in recent flight tests: in 2015 the Navy conducted a successful Trident flight test using "the oldest 1st stage solid rocket motor flown to date" (over 26 years old), with 2nd and 3rd stage motors that were 22 years old. In January 2021, Vice Admiral Johnny Wolfe Jr.––the Navy's Director for Strategic Systems Programs––remarked that "solid rocket motors, the age of those we can extend quite a while, we understand that very well." This is largely due to the Navy's incorporation of nondestructive testing techniques––which involve sending a probe into the bore to measure the elasticity of the propellant––to evaluate the reliability of their missiles.
As a result, the Navy is not currently contemplating the purchase of a brand-new missile to replace its current arsenal of Trident SLBMs, and instead plans to conduct a second life-extension to keep them in service until 2084. However, the Air Force's comments suggest either a lack of confidence in this approach, or perhaps an institutional preference towards developing an entirely new missile system. [Note: Amy Woolf helpfully offered up another possible explanation, that the Air Force's concerns could be related to the ability of the Trident SLBM's cold launch system to perform effectively on land, given that these very different launch conditions could place additional stress on the missile system itself.]
Basing alternatives
The Draft EIS also notes that the Air Force assessed two fascinating––and somewhat familiar––alternatives for basing the new missiles: in underground tunnels and in "deep-lake silos."
The tunnel option––which had been teased in previous programmatic documents but never explained in detail––would include "locating, designing, excavating, developing, and installing critical support infrastructure such as rail systems and [launch facilities] for an array of underground tunnels that would likely span hundreds of miles"––and it is effectively a mashup of two concepts from the late Cold War.
The rail concept was strongly considered during the development of the MX missile in the 1980s, although the plan called for missile trains to be dispersed onto the country's existing civilian rail network, rather than into newly-built underground tunnels. Both the rail and tunnel concepts were referenced in one of my favourite Pentagon reports––a December 1980 Pentagon study called "ICBM Basing Options," which considered 30 distinct and often bizarre ICBM basing options, including dirigibles, barges, seaplanes, and even hovercraft!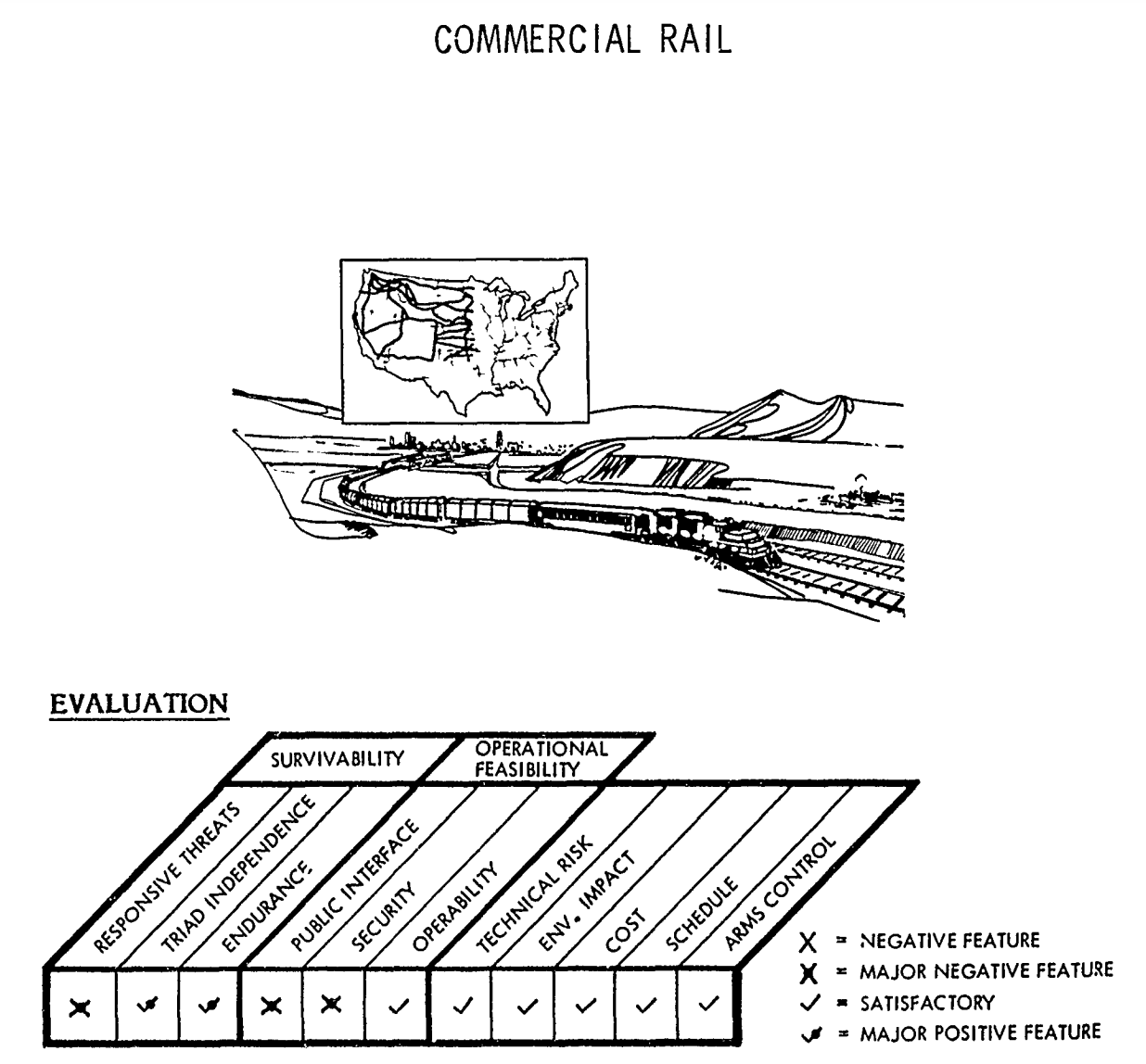 The second option––basing ICBMs in deep-lake silos––was also referenced in that same December 1980 study. The concept––nicknamed "Hydra"––proposed dispersing missiles across the ocean using floating silos, with "only an inconspicuous part of the missile front end [being] visible above the surface." Interestingly, this raises the theoretical question of whether the Air Force would still maintain control over the ICBM mission, given that the missiles would be underwater.
When considering alternative basing modes for the Sentinel ICBM, the Air Force eliminated both concepts due to cost prohibitions, and, in the case of underwater basing, a lack of confidence that the missiles would be safe and secure. This concern was also floated in the 1980 study as well, with the Pentagon acknowledging the likelihood that US adversaries and non-state actors "would also be engaged in a hunt for the Hydras. Not under our direct control, any missile can be destroyed or towed away (stolen) at leisure."
Another potential option?
In addition to revealing these fascinating details about previously considered alternatives to the Sentinel program, the Draft EIS also highlighted a public comment suggesting that "the most environmentally responsible option" would simply be the reduction of the Minuteman III inventory.
The Air Force rejected the comment because it says that it is "required by law to accelerate the development, procurement, and fielding of the ground based strategic deterrent program;'" however, the public commenter's suggestion is certainly a reasonable one. The current force level of 400 deployed ICBMs is not––and has never been––a magic number, and it could be reduced further for a variety of reasons, including those related to security, economics, or a good faith effort to reduce deployed US nuclear forces. In particular, as George Perkovich and Pranay Vaddi wrote in a 2021 Carnegie Endowment for International Peace report, "This assumption that the ICBM force would not be eliminated or reduced before 2075 is difficult to reconcile with U.S. disarmament obligations under Article VI of the Nuclear Non-Proliferation Treaty."
The security environment of the 21st century is already very different than that of the previous century. The greatest threats to Americans' collective safety are non-militarized, global phenomena like climate change, domestic unrest and inequality, and public health crises. And recent polling efforts by ReThink Media, the Union of Concerned Scientists, and the Federation of American Scientists suggest that Americans overwhelmingly want the government to invest in more proximate social issues, rather than on nuclear weapons. To that end, rather than considering building new missile tunnels, it would likely be much more domestically popular to spend money on domestic priorities––perhaps new subway tunnels?
—
Background Information:
This publication was made possible by generous support from the John D. and Catherine T. MacArthur Foundation, the New-Land Foundation, Ploughshares Fund, the Prospect Hill Foundation, and Longview Philanthropy. The statements made and views expressed are solely the responsibility of the author.
Environmental Assessment Reveals New Details About the Air Force's ICBM Replacement Plan
Any time a US federal agency proposes a major action that "has the potential to cause significant effects on the natural or human environment," they must complete an Environmental Impact Statement, or EIS. An EIS typically addresses potential disruptions to water supplies, transportation, socioeconomics, geology, air quality, and other factors in great detail––meaning that one can usually learn a lot about the scale and scope of a federal program by examining its Environmental Impact Statement.
What does all this have to do with nuclear weapons, you ask?
Well, given that the Air Force's current plan to modernize its intercontinental ballistic missile force involves upgrading hundreds of underground and aboveground facilities, it appears that these actions have been deemed sufficiently "disruptive" to trigger the production of an EIS.
To that end, the Air Force recently issued a Notice of Intent to begin the EIS process for its Ground-Based Strategic Deterrent (GBSD) program––the official name of the ICBM replacement program. Usually, this notice is coupled with the announcement of open public hearings, where locals can register questions or complaints with the scope of the program. These hearings can be influential; in the early 1980s, tremendous public opposition during the EIS hearings in Nevada and Utah ultimately contributed to the cancellation of the mobile MX missile concept. Unfortunately, in-person EIS hearings for the GBSD have been cancelled due to the ongoing Covid-19 pandemic; however, they've been replaced with something that might be even better.
The Air Force has substituted its in-person meetings for an uncharacteristically helpful and well-designed website––gbsdeis.com––where people can go to submit comments for EIS consideration (before November 13th!). But aside from the website being just a place for civic engagement and cute animal photos, it is also a wonderful repository for juicy––and sometimes new––details about the GBSD program itself.
The website includes detailed overviews of the GBSD-related work that will take place at the three deployment bases––F.E. Warren (located in Wyoming, but responsible for silos in Wyoming, Colorado, and Nebraska), Malmstrom (Montana), and Minot (North Dakota)––plus Hill Air Force Base in Utah (where maintenance and sustainment operations will take place), the Utah Test and Training Range (where missile storage, decommissioning, and disposal activities will take place), Camp Navajo in Arizona (where rocket boosters and motors will be stored), and Camp Guernsey in Wyoming (where additional training operations will take place).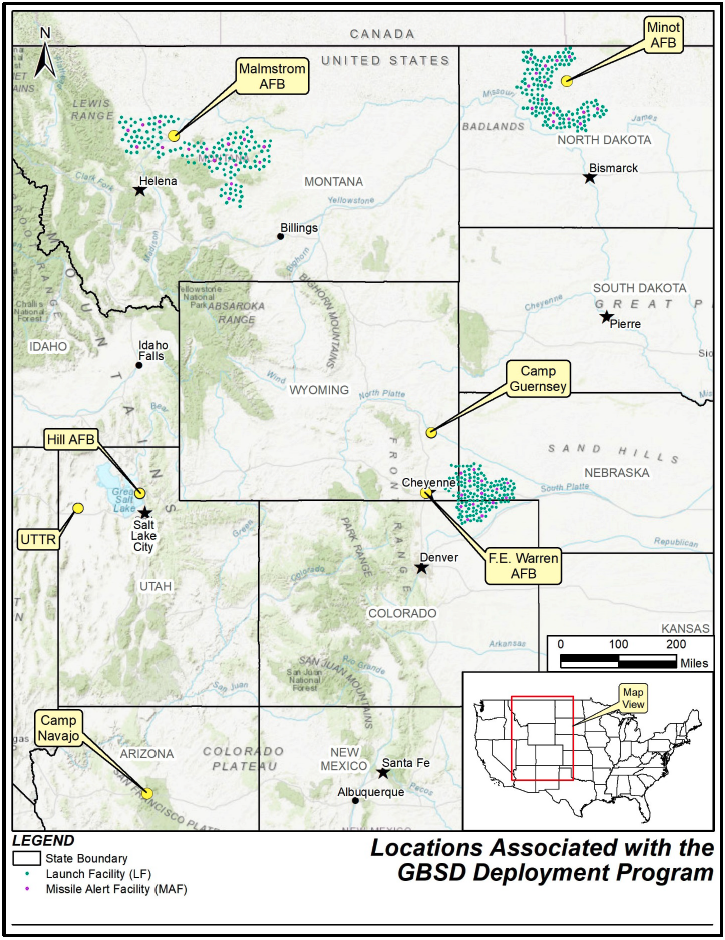 Taking a closer look at these overviews offers some expanded details about where, when, and for how long GBSD-related construction will be taking place at each location.
For example, previous reporting seemed to indicate that all 450 Minuteman Launch Facilities (which contain the silos themselves) and "up to 45" Missile Alert Facilities (each of which consists of a buried and hardened Launch Control Center and associated above- or below-ground support buildings) would need to be upgraded to accommodate the GBSD. However, the GBSD EIS documents now seem to indicate that while all 450 Launch Facilities will be upgraded as expected, only eight of the 15 Missile Alert Facilities (MAF) per missile field would be "made like new," while the remainder would be "dismantled and the real property would be disposed of."
Currently, each Missile Alert Facility is responsible for a group of 10 Launch Facilities; however, the decision to only upgrade eight MAFs per wing––while dismantling the rest––could indicate that each MAF could be responsible for up to 18 or 19 separate Launch Facilities once GBSD becomes operational. If this is true, then this near-doubling of each MAF's responsibilities could have implications for the future vulnerability of the ICBM force's command and control systems.
The GBSD EIS website also offers a prospective construction timeline for these proposed upgrades. The website notes that it will take seven months to modernize each Launch Facility, and 12 months to modernize each Missile Alert Facility. Once construction begins, which could be as early as 2023, the Air Force has a very tight schedule in order to fully deploy the GBSD by 2036: they have to finish converting one Launch Facility per week for nine years. It is expected that construction and deployment will begin at F.E. Warren between 2023 and 2031, followed by Malmstrom between 2025 and 2033, and finally Minot between 2027 and 2036.
Although it is still unclear exactly what the new Missile Alert Facilities and Launch Facilities will look like, the EIS documents helpfully offer some glimpses of the GBSD-related construction that will take place at each of the three Air Force bases over the coming years.
In addition to the temporary workforce housing camps and construction staging areas that will be established for each missile wing, each base is expected to receive several new training, storage, and maintenance facilities. With a single exception––the construction of a new reentry system and reentry vehicle maintenance facility at Minot––all of the new facilities will be built outside of the existing Weapons Storage Areas, likely because these areas are expected to be replaced as well. As we reported in September, construction has already begun at F.E. Warren on a new underground Weapons Generation Facility to replace the existing Weapons Storage Area, and it is expected that similar upgrades are planned for the other ICBM bases.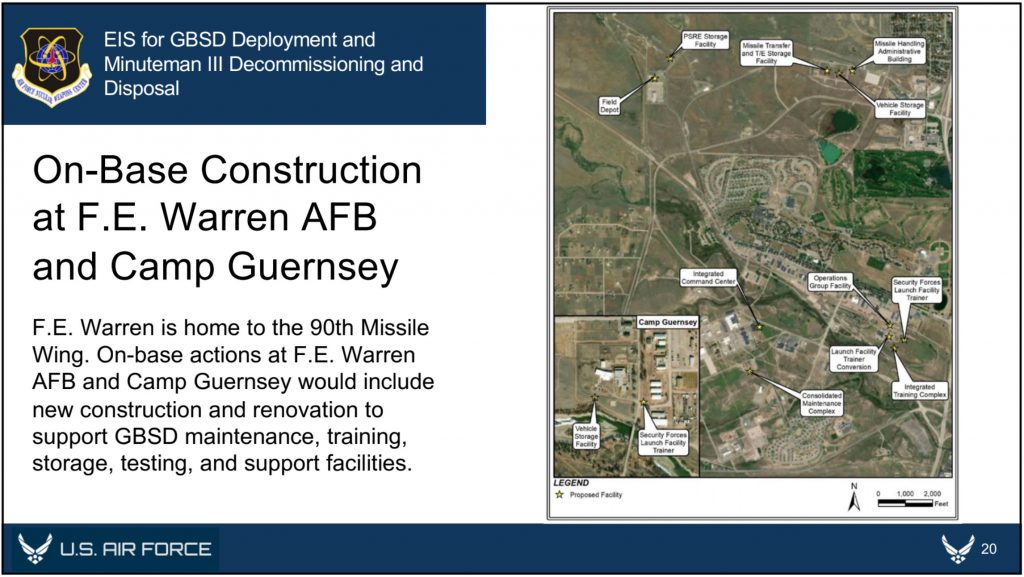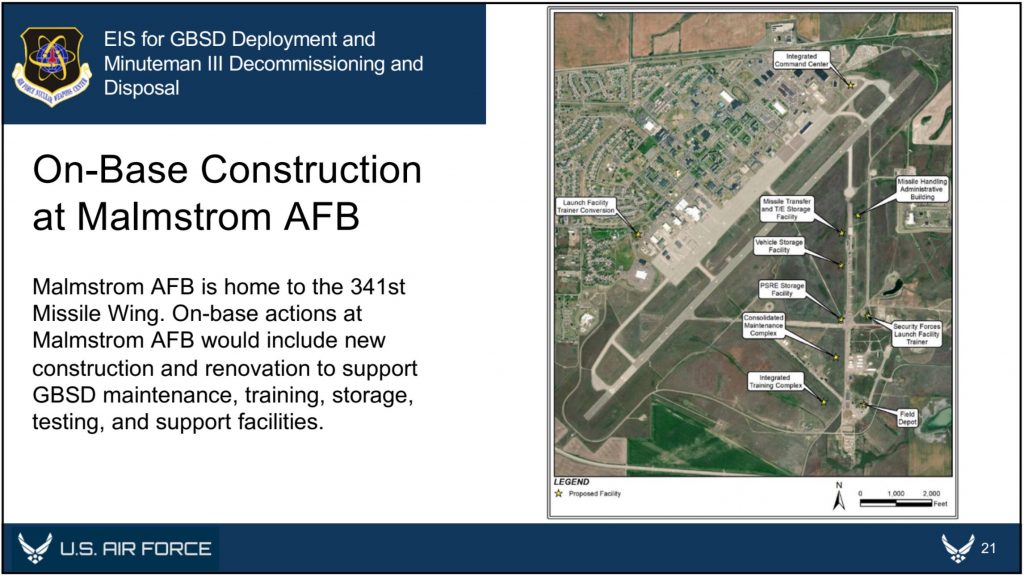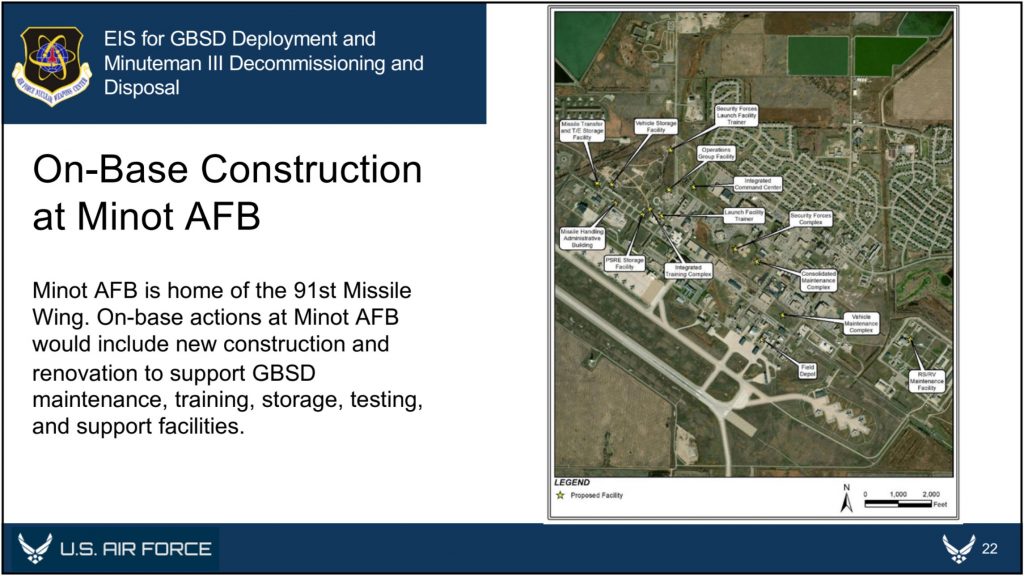 Finally, the EIS documents also provide an overview of how and where Minuteman III disposal activities will take place. Upon removal from their silos, the Minutemen IIIs will be transported to their respective hosting bases––F.E. Warren, Malmstrom, or Minot––for temporary storage. They will then be transported to Hill Air Force Base, the Utah Test and Training Range (UTTR), or Camp Najavo, in Arizona. It is expected that the majority of the rocket motors will be stored at either Hill AFB or UTTR until their eventual destruction at UTTR, while non-motor components will be demilitarized and disposed of at Hill AFB. To that end, five new storage igloos and 11 new storage igloos will be constructed at Hill AFB and UTTR, respectively. If any rocket motors are stored at Camp Navajo, they will utilize existing storage facilities.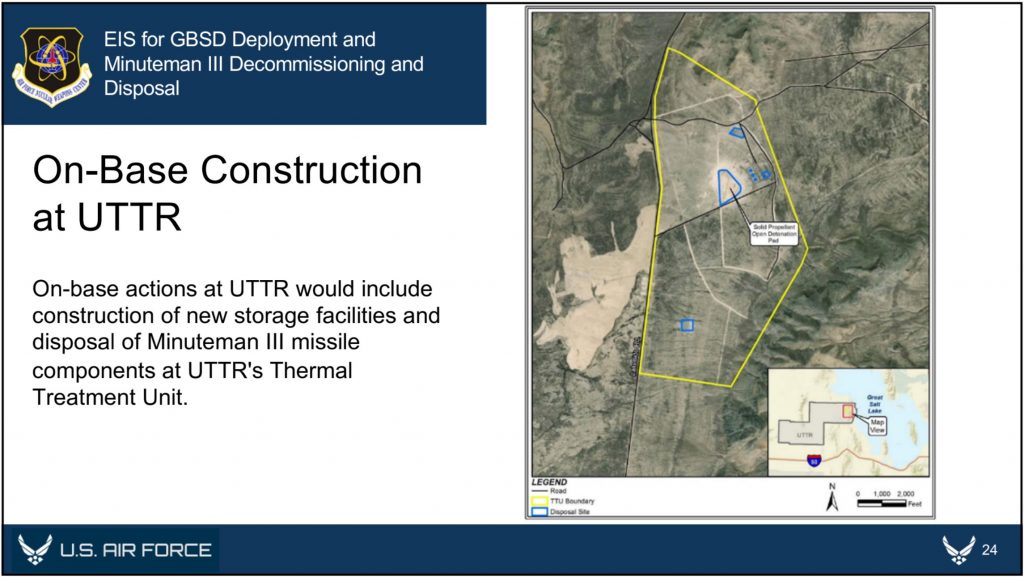 After the completion of public scoping on November 13th (during which anyone can submit comments to the Air Force via Google Form), the next public milestone for the GBSD's EIS process will occur in spring 2022, when the Air Force will solicit public comments for their Draft EIS. When that draft is released, we should learn even more about the GBSD program, and particularly about how it impacts––and is impacted by––the surrounding environment. These particular aspects of the program are growing in significance, as it is becoming increasingly clear that the US nuclear deterrent––and particularly the ICBM fleet deployed across the Midwest––is uniquely vulnerable to climate catastrophe. Given that the GBSD program is expected to cost nearly $264 billion through 2075, Congress should reconsider whether it is an appropriate use of public funds to recapitalize on elements of the US nuclear arsenal that could ultimately be rendered ineffective by climate change.
Additional background information:
This publication was made possible by generous contributions from the Carnegie Corporation of New York, the John D. and Catherine T. MacArthur Foundation, the New Land Foundation, the Ploughshares Fund, and the Prospect Hill Foundation. The statements made and views expressed are solely the responsibility of the author.
Image sources: Air Force Global Strike Command. 2020. "Environmental Impact Statement for the Ground-Based Strategic Deterrent Deployment and Minuteman III Decommissioning and Disposal: Public Scoping Materials."
Remembering Hiroshima and Nagasaki, 75 Years After
Seventy-five years ago, the United States conducted two nuclear attacks against the cities of Hiroshima and Nagasaki, Japan, devastating their populations and destroying their infrastructure.
In the process of manufacturing and testing the nuclear weapons that would eventually be used on Hiroshima and Nagasaki, civilians within downwind communities, nuclear workers, uranium miners and their families, and military personnel were also exposed to harmful and sometimes deadly levels of ionizing radiation. Following their use in Japan, the production and past testing of nuclear weapons in the United States and internationally continues to harm the health, environment, and cultures of communities around the world.
In the United States, we are commonly told that creating and dropping these nuclear bombs was "necessary" in order to end the Second World War and save additional lives. As several prominent historians have detailed extensively, this narrative is oversimplistic and ahistorical: the bombs were never intended to take the place of an invasion, and it is not even clear that they directly brought about the end of the war in the way that is often portrayed. Primary documents show that the commonly-taught narrative about the two atomic bombings can be easily deconstructed. Additionally, these nuclear bombings followed devastating conventional firebombings of Japanese cities that were specifically designed to target civilians and infrastructure.
Seventy-five years later, we commemorate the nuclear attacks and the unspeakable human suffering they inflicted, which remind us of the uniquely destructive capability of nuclear weapons and the importance of ensuring that they are never used in anger again.
In recognition of this 75th anniversary, the Federation of American Scientists is honored to join a coalition of nuclear weapons organizations and survivors in calling for our leaders to take the actions necessary to ensure nuclear weapons are never used again and to negotiate in good faith the global elimination of these most devastating weapons of mass destruction.
As our coalition statement reads,
Today, we are living in a time of extraordinary nuclear dangers. Vital international agreements to reduce and control nuclear weapons worldwide are being abandoned. Budgets for the development and production of new nuclear weapons are growing. Tensions among nuclear-armed nations are rising to levels not seen since the Cold War.
As the mayors of Hiroshima and Nagasaki warn: "We are badly off course in efforts to honor the plea of the hibakusha and end the nuclear threat."
As the only country to use nuclear weapons in conflict, the United States has a moral obligation to lead the world in ending this menace and restoring communities impacted by nuclear weapons.
People created these weapons and designed the systems governing their use; people can work to eliminate them.
As we wrote on the 75th anniversary of the Trinity test, we are trending in the wrong direction. Despite reductions since the Cold War, there are still more than 13,000 nuclear weapons in the world, and every nuclear-armed country is currently in the midst of modernizing their nuclear arsenals. Disturbingly, bilateral and multilateral arms control agreements have fallen away or are currently under severe stress. Most immediately concerning is New START, which effectively limits US and Russian strategic warhead and launcher deployments, but expires in February 2021. As we have written, New START extension is a no-brainer: Russia and the United States can extend the New START treaty by up to 5 more years. It is essential both sides act responsibly and do so to preserve this essential agreement.
The Federation of American Scientists is honored to provide the world with the best non-classified estimates of the nuclear weapons arsenals. We are grateful for the financial support from the New Land Foundation, MacArthur Foundation, Ploughshares Fund, and the Prospect Hill Foundation to do this work. To explore this vast data, developed over many decades, start here.
75 Years Ago: The Trinity Nuclear Test
On this day 75 years ago, the world entered the nuclear age. The first ever nuclear detonation – known as the Trinity test – took place in New Mexico on July 16th, 1945. Since then, ten countries built more than 134,000 nuclear weapons. More than 13,400 remain today.
In the decades that followed, nuclear testing contaminated lands, oceans, and people, and triggered a nuclear arms race that continues to this day. The Federation of American Scientists is honored to join our colleagues at the Union of Concerned Scientists and Tularosa Basin Downwinders Consortium in a joint statement with five other U.S. organizations on the humanitarian consequences of nuclear testing, endured by victims in the United States and its Pacific territories, from French nuclear testing in French Polynesia and Algeria, Russian nuclear testing in Kazakhstan, British nuclear testing in Australia, and others.
In addition to these harms, the Trinity test marked the beginning of the global nuclear arms race with its endless cycles of nuclear modernization and competition, which continue to this day. Unlike any other invention, nuclear weapons have the capability to destroy human civilization and much or life on Planet Earth.
The Federation of American Scientists has tracked the rise and fall of global nuclear arsenals for many years. Despite reductions since the Cold War, there are still more than 13,000 nuclear weapons in the world. And we are disappointed to note the emergence of five disturbing trends regarding the current and future state of nuclear weapons:
Every nuclear-armed country is currently in the midst of

modernizing their nuclear arsenals

. Some countries are actually increasing their stockpiles, while others are swapping out their older weapons with newer, more effective ones that will endure almost until the end of the 21st century.
Not only are nuclear arsenals either increasing or improving, but it appears that many states are reinvigorating or even expanding the role of nuclear weapons – specifically tactical nuclear weapons – in their military doctrines. State representatives have often claimed that these deployments are actually intended to prevent conflict; however, regardless of how much stake one puts into that sort of statement, it is a fact that many states are now increasingly posturing themselves for nuclear warfighting. This development will make it more difficult to reduce the role of nuclear weapons and pursue significant reductions – and certainly disarmament – in the future.

In recent years, we have also seen the decline – and general disinterest – in arms control writ large. Today, bilateral and multilateral arms control agreements have fallen away or are under severe stress, multilateral efforts to engage in good faith arms reductions appear to have completely stagnated, and states often seem more interested in blaming and shaming their prospective arms control partners than actually pursuing measures that would offer a modicum of transparency and predictability in an otherwise unpredictable world.

Rather than pursue arms control, it seems that states are more content with pursuing arms competition and even arms races. This is a result of renewed military competition and is fueled by the tremendous influence that weapons contractors and lobbyists have on government decisions; indeed, sometimes nuclear decisions seem to be driven as much – if not more – by corporate interests than by national security concerns.

Nuclear-armed states largely do not appear to consider nuclear disarmament to be an urgent global security, humanitarian, or environmental imperative. Instead, most states seem to consider disarmament as a type of chore mandated by the Non-Proliferation Treaty – and not one that they are seriously interested in completing in the foreseeable future. It is increasingly rare to hear any officials from nuclear weapon states express a coherent rationale for pursuing disarmament other than as a result of the obligation to do so under the Non-Proliferation Treaty. Moreover, they seem increasingly focused on shifting the disarmament responsibility onto the non-nuclear states by arguing they first must create the security conditions that will make nuclear disarmament possible.
Although the Trinity test took place 75 years ago, its destructive legacy continues to this day. And despite these harms, some politicians are even trying to return to an era of live nuclear testing. Resuming nuclear explosive testing would be taking a monumental step backward and would open the floodgates for worldwide resumption of nuclear testing and development of new nuclear weapons. Instead, on this 75th anniversary, we must look forward, try our best to reverse these worrying trends, responsibly reduce the arsenals and the role that nuclear weapons serve, and work towards a world eventually free from nuclear weapons.
The Federation of American Scientists is honored to provide the world with the best non-classified estimates of the nuclear weapons arsenals. We are grateful for the financial support from the New Land Foundation, MacArthur Foundation, Ploughshares Fund, and the Prospect Hill Foundation to do this work. To explore this vast data, developed over many decades, start here: https://fas.org/issues/nuclear-weapons/status-world-nuclear-forces/
Widespread Blurring of Satellite Images Reveals Secret Facilities
Want to know how to make a satellite imagery analyst instantly curious about something?
Blur it out.
Google Earth occasionally does this at the request of governments that want to keep prying eyes away from some of their more sensitive military or political sites. France, for example, has asked Google to obscure all imagery of its prisons after a French gangster successfully conducted a Hollywood-inspired jailbreak involving drones, smoke bombs, and a stolen helicopter(!)—and Google has agreed to comply by the end of 2018. In similar fashion, an old Dutch law requires Dutch companies to blur their satellite images of military and royal facilities—even to the point where a satellite imagery provider once doctored an image of Volkel Air Base after it was purchased by FAS' very own Hans Kristensen.
Yandex Maps—Russia's foremost mapping service—has also agreed to selectively blur out specific sites beyond recognition; however, it has done so for just two countries: Israel and Turkey. The areas of these blurred sites range from large complexes—such as airfields or munitions storage bunkers—to small, nondescript buildings within city blocks.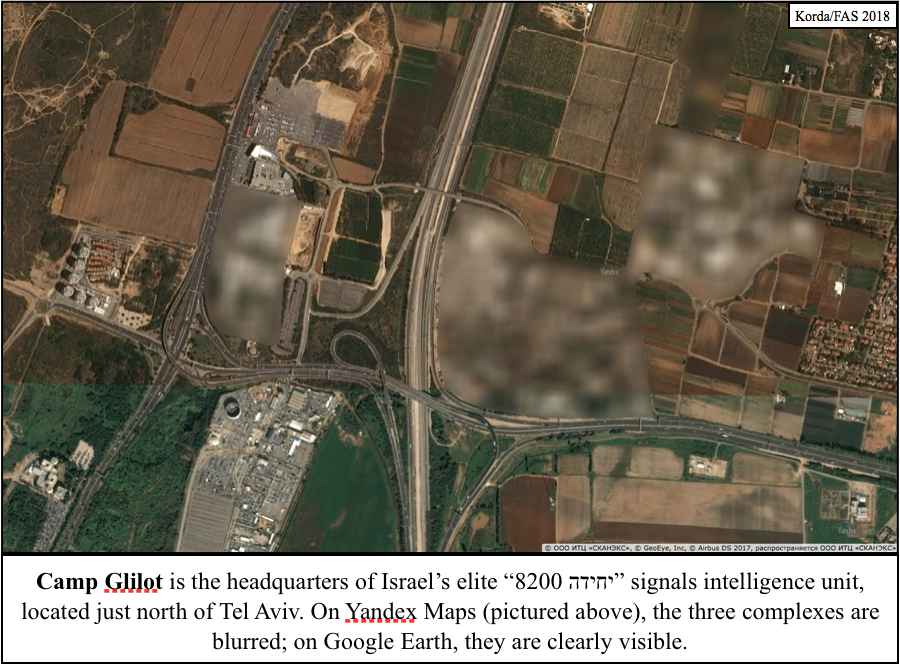 Although blurring out specific sites is certainly unusual, it is not uncommon for satellite imagery companies to downgrade the resolution of certain sets of imagery before releasing them to viewing platforms like Yandex or Google Earth; in fact, if you trawl around the globe using these platforms, you'll notice that different locations will be rendered in a variety of resolutions. Downtown Toronto, for example, is always visible at an extremely high resolution; looking closely, you can spot my bike parked outside my old apartment. By contrast, imagery of downtown Jerusalem is always significantly blurrier; you can just barely make out cars parked on the side of the road.

As I explained in my previous piece about geolocating Israeli Patriot batteries, a 1997 US law known as the Kyl-Bingaman Amendment (KBA) prohibits US companies from publishing satellite imagery of Israel at a Ground Sampling Distance lower than what is commercially available. This generally means that US-based satellite companies like DigitalGlobe and viewing platforms like Google Earth won't publish any images of Israel that are better than 2m resolution.
Foreign mapping services like Russia's Yandex are legally not subject to the KBA, but they tend to stick to the 2m resolution rule regardless, likely for two reasons. Firstly, after 20 years the KBA standard has become somewhat institutionalized within the satellite imagery industry. And secondly, Russian companies (and the Russian state) are surely wary of doing anything to sour Russia's critical relationship with Israel.
However, Yandex has taken a step well beyond simply downgrading its Israeli imagery, as is typical for most mapping services. Yandex itself—or perhaps its imagery provider ScanEx—has blurred out specific military installations in their entirety. Interestingly, it has done the same to Turkey, a country that benefits from no special standards and is therefore almost always shown in very high resolution.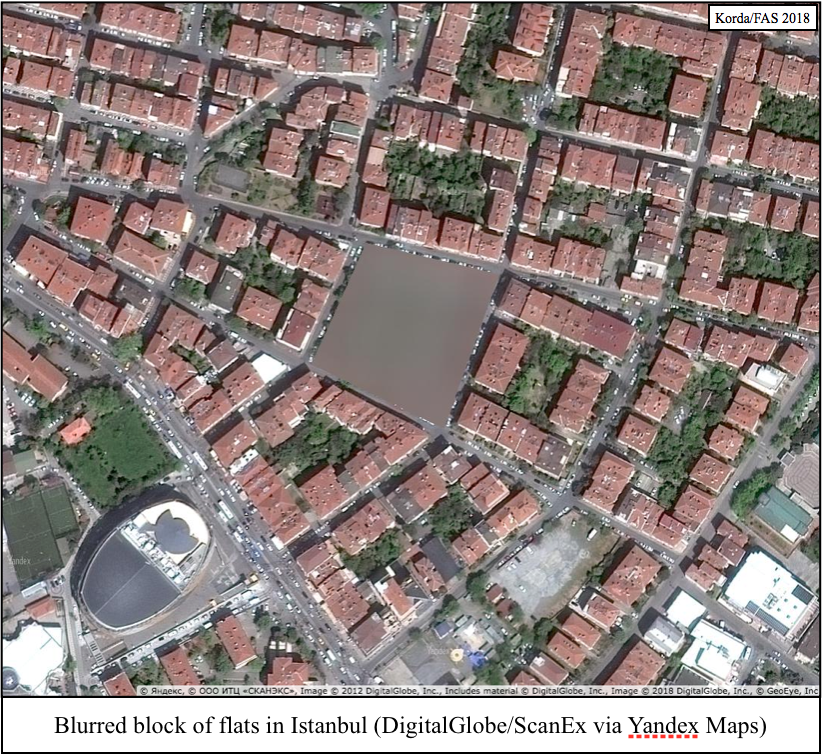 This blurring is almost certainly the result of requests from both Israel and Turkey; it seems highly unlikely that a Russian company would undertake such a time-consuming task of its own volition. Fortunately (from an OSINT perspective), this has had the unintended effect of revealing the location and exact perimeter of every significant military facility within both countries, if one is obsessive curious enough to sift through the entire map looking for blurry patches. Matching the blurred sites to un-blurred (albeit downgraded) imagery available through Google Earth is a method of "tipping and cueing," in which one dataset is used to inform a more detailed analysis of a second dataset.
My complete list of blurred sites in both Israel and Turkey totals over 300 distinct buildings, airfields, ports, bunkers, storage sites, bases, barracks, nuclear facilities, and random buildings—prompting several intriguing points of consideration:
Included in the list of Yandex's blurred sites are at least two NATO facilities: Allied Land Command (LANDCOM) in Izmir, and Incirlik Air Base, which hosts the largest contingent of US B61 nuclear gravity bombs at any single NATO base. 

Strangely, no Russian facilities have been blurred—including its nuclear facilities, submarine bases, air bases, launch sites, or numerous foreign military bases in Eastern Europe, Central Asia, or the Middle East.
Although none of Russia's permanent military installations in Syria have been blurred, almost the entirety of Syria is depicted in extremely low resolution, making it nearly impossible to utilize Yandex for analyses of Syrian imagery. By contrast, both Crimea and the entire Donbass region are visible at very high resolutions, so this blurring standard applies only selectively to Russia's foreign adventures.
All four Israeli Patriot batteries that I identified using radar interference in my

previous post

have been blurred out, confirming that these sites do indeed have a military function.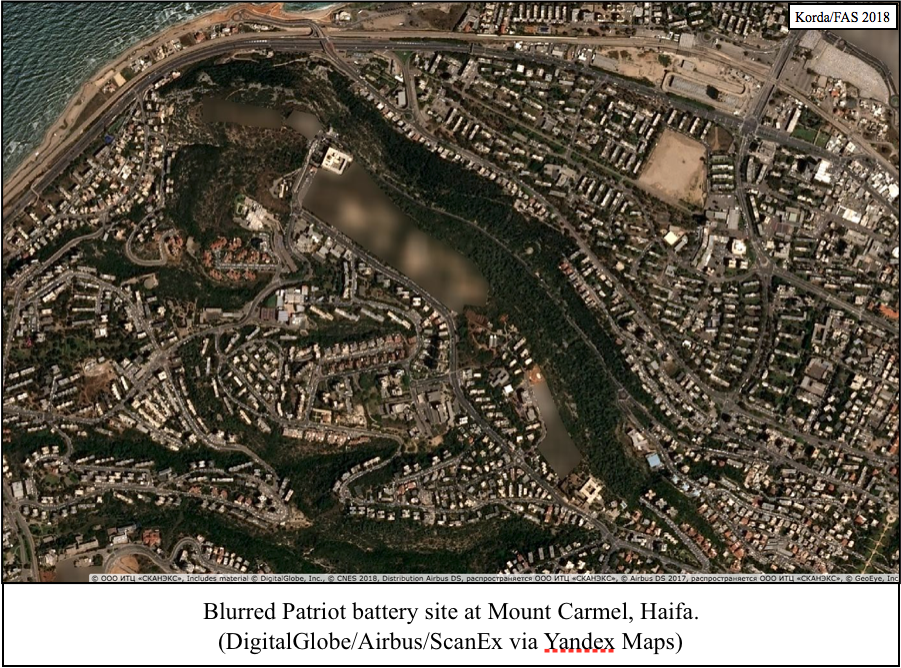 Putting aside the geopolitical intrigue of Russia's relations with both Israel and Turkey, Yandex's actions are a prime example of what is known as the Streisand Effect. In 2003, Barbra Streisand attempted to sue a photographer who posted photos of her Malibu mansion online, claiming $10 million in damages and demanding that the innocuous photo be taken down. Her actions completely backfired: not only did Streisand lose the case and have to cover the defendant's legal fees, but the attention raised by her lawsuit directed significant traffic to the photo in question. Before the lawsuit, the photo had only been viewed six times (including twice by Streisand's lawyers); a month later, the photo had accumulated over 420,000 views—a prime example of how attempting to obscure something is actually likely to result in unwanted attention.
So too with Yandex. By complying with requests to selectively obscure military facilities, the mapping service has actually revealed their precise locations, perimeters, and potential function to anyone curious enough to find them all.
Jeremy J. Stone, 1935-2017
Jeremy J. Stone, a pioneering arms control advocate who served as president of the Federation of American Scientists (FAS) from 1970 to 2000, passed away on January 1, 2017 at his home in Carlsbad, California.
A mathematician by training, he turned to nuclear arms control in the early 1960s with a focus on preventing the development and deployment of anti-ballistic missile (ABM) systems due to their destabilizing potential. The Anti-Ballistic Missile Treaty, signed by the US and the USSR in 1972, was shaped in large part by Jeremy and his scientific colleagues, who collectively created the foundation for nuclear arms control in the last decades of the Cold War.
Jeremy jump-started the process of scientific exchange with China in the early 1970s. He was a prominent defender of dissident Soviet scientist Andrei Sakharov, and he instituted new mechanisms for monitoring and upholding the human rights of scientists around the globe. He discovered and helped terminate a CIA program to open U.S. mail.
All of these episodes, and many more, were vividly and insightfully described in his 1999 memoir "Every Man Should Try: Adventures of a Public Interest Activist".
Jeremy was a chess-player, on and off the chess board. He took a strategic approach to his work and his life. He did not drift. He was always on his way towards one goal or another. He might take you with him if you were lucky.
He was a scintillating conversationalist who could successfully engage even the most tongue-tied staffer or physicist. He had a sophisticated sense of humor which he wielded skillfully — perhaps following the example of his early Hudson Institute boss, the nuclear strategist Herman Kahn — to disarm opponents and to make his own ideas more palatable to skeptical or hostile audiences.
He was lucky in love, having been married for 58 years to BJ (Yannet) Stone, a brilliant, beautiful and kind mathematician, who passed away in 2015.
He was an exceptionally capable talent-spotter, and he could see the latent potential in people that they could scarcely imagine in themselves. At the Federation of American Scientists, he gathered a group of scruffy young individuals of no particular academic pedigree or obvious distinction and he shined his peculiar light on them until they bloomed. He presented them (us) with enormously difficult problems — ballistic missile defense, nuclear proliferation, global arms sales, government secrecy — and challenged them to tackle those problems in creative new ways.
Of course, he was not without flaws. His intuitive powers, which usually made him uncommonly perceptive, occasionally hardened prematurely into convictions that proved to be unfounded. In one particularly lamentable episode, he suggested mistakenly that MIT physicist Philip Morrison, a Manhattan Project veteran and FAS founder, had once spied for the Soviet Union. Making such a false allegation could have been an unforgivable offense. But Morrison, himself a person of awesome depth and distinction, forgave him, although with some sadness.
More typically, Jeremy was a profoundly generous and thoughtful person. His intelligence and problem-solving abilities were often directed to meeting the needs of others — not just friends or employees (he once directed poorly dressed staff to buy some new clothes at his expense), but also casual acquaintances, foreigners, children and strangers. He knew how to give a gift, and he usually anticipated exactly what gift a particular person wanted or needed.
Above all, Jeremy was an institution builder, turning the Federation of American Scientists into a public interest platform of significant influence.
"FAS is a legitimate and prestigious scientific association," wrote Secretary of State Henry Kissinger in a classified cable to the US Embassy in Japan in 1975. "Dr. Stone… is [a] highly regarded lobbyist on foreign policy and has wide contacts on the Hill. Embassy should have no reservations about facilitating his appointments in Japan," Kissinger wrote.
By the time I showed up at FAS in 1989, the organization under Jeremy's leadership had become a powerhouse of intelligent and effective advocacy in arms control and quite a few other areas. My own cohort included figures like John Pike, David Albright, Lora Lumpe, and the late Tom Longstreth, to name just a few. Wandering the halls of our Capitol Hill headquarters, I would sometimes run into Carl Sagan, former CIA director Bill Colby, Philip Morrison, Paul Nitze, former JFK aide Carl Kaysen, Ted Taylor, Dick Garwin, former Senator Alan Cranston, and you could never be sure who else. One day I literally collided with Hans Bethe in the hallway outside Jeremy's office. (No particles were emitted.) Jeremy made all of that possible, providing a forum for scientists and others to participate in the national policy process and a strategic vision to guide them.
After leaving FAS, Jeremy pursued further adventures in conflict resolution as president of Catalytic Diplomacy, created a website in honor of his father, I.F. Stone, and advocated for independent journalism.
FAS Website Blocked by US Cyber Command, Then Unblocked
For at least the past six months, and perhaps longer, the Federation of American Scientists website has been blocked by U.S. Cyber Command. This week it was unblocked.
The "block" imposed by Cyber Command meant that employees throughout the Department of Defense who attempted to access the FAS website on their government computers were unable to do so. Instead, they were presented with a notice stating: "You have attempted to access a blocked website. Access to this website has been blocked for operational reasons by the DOD Enterprise-Level Protection System."
The basis for the Cyber Command block is unclear, and official documentation of the decision that we requested has not yet been provided. In all likelihood, it is due to the presence on the FAS website of a small number of currently classified documents that were obtained in the public domain.
The basis for the removal of the block is likewise unclear, though we know that a number of DoD employees complained about the move and advised US Cyber Command that direct access to the FAS website was needed for them to perform their job.
The record of a 2015 hearing of the House Armed Services Committee on Implementing the Department of Defense Cyber Strategy was published last month.
Old Anti-nuclear Movie from FAS
The Federation of American Scientists was formed just a couple of months after the dawning of the nuclear age by scientists as who had worked on the Manhattan Project to develop the world's first nuclear weapons. In the fall of 1945, there was tremendous interest in the new atomic bomb: what it was, how it worked, and its effects–and not just direct effects but the effect this invention would have on the military balance and politics of the world. FAS organized a group of its members, which it called the National Committee on Atomic Information, to talk to the public, the press, and political leaders, and to produce media materials for distribution. (Sixty two years later and we still seem to be at it…)
Jeff Aron here at FAS recently came across this amazing little film on YouTube called One World or None. It was produced by FAS and the National Committee. I have to admit, no one currently at FAS knew about it, it predates anyone's memory here, and we are ourselves doing some research on its origins and asking our long-term members what they know. (If any of our blog readers can provide any information, please let us know.) Presumably, it was released in conjunction with the release of the first publication of the Federation, also called One World or None, a collection of essays by great scientists of the day, including Albert Einstein, that was first published in 1946. One World has recently been reprinted by the New Press in New York and is available through bookstores, Amazon, and the FAS website.
The film is clearly a bit dramatic, but the dangers of nuclear weapons are dramatic. By today's standards, the graphics are Stone Age but the message is as important today as it ever was and doesn't depend on fancy graphics. I can't say you should enjoy this little film–not much to enjoy when discussing nuclear dangers–but I hope you take it to heart. The Federation is still working to reduce the global threat of nuclear weapons.
Can A Summer Intern Do The Work Of The Department of Homeland Security?
Today the Federation of American Scientists launched ReallyReady.org, a comprehensive emergency preparedness website that addresses the inaccuracies and incomplete information on the Department of Homeland Security's (DHS) preparedness site, Ready.gov. ReallyReady was developed in two months by FAS intern Emily Hesaltine for the price of a domain name. In comparison, it took millions of dollars and over five months to create Ready.gov.
A thorough analysis of Ready.gov is available on the site. It is a critique of the inaccurate information, generic advice, unnecessarily lengthy descriptions, and repetitive information found throughout Ready.gov, examples of which were mentioned in a previous blog entry, Ready or Not: Ready.gov Gets a Facelift.
ReallyReady.org also includes clear and accurate information for families, businesses, and individuals with disabilities. It is important to note that ready.gov does not contain sufficient information for people with disabilities despite being told that they might be in violation of Federal law. We developed our page using information from the National Organization on Disability's Emergency Preparedness Initiative.
We hope the information will serve as a model for the essential changes that need to be made to Ready.gov. We recommend that DHS request the assistance of scientific, military, and emergency response experts to make these alterations. The Department of Homeland Security has declared September National Preparedness Month. Before then, FAS hopes to see Ready.gov updated so that it is more useful to the public that has paid for it, especially since a 20 year-old college student was able to single-handedly complete the same task in only two months.
Welcome to the Federation of American Scientists' Blog
Welcome to the inauguration of the Federation of American Scientists' Web Log on national security issues. We are very excited about this new blog.
The Federation of American Scientists (FAS) was founded by scientists who worked on the Manhattan Project to develop the first atomic bombs. The birth of the atomic bomb was, or course, a turning point in history but one that had a particular significance for scientists because of their special role in its development. The founders of FAS thought that scientists should be concerned about the social, security, and political implications of their work and should strive to make the public aware of the implications of new science and technology. The founding motivations of FAS were keeping nuclear weapons and research under civilian control, minimizing the number of nuclear weapons and their salience to national security, and emphasizing international cooperation to reduce nuclear dangers. It would be nice, 60 years after the founding of FAS, to be able to say that all of these concerns have been taken care of. Unfortunately, in many ways they are as relevant today as they were then.
The six project directors of the FAS Strategic Security Project will be the regular contributors to our blog. Each of them has contributed a brief introduction as their first blog entry. I am Ivan Oelrich, the Vice President for Strategic Security, and I will cover nuclear weapons issues, including dirty bombs, and address some conventional weapons and budget questions. I will also write on nuclear energy questions when they relate to nuclear proliferation. Steve Aftergood will discuss the needed balance between secrecy and a well-informed public. Anne Fitzpatrick's interests include technology policy, especially computers, the National Labs, and all things Russian. Hans Kristensen will discuss nuclear doctrine and force structure. Matt Schroeder will look at conventional arms control and the international trade in arms. Mike Stebbins covers biology, bio-security, and bio-terrorism. We will occasionally invite guest contributors.
Readers will be able to filter the blog by author or subject matter. The blog will include a moderated letters section. We welcome thoughtful letters but suspect we will be able to publish only a fraction of them. We think the blog is unique and fills an important niche – the first NGO blog with overall coverage of national security written by real experts in the field. We hope you enjoy the blog; we know we are looking forward to it.