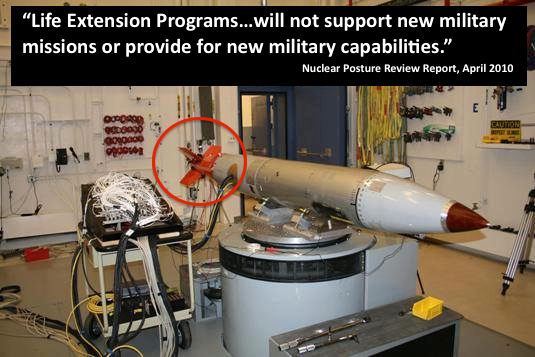 By Hans M. Kristensen
The U.S. government has published the first images of the Air Force's new B61-12 nuclear bomb. The images for the first time show the new guided tail kit that will provide new military capabilities in violation of the Nuclear Posture Review.
The tail kit will increase the accuracy of the bomb and enable it to be used against targets that today require bombs with higher yields.
The guided tail kit is also capable of supporting new military missions and will, according to the former USAF Chief of Staff, affect the way strike planners think about how to use the weapon in a war.
The new guided weapon will be deployed to Europe, replacing nearly 200 non-guided nuclear B61 bombs currently deployed in Belgium, Germany, Italy, the Netherlands, and Turkey.  Continue reading →