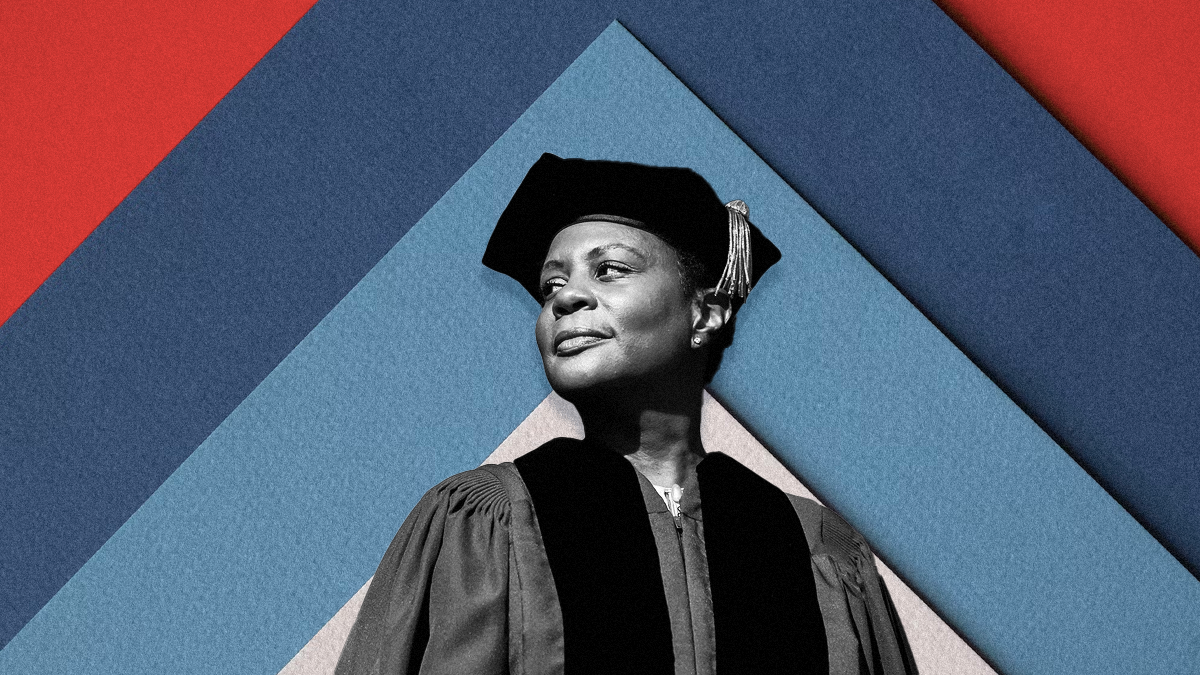 Big Issues for Science Policy in a Challenging World: A Conversation with Dr. Alondra Nelson
The Federation of American Scientists (FAS) seeks to advance progress on a broad suite of contemporary issues where science, technology, and innovation policy can deliver dramatic progress. In recognition of her work in public service, FAS will honor Dr. Alondra Nelson with the Public Service Award next month alongside other distinguished figures including Senators Chuck Schumer (D-NY) and Todd Young (R-IN) for their work in Congress making the CHIPS & Science Act a reality to ensure a better future for our nation.
In addition to my role as Senior Fellow in Science Policy for FAS, I have the pleasure of chairing Membership Engagement for Section X, a governance committee of the American Association for the Advancement of Science (AAAS) focused on Societal Impacts of Science and Engineering. I had the honor of co-moderating a session featuring Dr. Alondra Nelson last week, titled Big Issues for Science Policy in a Challenging World—A Conversation with Dr. Alondra Nelson at the American Educational Research Association (AERA) in Washington D.C. 
The hybrid event was co-organized with Section K (Social, Economic, and Political Sciences) and co-moderated with Dr. Barbara Schneider, John A. Hannah University Distinguished Professor in the College of Education and the Department of Sociology at Michigan State University and Immediate Past Chair of AAAS Section K. We led a targeted Q&A discussion informed by audience questions in-person and online.
The conversation focused on how scientific and technical expertise can have a seat at the policymaking table, which aligns with the mission of FAS, and provided key insights from an established leader. Opening remarks featured reflections from Dr. Alondra Nelson on the current state of key issues in science policy that were priorities during her time in the Biden-Harris administration, and her views on the landscape of challenges that should occupy our attention in science policy today and in the future. Dr. Alondra Nelson is the Harold F. Linder Professor at the Institute for Advanced Study and a distinguished senior fellow at the Center for American Progress. A former deputy assistant to President Joe Biden, she served as acting director of the White House Office of Science and Technology Policy (OSTP) and the first ever Deputy Director for Science and Society.
FAS is highly invested in ensuring that federal government spending is directed towards enhancing our nation's competitiveness in science and technology. Dr. Nelson emphasized the idea of innovation for a purpose, and how scientific research and technology development have the potential to improve society, including through STEM education and the infrastructure necessary for research investments to be successful. She also discussed how science and technology can advance democratic values, and highlighted three examples from her time at OSTP that provide promise for the future, including: the cancer moonshot; expanding access to federally funded research across the country; and the need for bringing new voices into science and technology.
Public trust in science and public engagement. The moderated discussion began with the idea of public trust in science in order to set the stage for the current policy landscape. We are operating in a low trust environment for science, and we should make scientific data more accessible to the public. She also highlighted that we need to engage the public in the design process of science and technology, which is why the OSTP Division of Science and Society was initially created. On this point, Dr. Nelson also said that "science policy is a space of possibility" and that we need to expand these opportunities more widely.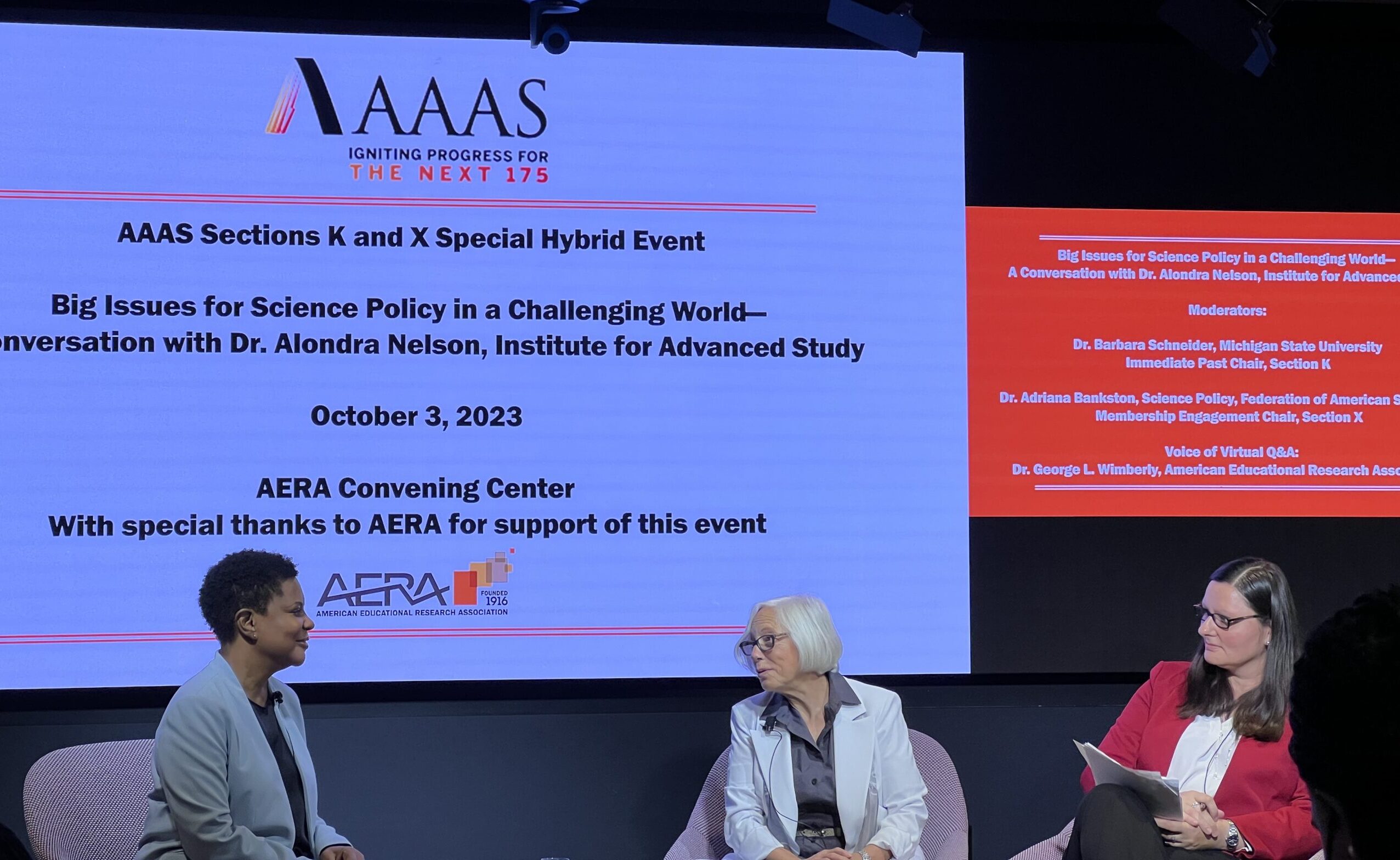 Scientific workforce, federal investments and international collaboration. Dr. Nelson described the need to make the implementation of CHIPS and Science a reality and to bring more young voices into science and technology. She remarked that the promise of the CHIPS and Science Act is the intention around investments, and that "we need the 'and science' part to be fully funded in order to support the future scientific workforce." To the question of how we should target federal investments in science and technology, she emphasized the need for collaborative research, bipartisan opportunities, and continuing to study the 'science of science' in order to understand the best ways for improving the system, while recognizing that the ROI from the investments we make today may take a few generations to be evident. Relatedly, on the question of ensuring our nation's competitiveness in science and technology while fostering international collaboration, Dr. Nelson reminded the audience that "national security is a concern around many STEM areas of research."
Including marginalized voices and technological development. A significant part of the conversation focused on ensuring that marginalized voices have a seat at the table in science and technology. Dr. Nelson stated bluntly that "you can't have good science without diversity" and that we need to support institutions across the country and engage with different types of educational institutions that may have been traditionally marginalized. To this end, as an example, she emphasized that OSTP previously engaged indigenous knowledge in its work around science and technology governance. The field of artificial intelligence (AI) was also discussed as an example of an area where we need to elevate the visibility of ethical issues that marginalized communities face. The CHIPS and Science Act focused on key technology areas that could create jobs in fields such as AI, leading to a discussion on the need for better policy around emerging technologies, creating high quality jobs, and a stronger focus on workers in the innovation economy.
The event concluded with a high level discussion on policy impact, to which Dr. Nelson remarked that "if you want your science to have an impact, you should find ways to elevate the visibility of your findings among policymakers." She stated that this will necessitate expanding our current methods to include broader voices in science and technology in the future. We look forward to honoring Dr. Nelson's impact in the field during next month's FAS event.