Flying Under The Radar: A Missile Accident in South Asia
With all eyes turned towards Ukraine these past weeks, it was easy to miss what was almost certainly a historical first: a nuclear-armed state accidentally launching a missile at another nuclear-armed state.*
On the evening of March 9th, during what India subsequently called "routine maintenance and inspection," a missile was accidentally launched into the territory of Pakistan and impacted near the town of Mian Channu, slightly more than 100 kilometers west of the India-Pakistan border.
Because much of the world's attention has understandably been focused on Eastern Europe, this story is not getting the attention that it deserves. However, it warrants very serious scrutiny––not only due to the bizarre nature of the accident itself, but also because both India's and Pakistan's reactions to the incident reveal that crisis stability between South Asia's two nuclear rivals may be much less stable than previously believed.
The Incident
Using official statements and open-source clues, it is possible to piece together a relatively complete picture of what took place on the evening of March 9th. 
At 18:43:43 Pakistan Standard Time (19:13:43 India Standard Time), the Pakistan Air Force picked up a "high-speed flying object" 104 kilometers inside Indian territory, near Sirsa, in the state of Haryana. According Air Vice Marshal Tariq Zia––the Director General Public Relations for the Pakistan Air Force––the object traveled in a southwesterly direction at a speed between Mach 2.5 and Mach 3. After traveling between 70 and 80 kilometers, the object turned northwest and crossed the India-Pakistan border at 18:46:45 PKT. The object then continued on the same northwesterly trajectory until it crashed near the Pakistani town of Mian Channu at 18:50:29 PKT. 
According to Pakistani military officials in a March 10th press conference, 3 minutes and 46 seconds of the object's total flight time of 6 minutes and 46 seconds were within Pakistani airspace, and the total distance traveled inside of Pakistan was 124 kilometers. 
In a press conference, Pakistani military officials stated that the object was "certainly unarmed" and that no one was injured, although noted that it damaged "civilian property." 
Although the crash site has not been confirmed and official photos include very few useful visual signatures, observation of local civilian social media activity indicates that a likely candidate is the Bakhshu Makhan Hotel, just outside of Mian Channu (30°27'6.40″N, 72°24'10.87″E). One video of the crash site posted to Twitter includes a shot of a uniquely-colored blue building with a white setback roof on the other side of a divided highway. At least two vertical poles can be seen on the roof of the building. All of these signatures appear to match those included in images of the Bakhshu Makhan Hotel in Google Images.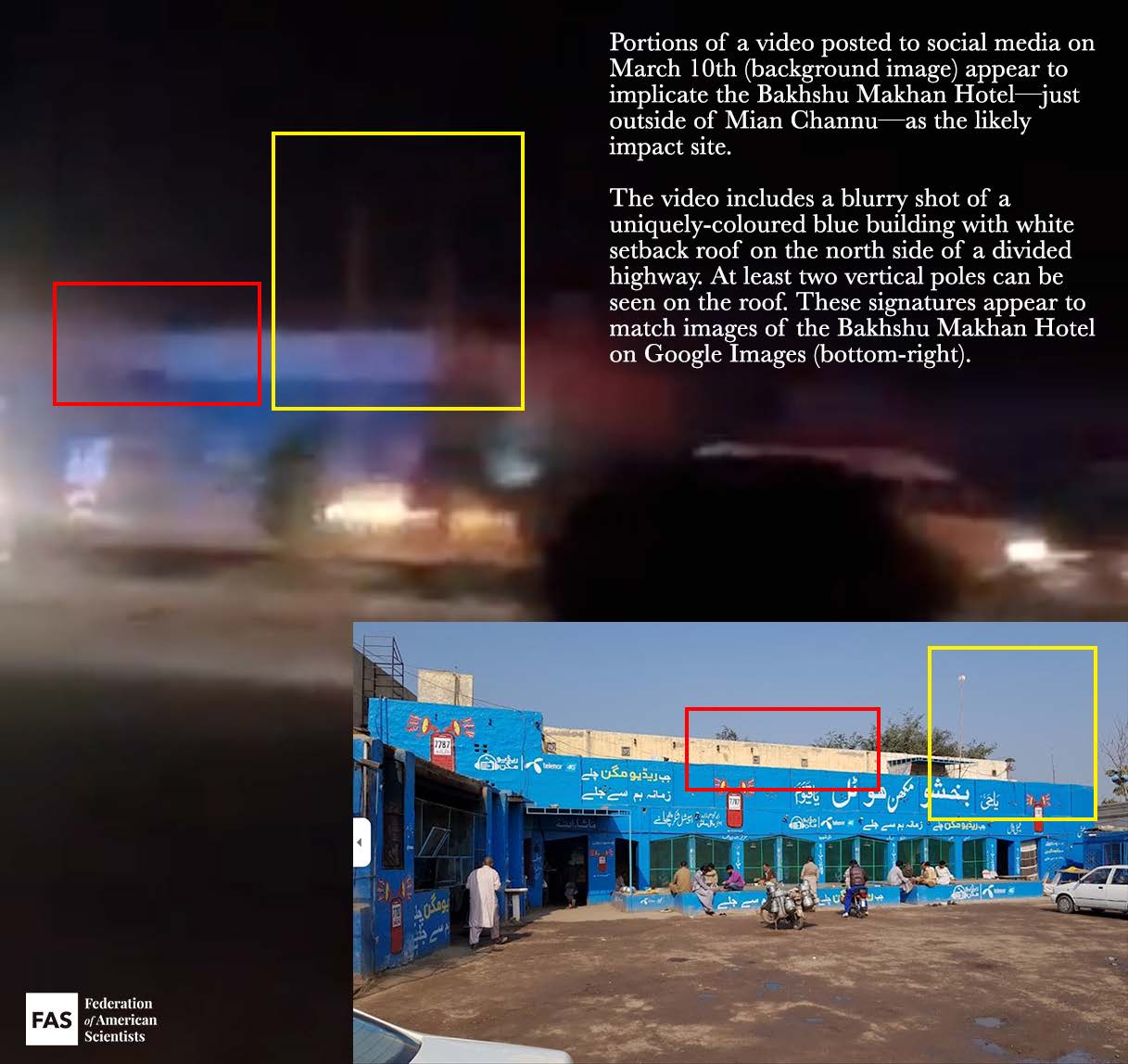 The video's caption suggests that the object that crashed was an "army aviation aircraft drone;" however, Pakistani military officials subsequently reported that the object was an Indian missile. Neither Pakistan nor India has publicly confirmed what type of missile it was; however, in a March 10th press conference, Pakistani military officials stated that "we can so far deduce that it was a supersonic missile––an unknown missile––and it was launched from the ground, so it was a surface-to-surface missile." 
This statement, in addition to photos of the debris and other official details relating to range, speed, altitude, and flight time of the object, suggest that it was very likely a BrahMos cruise missile. 
BrahMos is a ramjet-powered, supersonic cruise missile co-developed with Russia, that can be launched from land, sea, and air platforms and can travel at a speed of approximately March 2.8. The US National Air and Space Intelligence Centre (NASIC) suggested that an earlier version of BrahMos had a range of "less than 300" kilometers, but the Indian Ministry of Defence recently announced on 20 January 2022 that it had extended the BrahMos' range, with defence sources saying that the missile could now travel over 500 kilometres. The reported speed of the "high-speed flying object," as well as the distance traveled, matches the publicly-known capabilities of the BrahMos cruise missile.
Although many Indian media outlets often describe the BrahMos as a nuclear or dual-capable system, NASIC lists it as "conventional," and there is no public evidence to indicate that the missile can carry nuclear weapons.
India has launched a Court of Inquiry to determine how the incident occurred; however, the Indian government has otherwise remained tight-lipped on details. In the absence of official statements, small snippets have trickled out through Indian and Pakistani media sources––prompting several questions that still need answers. 
How did the missile get "accidentally" launched? 
According to the Times of India, an audit was being conducted by the Indian Air Force's Directorate of Air Staff Inspection at the time of the launch. As part of that audit, or possibly as part of a separate exercise, it appears that target coordinates––including mid-flight waypoints––were fed into the missile's guidance system. According to Indian defence sources, in order to launch the BrahMos, the missile's mechanical and software safety locks would also have had to be bypassed and the launch codes would have had to be entered into the system.
The BrahMos does not appear to have a self-destruct mechanism––unlike India's nuclear-armed missiles. As a result, once the missile was launched, there was no way to abort.
Given that defence sources indicate that the missile "was certainly not meant to be launched," it still remains unclear whether the launch was due to human or technical error. On March 11th, in its first public statement about the incident, the Indian government stated that "a technical malfunction led to the accidental firing of a missile." However, since the formal convening of a Court of Inquiry, the government has since changed its rhetoric, with Indian officials stating that "the accidental firing took place because of human error. That's what has emerged at this stage of the inquiry. There were possible lapses on the part of a Group Captain and a few others." Tribute India reports that there are currently four individuals under investigation.
While this is certainly a plausible explanation for the incident, it is also worth noting that the Indian government would be financially incentivized to emphasize the human error narrative over a technical malfunction narrative. On January 28th, India concluded a $374.96 million deal with the Philippines to export the BrahMos––a deal which amounts to the country's largest defence export contract. Additional BrahMos exports will be crucial for India to meet its ambitious defence export targets by 2025, and the negative publicity associated with a possible BrahMos technical malfunction could significantly hinder that goal. 
Did Pakistan track the missile correctly? 
In a press conference on March 10th, Pakistani military officials noted that Pakistan's "actions, response, everything…it was perfect. We detected it on time, and we took care of it." However, Indian military officials have publicly disputed Pakistan's interpretation of the missile's flight path. Pakistan announced on March 10th that the missile was picked up near Sirsa; however, Indian officials subsequently stated that the missile was launched from a location near Ambala Air Force Station, nearly 175 kilometers away. India's explanation is likely to be more accurate, given that there is no known BrahMos base near Sirsa, but there is one near Ambala (h/t @tinfoil_globe). Indian defence sources have also suggested that the map of the missile's perceived trajectory that the Pakistani military released on March 10th was incorrect.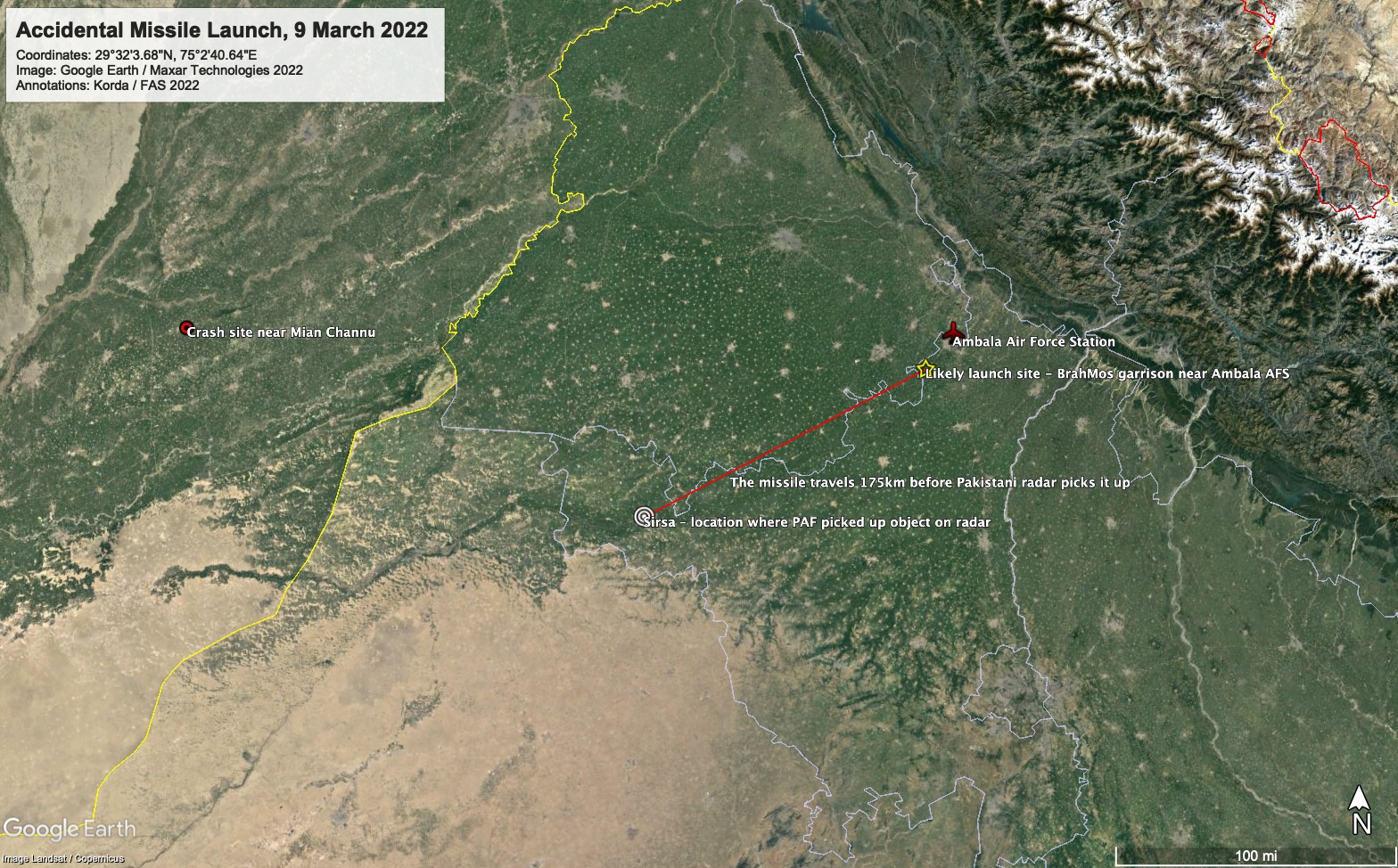 Furthermore, Pakistani officials announced on March 10th that the missile's original destination was likely to be the Mahajan Field Firing Range in Rajasthan, before it suddenly turned and headed northwest into Pakistan. However, Indian defence sources have since suggested that the missile was not actually headed for the Mahajan Field Firing Range, but instead was "follow[ing] the trajectory that it would have in case of a conflict, but 'certain factors' played a role in ensuring that any pre-fed target was out of danger." Given that the impact site was not near any critical military or political infrastructure, this could suggest that the cruise missile had its wartime mid-flight trajectory waypoints pre-loaded into the system, but its actual target had not yet been selected. If this is the case, then this targeting practice would be similar in nature to how some other nuclear-armed states target their missiles at the open ocean during peacetime––precisely in case of incidents like this one. Although the missile still landed on Pakistani territory, the fact that it did not hit any critical targets prevented the crisis from escalating. It is worth noting, however, that this would certainly not be the case if the missile had actually injured or killed anyone.
During the March 10th press conference, Pakistani officials noted that the Pakistan Air Force did not attempt to shoot down the missile because "the measures in place in times of war or in times of escalation are different [from those] in peace time." However, India's challenges to Pakistan's narrative also raise significant questions about whether the Pakistan Air Force was able to accurately track the missile correctly. If not, then this raises the possibility of miscalculation or miscommunication, and crisis stability would be seriously eroded if a similar situation occurred during a time of heightened tensions. 
Were any civilian aircraft put in danger? 
In its public statements, Pakistan has emphasized that the accidental missile launch could have put civilian flights in danger, as India did not issue a Notice to Airmen (NOTAM) prior to launch. Governments typically issue NOTAMs in conjunction with missile tests, in order to inform civilian aircraft to avoid a particular patch of airspace during the launch window. Given that India did not issue one, a time-lapse video prepared by Flightradar24 showed that there were several civilian flights passing very close to the missile's flight path at the time of launch. The video erroneously suggests that the missile traveled in a straight line from Ambala to Mian Channu, when it appears to have dog-legged in mid-flight; however, the video is still a useful resource to demonstrate how crowded the skies were at the time of the accident.
Why was India's response so poor? 
Given the seriousness of the incident, India's delayed response has been particularly striking. Immediately following the accidental launch, India could have alerted Pakistan using its high-level military hotlines; however, Pakistani officials stated that it did not do so. Additionally, India waited two days after the incident before issuing a short public statement.
India's poor response to this unprecedented incident has serious implications for crisis stability between the two countries. According to DNA India, in the absence of clarification from India, Pakistan Air Force's Air Defence Operations Centre immediately suspended all military and civilian aircraft for nearly six hours, and reportedly placed frontline bases and strike aircraft on high alert. Defence sources stated that these bases remained on alert until 13:00 PKT on March 14th. Pakistani officials appeared to confirm this, noting that "whatever procedures were to start, whatever tactical actions had to be taken, they were taken."
We were very, very lucky
Thankfully, this incident took place during a period of relative peacetime between the two nuclear-armed countries. However, in recent years India and Pakistan have openly engaged in conventional warfare in the context of border skirmishes. In one instance, Pakistani military officials even activated the National Command Authority––the mechanism that directs the country's nuclear arsenal––as a signal to India. At the time, the spokesperson of the Pakistan Armed Forces not-so-subtly told the media, "I hope you know what the NCA means and what it constitutes."
If this same accidental launch had taken place during the 2019 Balakot crisis, or a similar incident, India's actions were woefully deficient and could have propelled the crisis into a very dangerous phase.
Furthermore, as we have written previously, in recent years India's rocket forces have increasingly worked to "canisterize" their missiles by storing them inside sealed, climate-controlled tubes. In this configuration, the warhead can be permanently mated with the missile instead of having to be installed prior to launch, which would significantly reduce the amount of time needed to launch nuclear weapons in a crisis.
This is a new feature of India's Strategic Forces Command's increased emphasis on readiness. In recent years, former senior civilian and military officials have reportedly suggested in interviews that "some portion of India's nuclear force, particularly those weapons and capabilities designed for use against Pakistan, are now kept at a high state of readiness, capable of being operationalized and released within seconds or minutes in a crisis—not hours, as had been assumed."
This would likely cause Pakistan to increase the readiness of its missiles as well and shorten its launch procedures––steps that could increase crisis instability and potentially raise the likelihood of nuclear use in a regional crisis. As Vipin Narang and Christopher Clary noted in a 2019 article for International Security, this development "enables India to possibly release a full counterforce strike with few indications to Pakistan that it was coming (a necessary precondition for success). If Pakistan believed that India had a 'comprehensive first strike' strategy and with no indication of when a strike was coming, crisis instability would be amplified significantly."
India's recent missile accident––and the deficient political and military responses from both parties––suggests that regional crisis instability is less stable than previously assumed. To that end, this crisis should provide an opportunity for both India and Pakistan to collaboratively review their communications procedures, in order to ensure that any future accidents prompt diplomatic responses, rather than military ones.
Background Information:
This article was made possible with generous support from the John D. and Catherine T. MacArthur Foundation, the New-Land Foundation, the Prospect Hill Foundation, and the Ploughshares Fund. The statements made and views expressed are solely the responsibility of the author.
*[Note: This type of missile accident has apparently happened before; on 11 September 1986, a Soviet missile flew more than 1,500 off-course and landed in China. Thank you to the excellent Stephen Schwartz for the historical reference.]
Categories: Arms Control, ballistic missiles, Deterrence, Disarmament, India, Nuclear Weapons, Pakistan