Count-Down Begins For No-Brainer: Extend New START Treaty
One year from today, on February 5, 2021, the New START treaty will expire, unless the United States and Russia act to extend the last nuclear arms control agreement for an additional five years.
No matter your political orientation, treaty extension is a no-brainer – for at least six primary reasons.
1. New START keeps nuclear arsenals in check. If the treaty expires, there will be no constraints on US or Russian strategic arsenals for the first time since 1972. It would remove caps on how many strategic nuclear missiles and bombers the two sides can own and how many warheads that are carried on them. This means that Russia could quickly upload about a thousand new warheads onto its deployed missile arsenal–without adding a single new missile. The United States could upload even more because it has more missiles and bombers than Russia (see table below). And both sides could begin to increase their arsenals, risking a new nuclear arms race.
At a time when NATO-Russian relations are at their lowest since the end of the Cold War, when long-term predictability is more important than in the past three decades, allowing New START constraints to expire is obviously not in the US strategic interest or that of its allies. Very simply, New START is a good deal for both the United States and Russia; it cannot be allowed to expire without replacing it with something better.
2. New START force level is the basis for current nuclear infrastructure plans. Both the United States and Russia have structured their nuclear weapons and industry modernization plans on the assumption that the New START force level will continue, or at least not increase. If New START falls away, those assumptions and modernization plans will have to be revised, resulting in significant additional costs that neither Russia nor the United States can afford.
3. New START offers transparency and predictability in an unstable world. Under the current treaty, the United States receives a notification every time a Russian missile is deployed, every time a missile or bomber moves between bases, and every time a new missile is produced. Without these notifications, the United States would have to spend more money and incur significant risks to get the exact same information through National Technical Means (i.e. satellites and other forms of site monitoring). Russia benefits in the same way.
Why would we willingly give all that up – to get absolutely nothing in return (and actually pay a steep price for giving it up)?
4. New START has overwhelming bipartisan support––even among Trump voters. Not only is extension a foreign policy priority for Democrats, but polling data indicates that approximately 70% of Trump voters across the country are in favor of extending New START.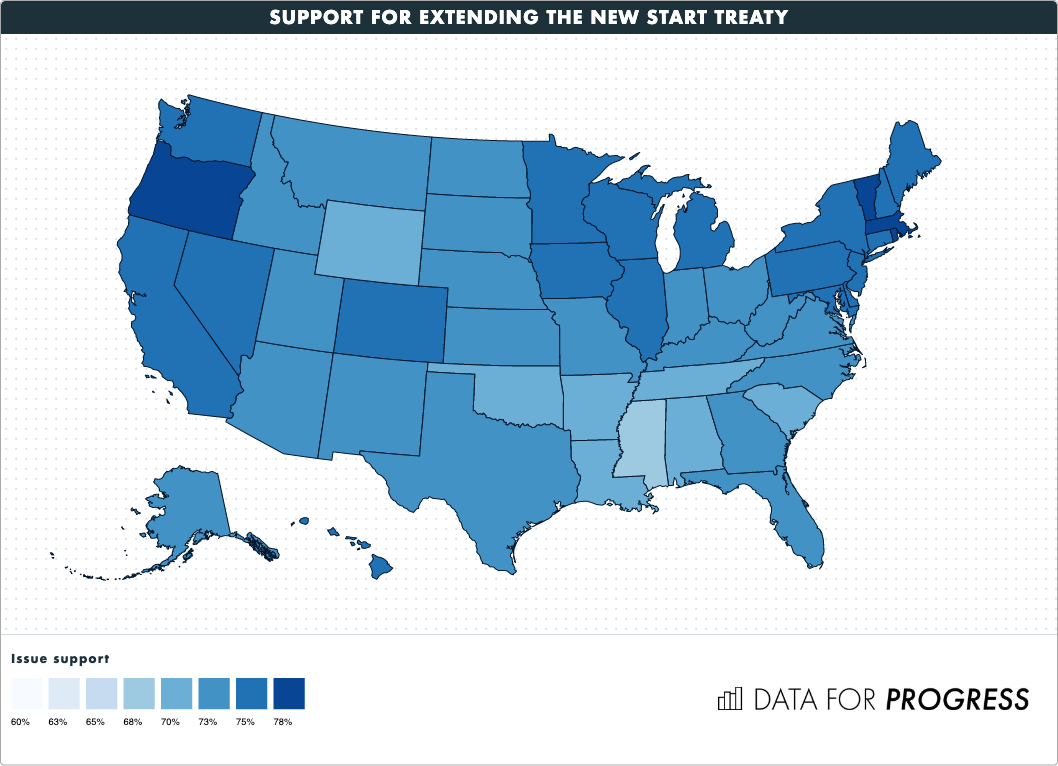 Additionally, senior military leaders like the Vice Chairman of the Joint Chiefs of Staff and the commander of Air Force Global Strike Command have expressed support for the treaty. Even one of Trump's own political appointees, Deputy Secretary of Defense for Policy David Trachtenberg, has testified that that "the transparency and verification requirements of the New START Treaty are a benefit" to the security of the United States.
5. We won't get another chance. If New START expires next year, arms control between Russia and the United States as we know it is effectively over. Given the underlying East-West tensions and upcoming dramatic governance shifts in both the United States and Russia, there appears to be little interest or bandwidth available on either side in negotiating a new and improved treaty.
Moreover, although future arms control must attempt to incorporate other nuclear-armed states, efforts to do so should not jeopardize New START.
At risk of stating the obvious, negotiating a new treaty is exponentially more difficult than extending an existing one.
6. It's easy. Extension of New START doesn't require Congressional legislation or Senate ratification. All it takes is a presidential stroke of a pen. And at the end of 2019, Putin offered to immediately extend the treaty "without any preconditions." President Trump should immediately take him up on his offer; as of today, he has exactly one year left to do so. But don't wait till the last minute! Get it done!
Additional information:
This publication was made possible by generous contributions from the John D. and Catherine T. MacArthur Foundation, the New Land Foundation, the Ploughshares Fund, and the Prospect Hill Foundation. The statements made and views expressed are solely the responsibility of the authors.