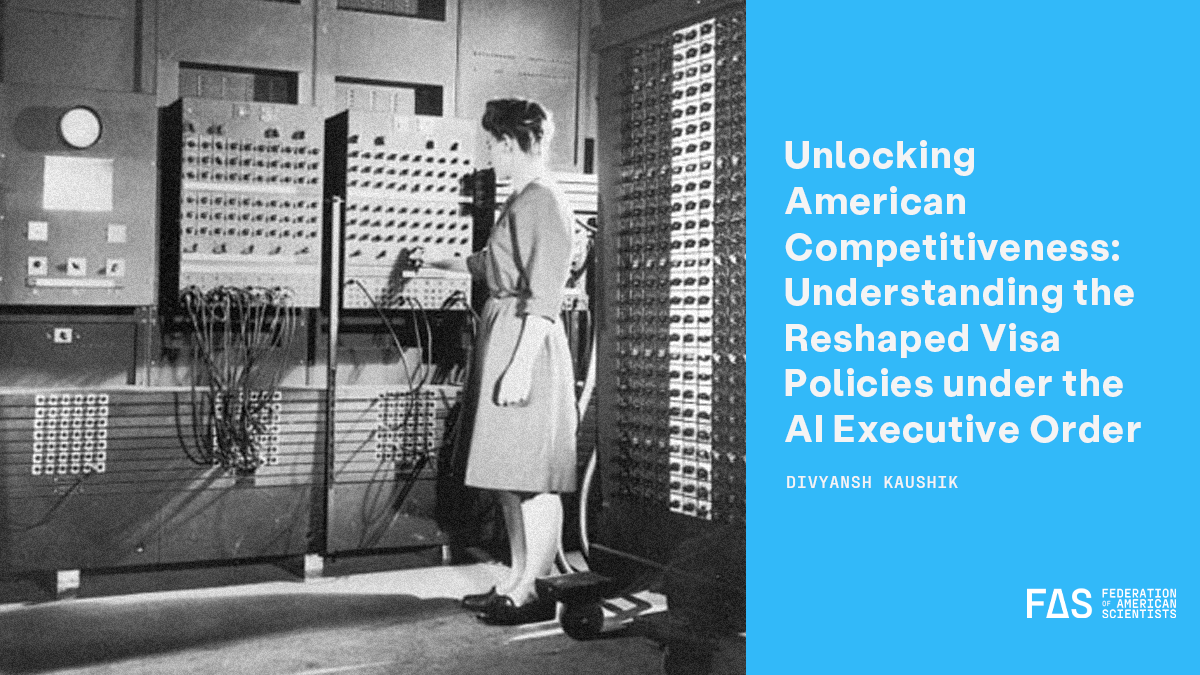 Unlocking American Competitiveness: Understanding the Reshaped Visa Policies under the AI Executive Order
The looming competition for global talent has brought forth a necessity to evaluate and update the policies concerning international visa holders in the United States. Recognizing this, President Biden has directed various agencies to consider policy changes aimed at improving processes and conditions for legal foreign workers, students, researchers, and scholars through the upcoming AI Executive Order (EO). The EO recognizes that attracting global talent is vital for continued U.S. economic growth and enhancing competitiveness.
Here we offer a comprehensive analysis of potential impacts and beneficiaries under several key provisions brought to attention by this EO. The provisions considered herein are categorized under six paramount categories: domestic revalidation for J-1 and F-1 Visas; modernization of H-1B Visa Rules; updates to J-1 Exchange Visitor Skills List; the introduction of Global AI Talent Attraction Program; issuing an RFI to seek updates to DOL's Schedule A; and policy manual updates for O-1A, EB-1, EB-2 and International Entrepreneur Rule. Each policy change carries the potential to advance America's ability to draw in international experts that hugely contribute to our innovation-driven economy.
Domestic Revalidation for J-1 and F-1 Visas
The EO directive on expanding domestic revalidation for J-1 research scholars and F-1 STEM visa students simplifies and streamlines the renewal process for a large number of visa holders.
There are currently approximately 900,000 international students in the US, nearly half of whom are enrolled in STEM fields. This policy change has the potential to impact almost 450,000 international students, including those who partake in optional practical training (OPT). The group of affected individuals consists greatly of scholars with advanced degrees as nearly half of all STEM PhDs are awarded to international students.
One of the significant benefits offered by this EO directive is the reduction in processing times and associated costs. In addition, it improves convenience for these students and scholars. For example, many among the several hundreds of thousands of STEM students will no longer be obligated to spend excessive amounts on travel to their home country for a 10-minute interview at an Embassy.
Aside from saving costs, this directive also allows students to attend international conferences more easily and enjoy hassle-free travel without being worried about having to spend a month away from their vital research waiting for visa renewal back home.
Expanding domestic revalidation to F and J visa holders was initially suggested by the Secure Borders and Open Doors Advisory Committee in January 2008, indicating its long-standing relevance and importance. By implementing it, we not only enhance efficiency but also foster a more supportive environment for international students contributing significantly to our scientific research community.
Modernization of H-1B Visa Rules
The EO directive to update the rules surrounding H-1B visas would positively impact the over 500k H-1B visa holders. The Department of Homeland Security recently released a Notice of Proposed Rulemaking to reform the H-1B visa rules. It would allow these visa holders to easily transition into new jobs, have more predictability and certainty in the renewal process and more flexibility or better opportunities to apply their skills, and allow entrepreneurs to more effectively access the H-1B visa. Last year, 206,002 initial and continuing H-1Bs were issued. The new rules would apply to similar numbers in FY2025. But what amplifies this modification's impact is its potential crossover with EB-1 and EB-2 petitioners waiting on green cards—currently at over 400k petitions.
Additionally, the modernization would address the issue of multiple applications per applicant. This has been a controversial issue in the H-1B visa program as companies would often file multiple registrations for the same employee, thus increasing the exhaustion rate of yearly quotas, thereby reducing chances for others. This modernization could potentially address this problem by introducing clear rules or restrictions on the number of applications per applicant. USCIS recently launched fraud investigations into several companies engaging in this practice.
Updates to J-1 Exchange Visitor Skills List
The EO directive to revamp the skills list will synchronize with evolving global labor market needs. Nearly 37k of the J-1s issued in 2022 went to professors, research scholars and short term scholars, hailing from mainly China and India (nearly 40% of all). Therefore, this update not only expands opportunities available to these participants but also tackles critical skill gaps within fields like AI in the U.S. Once the J-1 skills list is updated to meet the realities of the global labor market today, it will allow thousands of additional high skilled J-1 visa holders to apply for other visa categories immediately, without spending 2-years in their countries of origin, as laid out in this recent brief by the Federation of American Scientists.
Global AI Talent Attraction Program
Recognizing AI talent is global, the EO directive on using the State Department's public diplomacy function becomes strategically important. By hosting overseas events to appeal to such crucial talent bases abroad, we can effectively fuel the U.S. tech industry's unmet demand that has seen a steep incline over recent years. While 59% of the top-tier AI researchers work in the U.S., only 20% of them received their undergraduate degree in the U.S. Only 35% of the most elite (top 0.5%) of AI researchers received their undergraduate degree in the U.S., but 65% of them work in the U.S. The establishment of a Global AI Talent Attraction program by the State Department will double down on this uniquely American advantage.
Schedule A Update & DOL's RFI
Schedule A is a list of occupations for which the U.S. Department of Labor (DOL) has determined there are not sufficient U.S. workers who are able, willing, qualified and available. Foreign workers in these occupations can therefore have a faster process to receive a Green Card because the employer does not need to go through the Labor Certification process. Schedule A Group I was created in 1965 and has remained unchanged since 1991. If the DOL were to update Schedule A, it would impact foreign workers and employers in several ways depending on how the list changes:
Adding Occupations: If new occupations are added, it could speed up the immigration process for some foreign workers whose profession has been included. It simultaneously benefits the employers who are struggling to fill those roles with U.S. workers.
Removing Occupations: Conversely, if occupations are removed from Schedule A, foreign workers in those fields may face longer delays and increased difficulty in obtaining a Green Card as their employers would need to undertake the Labor Certification process to demonstrate that there are not enough qualified U.S. workers for the job.
Changes Related to Geographical Locations: An update could also affect which geographic areas of labor shortages are recognized.
Dealing with Dynamic Job Market: As job markets change rapidly with technological developments, updated Schedule A could better reflect current labor market conditions and labor shortages in certain industries or regions better.
Foreign workers with occupations that are on Schedule A do not have to go through the PERM (Program Electronic Review Management) labor certification process, a process that otherwise takes on average 300 days to complete. This is because Schedule A lists occupations for which the Department of Labor has already determined there are not sufficient U.S. workers who are able, willing, qualified and available. An updated Schedule A could cut PERM applications filed significantly down from current high volumes (over 86,000 already filed by the end of FY23 Q3). While the EO only calls for an RFI seeking information on the Schedule A List, this is a critical first step to an eventual update that is badly needed.
Policy Manual Updates for O-1A, EB-1, EB-2 and International Entrepreneur Rule
The EO's directive to DHS to modernize pathways for experts in AI and other emerging technologies will have profound effects on the U.S. tech industry. Fields such as Artificial Intelligence (AI), Quantum computing, Biotechnology, etc., are increasingly crucial in defining global technology leadership and national security. As per the NSCAI report, the U.S. significantly lags behind in terms of AI expertise due to severe immigration challenges.
The modernization would likely include clarification and updates to the criteria of defining 'extraordinary ability' and 'exceptional ability' under O-1A, EB-1 and EB-2 visas, becoming more inclusive towards talents in emerging tech fields. For instance, the current 'extraordinary ability' category is restrictive towards researchers as it preferentially favors those who have received significant international awards or recognitions—a rarity in most early-stage research careers. Similarly, despite O-1A and EB-1 both designed for aliens with extraordinary ability, the criteria for EB-1 is more restrictive than O-1A and bringing both in line would allow a more predictable path for an O-1A holder to transition to an EB-1. Such updates also extend to the International Entrepreneur Rule, facilitating startup founders from critical technology backgrounds more straightforward access into the U.S. landscape.
Altogether, these updates could lead to a surge in visa applications under O-1A, EB-1, EB-2 categories and increase entrepreneurship within emerging tech sectors. In turn, this provision would bolster the U.S.' competitive advantage globally by attracting top-performing individuals working on critical technologies worldwide.
Enhanced Informational Resources and Transparency
The directives in Section 4 instruct an array of senior officials to create informational resources that demystify options for experts in critical technologies intending to work in the U.S. The provision's ramifications include:
Clearer Pathways: The creation of a 'comprehensive guide' ensures specialists have an understanding of their options to work in the U.S., reducing the miscommunication or confusion that can hinder recruitment and immigration processes.
Multi-Lingual Resources: By stipulating these resources be published in 'multiple languages,' this provision promotes inclusivity, attracting talent from various linguistic backgrounds.
Visibility of Relevant Data: The mandate places a responsibility on key departments to monitor and publish relevant immigration data about AI and other critical technology experts. This transparency may instill confidence in potential experts considering making their skills available in the U.S., illustrating an evidence-based approach to policy-making.
Streamlining Visa Services 
This area of the order directly addresses immigration policy with a view to accelerating access for talented individuals in emerging tech fields.
Reduced Processing Times: The directive to "streamline processing times" has potentially transformative effects. By speeding up visa petition processing times and ensuring timely visa appointments, needed innovation practitioners can begin contributing to the American economy sooner.
Continuous Visa Availability: By promoting "continued availability" of visa appointments, the order potentially prevents gaps from occurring in the recruitment or hiring process due to administrative issues, thus ensuring a steady entrance of talents into the industry.
Using Discretionary Authorities to Support and Attract AI Talent
The EO's directive to the Secretary of State and Secretary of Homeland Security to use discretionary authorities—consistent with applicable law and implementing regulations—to support and attract foreign nationals with special skills in AI seeking to work, study, or conduct research in the U.S. could have enormous implications.
One way this provision could be implemented is through the use of public benefit parole. Offering parole to elite AI researchers who may otherwise be stuck in decades long backlogs (or are trying to evade authoritarian regimes) could see a significant increase in the inflow of intellectual prowess into the U.S. Public benefit parole is also the basis for the International Entrepreneur Rule. Given how other countries are actively poaching talent from the U.S. because of our decades long visa backlogs, creating a public benefit parole program for researchers in AI and other emerging technology areas could prove extremely valuable. These researchers could then be allowed to stay and work in the U.S. provided they are able to demonstrate (on an individual basis) that their stay in the U.S. would provide a significant public benefit through their AI research and development efforts.
Another potential utilization of this discretionary authority could be in the way of the Department of State issuing a memo announcing a one‐​time recapture of certain immigrant visa cap numbers to redress prior agency failures to issue visas. There is precedence for this as when the government openly acknowledged its errors that made immigrants from Western Hemisphere countries face longer wait times between 1968 and 1976 as it incorrectly charged Cuban refugees to the Western Hemisphere limitation. To remedy the situation, the government recaptured over 140,000 visas from prior fiscal years on its own authority, and issued them to other immigrants who were caught in the Western Hemisphere backlog.
In the past, considerable quantities of green cards have gone unused due to administrative factors. Recapturing these missed opportunities could immediately benefit a sizable volume of immigrants, including those possessing AI skills and waiting for green card availability. For instance, if a hypothetical 300,000 green cards that were not allocated due to administrative failures are recaptured, it could potentially expedite the immigration process for a similar number of individuals.
Finally, as a brief from the Federation of American Scientists stated earlier, it is essential that the Secretary of State and the Secretary of Homeland Security extend the visa interview waivers indefinitely, considering the significant backlogs faced by the State Department at several consular posts that are preventing researchers from traveling to the U.S. 
In August 2020, Secretary Pompeo announced that applicants seeking a visa in the same category they previously held would be allowed to get an interview waiver if their visa expired in the last 24 months. Before this, the expiration period for an interview waiver was only 12 months. In December 2020, just two days before this policy was set to expire, DOS extended it through the end of March 2021. In March, the expiration period was doubled again, from 24 months to 48 months and the policy extended through December 31, 2021. In September of 2021, DOS also approved waivers through the remainder of 2021 for applicants of F, M, and academic J visas from Visa Waiver Program countries who were previously issued a visa.
In December 2021, DOS extended its then-existing policies (with some minor modifications) through December 2022. Moreover, the interview waiver policy that individuals renewing a visa in the same category as a visa that expired in the preceding 48 months may be eligible for issuance without an interview was announced as a standing policy of the State Department, and added to the department's Foreign Affairs Manual for consular officers. In December 2022, DOS announced another extension of these policies, which are set to expire at the end of 2023.
As the State Department recently noted: "These interview waiver authorities have reduced visa appointment wait times at many embassies and consulates by freeing up in-person interview appointments for other applicants who require an interview. Nearly half of the almost seven million nonimmigrant visas the Department issued in Fiscal Year 2022 were adjudicated without an in-person interview. We are successfully lowering visa wait times worldwide, following closures during the pandemic, and making every effort to further reduce those wait times as quickly as possible, including for first-time tourist visa applicants. Embassies and consulates may still require an in-person interview on a case-by-case basis and dependent upon local conditions."
These changes would also benefit U.S. companies and research institutions, who often struggle to retain and attract international AI talent due to the lengthy immigration process and uncertain outcomes. In addition, exercising parole authority can open a new gateway for attracting highly skilled AI talent that might have otherwise chosen other countries due to the rigid U.S. immigration system.
The use of such authorities can result in a transformational change for AI research and development in the U.S. However, all these outcomes entirely depend upon the actual changes made to existing policies—a task that many acknowledge will require serious thoughtfulness for walking a balance between remaining advantageously selective yet inclusive enough.
In summary, these provisions would carry massive impacts—enabling us to retain foreign talent vital across sectors including but not limited to education, technology and healthcare; all fuelling our national economic growth in turn.