Talk At US Air Force Global Strike Command
By Hans M. Kristensen
Earlier this week I went to Barksdale AFB on an invitation from General Jim Kowalski at Air Force Global Strike Command to brief his Deterrence and Assurance Working Group.
Air Force Global Strike Command (AFGSC) is responsible for keeping U.S. strategic bombers (B-2 and B-52) and Intercontinental Ballistic Missiles (ICBMs) combat ready. One of two B-52H wings, the 2nd Bomb Wing, is based at Barksdale AFB, as is 8th Air Force Headquarters.
Barksdale AFB has a special history because it was there, in August 2007, that a B-52 arrived from Minot AFB with six nuclear-armed Advanced Cruise Missiles strapped under its wings without anyone knowing about it.
It was a great visit. The staff did a superb job hosting me, and Gen. Kowalski and his wife Julie were the most generous hosts. But they sure kept me busy: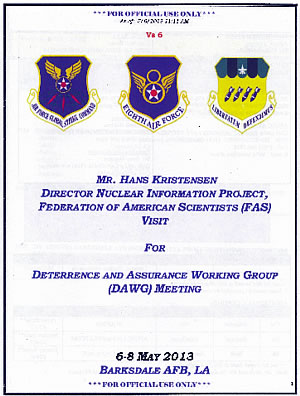 After getting woken up by the base bugle, I was brought to base headquarters for a one-on-one briefing by Gen. Kowalski on the mission of AFGSC. He told me about the capabilities of the command, the nuclear forces of the United States and other nuclear weapon states, nuclear modernization, as well as budget and costs issues.
After a swing by the base museum and a lunch with Gen. Kowalski and 18 members of the senior leadership, the General Larry Welch briefing room filled up with an additional 34 military and civilian officials for my talk.
In my talk I advocated further reductions of nuclear weapons, arguing that deterrence and assurance could be sustained at significantly lower levels. I pointed to the very different nuclear forces of different countries as examples of other countries ensuring their security with much smaller nuclear forces. And I predicted that new presidential guidance would probably reduce the force level further in the near future. Despite obvious disagreements, the discussion was courteous.
After the talk, they brought me out on the tarmac where the crew of a nuclear-capable B-52H from the 96th Bomb Squadron gave me a briefing and a tour of the inside. Its nuclear weapons are not stored at Barksdale AFB but up at Minot AFB. The 96th Bomb Squadron returned in April from a six-month deployment to Guam, during which some of the B-52Hs overflew the Korean Peninsula to deter North Korea and assure South Korea.
Next stop was the B-52 simulator where my co-pilot gave a few instructions, after which we powered up the six engines and took off, flew a brief tour over northern Louisiana, and returned to base (without crashing).
A cozy dinner in the beautiful home of Mr. and Mrs. Kowalski ended what had been an exciting visit with fascinating discussions with some of the men and women who operate America's nuclear forces.
Download: Prepared remarks to U.S. Air For Global Strike Command Deterrence and Assurance Working Group