Elusive Chinese Submarine Cave Spotted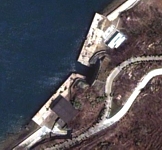 A long-rumored but never before seen Chinese underground submarine base is shown for the first time in a new article written by analysts from the Federation of American Scientists and Natural Resources Defense Council. The article, published in Imaging Notes, shows newly acquired satellite images of the submarine base, three air bases, and China's nuclear weapons lab at Mianyang.
A front page article in Washington Times was headlined "Commercial photos show Chinese nuke buildup," but both the cave and submarines have existed for nearly three decades. Only now, thanks to commercial satellites, can the public see them.
The Imaging Notes article is a snapshot from a larger FAS/NRDC report on US-Chinese nuclear relations scheduled for publication later this spring.
More: Article in Imaging Notes | Analysis and background