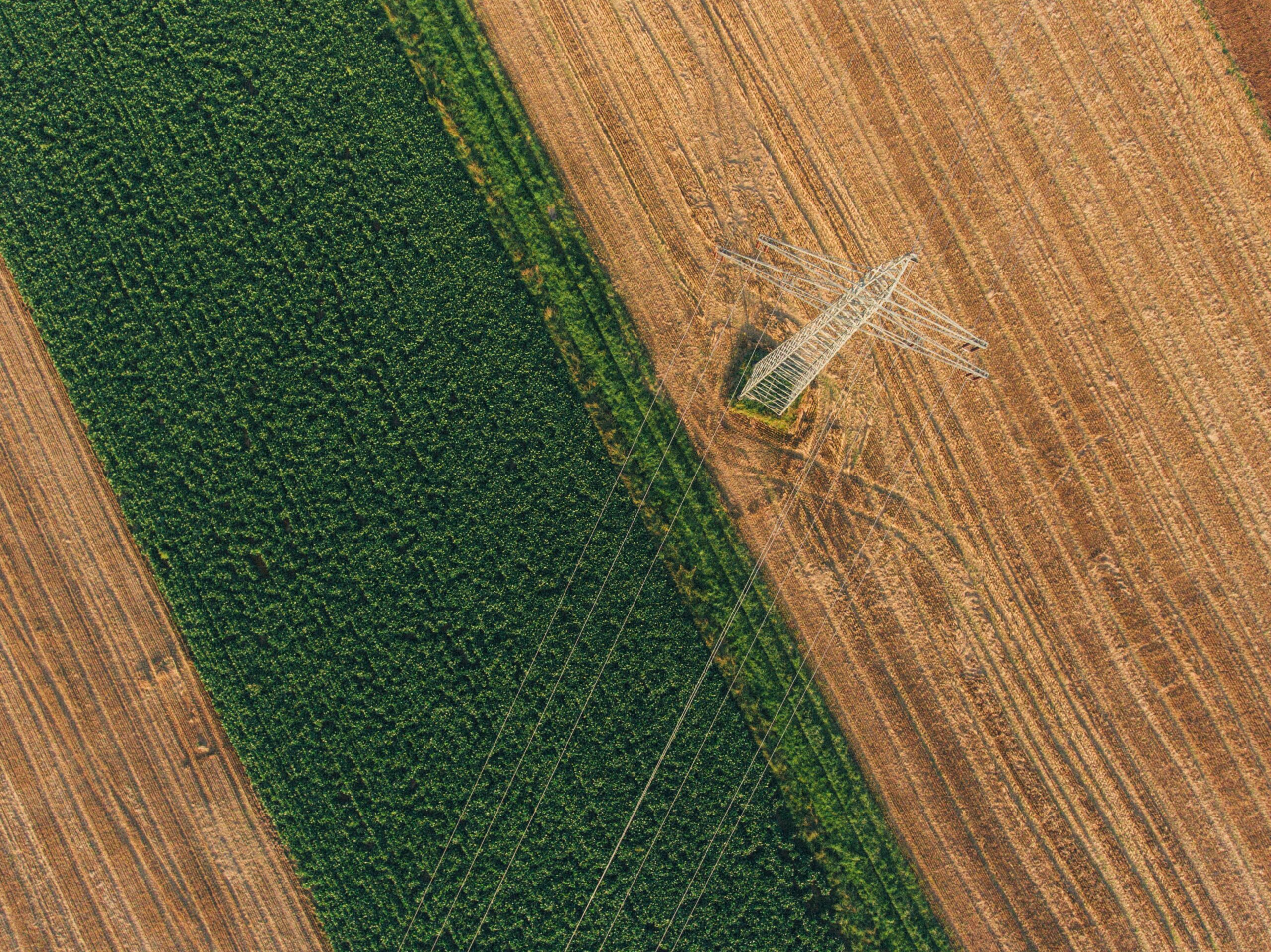 Science Policy
day one project
Connecting Utility-Scale Renewable Energy Resources with Rural-Urban Transmission
There is a vast amount of wind and solar power ready to be harvested and moved to market across the United States, but it must be connected through long-distance transmission to protect against intermittency instability. Strategically placed long-distance transmission also ensures that rural and urban populations benefit economically from the transition to clean energy.
The Biden-Harris Administration should facilitate the transition to a clean grid by aggressively supporting utility-scale renewable energy resources in rural areas that are connected to urban centers through modernized high-voltage direct current (HVDC) transmission. To move toward total electrification and a decarbonized grid, the Department of the Interior (DOI) and the Bureau of Land Management (BLM) must encourage renewable energy production on federal land through the BLM's multiple-use mandate. BLM must work in tandem with the Department of Energy (DOE), Department of Transportation (DOT), and the Federal Energy Regulatory Commission (FERC) to transport increased clean power generation through newly constructed HVDC lines that can handle this capacity.
This two-pronged approach will move loads from high-generation, low-demand rural areas to low-generation, high-demand (often coastal) urban hubs. As residents in the East arrive home from work and turn on their TVs, the sun is still up in the West and can provide for their energy needs. As residents in the Northwest wake up, grind coffee, and tune into the news, they can rely on power from the Midwest, where the wind is blowing.
Challenge and Opportunity
Utility-Scale Renewable Energy Development on Federal Land
After taking office, the Biden-Harris Administration rejoined the Paris Climate Agreement and committed the United States to reduce greenhouse gas (GHG) emissions by 50–52% below 2005 levels by 2030. The Inflation Reduction Act (IRA) is a positive step toward meeting these GHG emissions goals. The IRA allocated $369 billion to climate and energy security investments, which should be used to bolster development of renewables on federal lands. Together with the Infrastructure Investment and Jobs Act, this funding affords an enormous opportunity.
Building utility-scale renewable energy infrastructure such as wind or solar requires a vast amount of space. A utility-scale solar power plant could require between 5 and 10 acres of land in order to generate enough energy to power approximately 173 homes.
The federal government owns a vast amount of land, some of which is viable for wind and solar. To be exact, the federal government owns 640 million acres of land (nearly one-third of all U.S. land), which is managed through the Bureau of Land Management (BLM), the Fish and Wildlife Services (FWS), the National Park Service (NPS), the Forest Service (USFS), and the Department of Defense (DOD).
Land owned by the BLM (245 million acres) and the USFS (193 million acres) falls under similar multiple-use, sustained-yield mandates. The majority of those combined 438 million acres under BLM jurisdiction are the concern of this memo. According to the Federal Land Policy and Management Act of 1976 (FLPMA), resources and uses on those federal lands must be used in a balanced combination that "best meets present and future needs of the American people." This multiple-use mandate presents an enormous opportunity for deployment of utility-scale renewable energy resources. The BLM manages over 19 million acres of public lands with excellent solar potential across six states and 20.6 million acres of public lands with excellent wind potential. This land is ripe for utility-scale renewable energy generation and will be critical to achieving the nation's decarbonization goals. Green energy generation on these lands should be privileged.
Together, the 15 central U.S. states account for the majority of national wind and solar technical potential. However, these states are projected to comprise only a third of the nation's electrical demand in 2050. Population-dense and predominantly coastal cities have higher energy demand, while the Midwest and Southwest are dominated by rural communities and public land. Transmission lines are needed to transport renewable energy from these central states to the urban centers with large energy markets.
Transmission Development on a Rural-Urban Grid
The U.S. grid is split into three regions: the Western Interconnection, the Eastern Interconnection, and ERCOT Interconnection (Texas). These three regions are only minimally connected nationally, regionally, or even through interstate connections due to intense localism on the part of utilities that are not financially incentivized to engage in regional transmission. There are three key utility ownership models in the United States: private investor-owned utilities (IOUs), public power utilities owned by states or municipalities, and nonprofit rural electric cooperatives (co-ops).
The Federal Energy Regulatory Commission is an independent agency that regulates the interstate transmission of electricity. In this capacity, it ensures that regional goals are established and met. Two types of entities established by FERC, regional transmission organizations (RTOs) and independent system operators (ISOs), help to coordinate regional transmission across utilities. RTOs are voluntary bodies of utilities that streamline and coordinate regional transmission initiatives and objectives. ISOs are independent and federally regulated entities that coordinate regional transmission to ensure nondiscriminatory access and streamline regional goals. ISOs and RTOs are similar, but RTOs generally have jurisdiction over a larger geographic area. Two-thirds of the nation's electricity load is served in ISO/RTO regions. The remainder of the energy market is dominated by vertically integrated utilities that manage both transmission and distribution.
Establishing more connections among the three regional grids will support renewable energy development, reduce GHG emissions, save consumers money, increase resilience, and create jobs. Connecting the power grid across states and time zones is also vital to peak load control. Greater connection mitigates the inherent instability of renewables: if clouds cover the sun in the East, winds will still blow in the Midwest. If those winds die, water will still flow in the Northwest's rivers.
The best way to make connections between regional and local grids is through high-voltage direct current electrical transmission systems. HVDC transmission allows for the direct current (DC) transfer of power over long distances, which is more energetically efficient than alternating current (AC).
There is precedent and forward momentum on developing interstate transmission, including projects like SunZia in the Southwest, TransWest Express in the Mountain West, Grain Belt Express in the Midwest, and Champlain Hudson Power Express in the Northeast. The Midcontinent Independent System Operator (MISO) recently approved $10.3 billion in regional HVDC lines, a move that is projected to generate up to $52.2 billion in net benefits through mitigated blackouts and increased fuel savings.
Though co-ops account for the smallest percentage of utilities (there are 812 total), they are found in the primarily rural Midwest, where there is high generation potential for solar and wind energy. Here, utility participation in RTOs is low. FERC has expressed disinterest in mandating RTO participation and in taking punitive action. However, it can incentivize regional planning through RTO membership or, where unappealing to local utilities, incentivize regional transmission investment through joint ownership structures.
The Biden-Harris Administration has taken the first steps to address these issues, such as releasing an Action Plan in 2022 to encourage federal agencies to expedite the permitting process of renewable energy. The president should expand on the existing Action Plan to build a larger coalition of contributors and also encourage the following recommendations to facilitate maximum clean-energy transition efficiency. Achieving the Biden-Harris Administration decarbonization targets requires the tandem development of rural utility-scale renewable energy and regional HVDC transmission to carry this energy to urban centers, benefiting people and economies across the United States.
Plan of Action
Recommendation 1. BLM should prioritize renewable energy permit awards near planned HVDC transmission lines and existing rights-of-way.
Compared to FY20, BLM reported that it has increased renewable energy permitting activities by 35%, supporting the development of 2,898 MW of onshore solar, wind, and geothermal energy generation capacity. BLM received 130 proposals for renewable energy generation projects on public lands and six applications for interconnected transmission lines in 2021. The transmission line proposals would support 17 GW of energy, which would also support the transmission of renewable energy on non-federal land across the Southwest.
DOI can directly support renewable energy generation by instructing BLM to ensure that contracts are awarded through the multiple-use, sustained-yield mandate in a specific way. Though Section 50265 of the IRA mandates that oil and gas leases must continue, DOI can plan with an eye to the future. Renewables built on public lands should be constructed in areas closest to planned HVDC transmission, including but not limited to Kansas, Wyoming, and New Mexico. Renewables should always take precedence over coal, oil, and natural gas in areas where existing or future HVDC transmission lines are planned to begin construction or upgrades. Renewables should also always take precedence near railways and federal highways, where HVDC transmission is more easily implemented. Contracts for renewables near planned HVDC interstate transmission lines and existing rights-of-way like railways and highways should be given precedence in the awards process. This will prime the grid for the Biden-Harris Administration's decarbonization goals and ensure that oil and gas generation is situated closer to legacy lines that are more likely to be retired sooner. DOI has unique considerations due to Section 50265 of the IRA, but it can still coordinate with other federal agencies to manage its constraints and judiciously prioritize transmission-adjacent renewable energy generation sites.
Recommendation 2. FERC should incentivize regional transmission planning by encouraging federal-local partnerships, introducing joint-ownership structures, and amending Order 1000.
FERC should encourage RTOs to prioritize regional transmission planning in order to meet decarbonization goals and comply with an influx of cheaper, cleaner energy into its portfolio. The FERC-NARUC Task Force is a good starting point for this cooperation and should be expanded upon. This federal-state task force on electric transmission is a good blueprint for how federal objectives for regional planning can work hand-in-hand with local considerations. FERC can highlight positive cases like SB448 in Nevada, which incentivizes long-distance transmission and mandates the state's participation in an RTO by 2030. FERC should encourage utility participation in RTOs but emphasize that long-distance transmission planning and implementation is the ultimate objective. Where RTO participation is not feasible, FERC can incentivize utility participation in regional transmission planning in other ways.
FERC should incentivize utility participation in regional transmission by encouraging joint-ownership structures, as explored in a 2019 incentives docket. In March 2019, FERC released a Notice of Inquiry seeking comments on "the scope and implementation of its electric transmission incentives regulations and policy." Commenters supported non-public utility joint-ownership promotion, including equity in transmission lines that can offset customer rates, depending on the financing structure. In February 2023, FERC approved incentives for two of Great River Energy's interstate transmission projects, in which it will own a 52.3% stake of the Minnesota Iron Range project and 5% of the Big Stone project. In the Iron Range project, Great River can use a 50% equity and 50% debt capital structure, placing the construction expenses on its rate base. The cash flow generated by this capital structure is necessary for the completion of this interstate transmission line, and FERC should encourage similar projects and incentives.
FERC should amend Order 1000—Transmission Planning and Cost Allocation. As former Commissioner Glick has noted, Order 1000 in its current iteration unintentionally encourages the construction of smaller lines over larger-scale regional transmission lines because utilities prefer not to engage in potentially lengthy, expensive competition processes. In April 2022, FERC published a Notice of Proposed Rulemaking (NOPR), which, among other things, attempts to address this perverse incentive by amending the order "to permit the exercise of a federal rights of first refusal for transmission facilities selected in a regional transmission plan for purposes of cost allocation, conditioned on the incumbent transmission provider establishing joint ownership of those facilities." Amending this rule and allowing federal ROFR for joint ownership structures will encourage partnerships, spread risks across more parties, and allow greater access to large investments that traditionally require an insurmountable capital investment for most investors new to this sector. The NOPR also encouraged long-term regional transmission planning and improved coordination between local and regional entities and implementation goals. The amendment was supported by both utilities and environmental groups. Public comments were closed for submission in summer 2022. Now, over a year later, FERC should act quickly to issue a final rule on amending Order 1000.
In addition to incentivizing more regionally focused transmission planning at the utility level, federal agencies should work together to ensure that HVDC lines are strategically placed to facilitate the delivery of renewable energy to large markets.
Recommendation 3. The Biden-Harris Administration should encourage the Department of Transportation to work with the Grid Deployment Office (GDO) and approve state DOT plans for HVDC lines along existing highways and railroads.
In 2021, the Federal Highway Administration (FHWA) released a memorandum providing guidance that state departments of transportation may leverage "alternative uses" of existing highway rights of way (ROW), including for renewable energy, charging stations, transmission lines, and broadband projects, and that the FHWA may approve alternative uses for ROWs so long as they benefit the public and do not impair traffic. The GDO, created by the Biden-Harris Administration, should work directly with state DOTs to plan for future interstate lines. As these departments coordinate, they should use a future highway framework characterized by increased electric vehicle (EV) usage, increased EV charging station needs, and improved mass transit. This will allow DOT to reinterpret impeding the "free and safe flow of traffic." The FHWA should encourage state DOTs to use the SOO Green HVDC Link as a blueprint. The idea of reconciling siting issues by building transmission lines along existing rights-of-way such as highways or railroads is known to this administration, as evidenced by President Biden's reference in a 2022 White House Statement and by FERC's June 2020 report on barriers and opportunities for HVDC transmission.
Recommendation 4. DOI, the Department of Agriculture (USDA), DOD, DOE, and the Environmental Protection Agency (EPA) should sign a new Memorandum of Understanding (MOU) that builds on their 2022 MOU but includes DOT.
In 2022, DOI, USDA, DOD, DOE, and the EPA signed an MOU that would expedite the review process of renewable energy projects on federal lands. DOT, specifically its FHWA and Federal Railroad Administration (FRA), should be included in this memorandum. The president should direct these agencies to sign a second MOU to work together to create a regional and national outline for future transmission lines and prioritize permit requests that align with that outline. This new MOU should add the DOT and illustrate the specific ways that FHWA and FRA can support its goals by repurposing existing transportation rights-of-ways.
Recommendation 5. All future covered transmission planning should align with the MOU proposed in Recommendation 4.
Under Section 50152 of the IRA, the DOE received $760 million to distribute federal grants for the development of covered transmission projects. Section 50153 appropriates an additional $100 million to DOE, which is specifically tailored to wind electricity planning and development, both offshore and interregional. The DOE should require that all transmission planning using this federal funding align with the long-term outline created under the MOU recommended above. Additionally, preference should be given to transmission lines (receiving federal funding) that link utility-scale renewable energy projects with large urban centers.
Recommendation 6. The EPA should fund technical and educational training to rural and disadvantaged communities that might benefit from an influx of high-demand green energy jobs.
The federal government should leverage existing funding to ensure that rural and disadvantaged communities directly benefit from economic development opportunities facilitated by the clean energy transition. The EPA should use funds from Section 60107 of the IRA to provide technical and educational assistance to low-income and disadvantaged communities in the form of job training and planning. EPA funding can be used to ensure that local communities have the technical knowledge to take advantage of the jobs and opportunities created by projects like the SOO Green HVDC Link. Because this section of the IRA only funds up to $17 million in job training, this should be allocated to supplement community colleges and other technical training programs that have established curricula and expertise.
To ensure that efforts are successful in the long term, federal agencies, utilities, and other stakeholders must have access to accurate and current information about transmission needs nationwide.
Recommendation 7. Congress should fund regular updates to existing future transmission needs studies.
Congress must continue to approve future research into both halves of the electrification equation: generation and transmission. Congress already approved funding for the NREL Electrification Futures Study and the NREL Interconnections SEAM Study, both published in 2021. These studies allow NREL to determine best-case scenario models and then communicate its research to the RTOs that are best positioned to help IOUs plan for future regional transmission. These studies also guide FERC and the GDO as they determine best-case scenarios for linking rural clean energy resources to urban energy markets.
In addition, Congress must continue to fund the GDO National Transmission Needs Study, which was funded by the Bipartisan Infrastructure Law (BIL). This study researches capacity constraints and congestion on the transmission grid and will help FERC and RTOs determine where future transmission should be planned in order to relieve pressure and meet needs. The final Needs Study was issued in summer 2023, but it must be updated on a regular basis if the country is to actively move toward grid coordination.
The Summer 2023 Needs Study included, for the first time, modeling and discussion of anticipated future capacity constraints and transmission congestion. As the grid continues to evolve and different types of renewable energy are integrated into the grid, future needs studies should continue to include forward-looking models under a variety of renewable energy scenarios.
Conclusion
The Biden-Harris Administration has rejoined the Paris Climate Agreement, affirming their commitment to significant decarbonization goals. To achieve this end, the administration must follow a two-pronged approach that facilitates the installation of utility-scale renewable energy on public lands in the Midwest and Southwest and expedites the implementation of HVDC transmission lines that will link these resources to urban energy markets.
It is impossible to meet the Biden-Harris Administration climate goals without drastic action to encourage further electrification, renewable energy development, and transmission planning. Fortunately, these actions are ripe for bipartisan coordination and are already supported through existing laws like the IRA and BIL. These recommendations will help meet these goals and secure a brighter future for Americans across the rural-urban divide.
Frequently Asked Questions
What recent efforts has FERC taken to modernize transmission?
FERC has made recent strides toward encouraging transmission modernization through Order No. 2023. While this rule primarily addresses the "largest interconnection queue size in history" and takes steps to accelerate the interconnection process, it does not address the lack of transmission capacity and infrastructure nationally. Order No. 2023 is a vital step forward in interconnection process modernization, and it should be the first of many toward large-scale transmission planning.
How many utility-scale solar and onshore wind plants are currently in use on public lands?
As of November 2021, BLM-managed lands produced 12 GW of power from renewable energy sources, through 36 wind, 37 solar, and 48 geothermal permitted projects. To put this number into perspective, 1 GW is enough to power approximately 750,000 homes. Helpfully, BLM maintains a list of planned and approved renewable energy projects on its lands. Additionally, the Wilderness Society maintains an interactive map of energy projects on public lands.
In contrast, BLM manages over 37,000 oil and gas leases, including over 96,000 wells.
How will states benefit from renewable energy development on public lands?
Due to their high renewable-energy development potential, Midwest and Southwest states stand to disproportionately gain from a clean energy jobs boom in the fields of construction, management, and the technical trades. Given the West's and Northeast's desire for a decarbonized grid and their comparatively greater energy use, these states will benefit by receiving greater amounts of renewable energy to meet their energy needs and decarbonization goals.
How many regional HVDC transmission lines are currently planned or approved?
The United States lags in the number of HVDC transmission lines, particularly compared to China and Europe. In 2022, only 552 miles of high voltage transmission were added to the United States. Currently, there are four regional transmission lines proposed, two of which expect to begin construction this year. Of these planned lines, three are in the Midwest and Southwest, and one is in the Northeast. While this is progress, China has recently invested $26 billion in a national network of ultra-high-voltage lines.
Why does this memo focus on BLM multiple-use, sustained-yield mandates and not the other five purveyors of U.S. public lands?
Five agencies manage federal land, including BLM, USFS, FWS, NPS, USDA, and DOD. However, only BLM and USFS operate under the FLPMA's multiple-use, sustained-yield mandates, and their land-use mandates are similar. The other agencies' mandates require them to protect and conserve animals and plants, promote tourism and engagement with public lands, and manage military installations and bases. This said, BLM and USFS are the best candidates for developing utility-scale renewable energy resources through their specific mandates. This memo focuses on the larger of those entities, which has greater potential for substantial renewable energy development and an established permitting system. As discussed in this USFS and NREL study, the study of renewable-energy resource construction on national forest system lands is still in early stages, whereas BLM's policies and systems are developed.
Why is tribal land not included in this proposal? How can stakeholders on tribal lands take advantage of federal funding to build similar resources and connect their populations through HVDC transmission lines?
It is not within the scope of this memo to address issues specific to Tribal lands. However, various federal agencies offer clean energy funding specifically for Tribes, such as the Tribal Energy Loan Guarantee Program. If desired by Tribal communities, the U.S. government should prioritize funding for HVDC transmission lines that link Tribal power generation to Tribal urban centers and utility grids. For tribes seeking guidance on implementing utility-scale projects, Navajo Nation can serve as one model. Navajo Nation has the highest solar potential of any tribal land in the country. They have successfully constructed the Kayenta Solar Project (55 MW of energy), and have finalized leases for the Cameron Solar Plant (200 MW) and the Red Mesa Tapaha Solar Generation Plant (70 MW). The Cameron project alone will generate $109 million over the next 30 years for tribal coffers through tax revenue, lease payments, and energy transmission payments. Another example is the solar energy portfolio of Moapa Band of Paiute Indians. The Tribe manages a growing portfolio of utility-scale solar projects, including Moapa Southern Paiute Solar Project (250 MW), and the first utility-scale installation on tribal land. Currently under development are the Arrow Canyon Solar Project, the Southern Bighorn Solar Project, and the Chuckwalla Solar Projects, all of which feature joint ownership between tribal, federal, and private stakeholders.