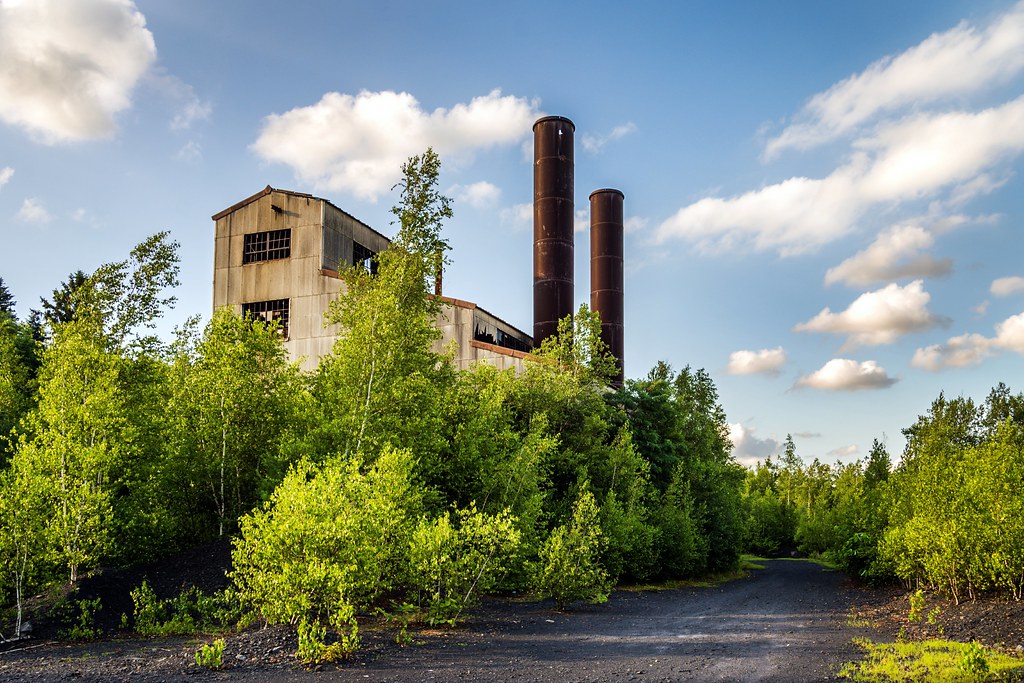 Science Policy
day one project
Engaging Coal Communities in Decarbonization Through Nuclear Energy
The United States is committed to the ambitious goal of reaching net-zero emissions globally by 2050, requiring rapid deployment of clean energy domestically and across the world. Reducing emissions while meeting energy demand requires firm power sources that produce energy at any time and in adverse weather conditions, unlike solar or wind energy. Advanced nuclear reactors, the newest generation of nuclear power plants, are firm energy sources that offer potential increases in efficiency and safety compared to traditional nuclear plants. Adding more nuclear power plants will help the United States meet energy demand while reducing emissions. Further, building advanced nuclear plants on the sites of former coal plants could create benefits for struggling coal communities and result in significant cost savings for project developers. Realizing these benefits for our environment, coal communities, and utilities requires coordinating and expanding existing efforts. The Foundation for Energy Security and Innovation (FESI), the US Department of Energy (DOE), and Congress should each take actions to align and strengthen advanced nuclear initiatives and engagement with coal communities in the project development process.
Challenge and Opportunity
Reducing carbon emissions while meeting energy demand will require the continued use of firm power sources. Coal power, once a major source of firm energy for the United States, has declined since 2009, due to federal and state commitments to clean energy and competition with other clean energy sources. Power generated from coal plants is expected to drop to half of current levels by 2050 as upwards of 100 plants retire. The DOE found that sites of retiring coal plants are promising candidates for advanced nuclear plants, considering the similarities in site requirements, the ability to reuse existing infrastructure, and the overlap in workforce needs. Advanced nuclear reactors are the next generation of nuclear technology that includes both small modular reactors (SMRs), which function similar to traditional light-water reactors except on a smaller site, and non-light-water reactors, which are also physically smaller but use different methods to control reactor temperature. However, the DOE's study and additional analysis from the Bipartisan Policy Center also identified significant challenges to constructing new nuclear power plants, including the risk of cost overrun, licensing timeline uncertainties, and opposition from communities around plant sites. Congress took steps to promote advanced nuclear power in the Inflation Reduction Act and the CHIPS and Science Act, but more coordination is needed. To commercialize advanced nuclear to support our decarbonization goals, the DOE estimates that utilities must commit to deploying at least five advanced nuclear reactors of the same design by 2025. There are currently no agreements to do so.
The Case for Coal to Nuclear
Coal-dependent communities and the estimated 37,000 people working in coal power plants could benefit from the construction of advanced nuclear reactors. Benefits include the potential addition of more than 650 jobs, about 15% higher pay on average, and the ability for some of the existing workforce to transition without additional experience, training, or certification. Jobs in nuclear energy also experience fewer fatal accidents, minor injuries, and harmful exposures than jobs in coal plants. Advanced nuclear energy could revitalize coal communities, which have suffered labor shocks and population decline since the 1980s. By embracing advanced nuclear power, these communities can reap economic benefits and create a pathway toward a sustainable and prosperous future. For instance, in one case study by the DOE, replacing a 924 MWe coal plant with nuclear increased regional economic activity by $275 million. Before benefits are realized, project developers must partner with local communities and other stakeholders to align interests and gain public support so that they may secure agreements for coal-to-nuclear transition projects.
Communities living near existing nuclear plants tend to view nuclear power more favorably than those who do not, but gaining acceptance to construct new plants in communities less familiar with nuclear energy is challenging. Past efforts using a top-down approach were met with resistance and created a legacy of mistrust between communities and the nuclear industry. Stakeholders can slow or stop nuclear construction through lawsuits and lengthy studies under the National Environmental Policy Act (NEPA), and 12 states have restrictions or total bans on new nuclear construction. Absent changes to the licensing and regulatory process, project developers must mitigate this risk through a process of meaningful stakeholder and community engagement. A just transition from coal to nuclear energy production requires developers to listen and respond to local communities' concerns and needs through the process of planning, siting, licensing, design, construction, and eventual decommissioning. Project developers need guidance and collective learning to update the siting process with more earnest practices of engagement with the public and stakeholders. Coal communities also need support in transitioning a workforce for nuclear reactor operations.
Strengthen and Align Existing Efforts
Nuclear energy companies, utilities, the DOE, and researchers are already exploring community engagement and considering labor transitions for advanced nuclear power plants. NuScale Power, TerraPower, and X-energy are leading in both the technical development of advanced nuclear and in considerations of community benefits and stakeholder management. The Utah Associated Municipal Power Systems (UAMPS), which is hosting NuScale's demonstration SMR, spent decades engaging with communities across 49 utilities over seven states before signing an agreement with NuScale. Their carbon-free power project involved over 200 public meetings, resulting in several member utilities choosing to pursue SMRs. Universities are collaborating with the Idaho National Laboratory to analyze energy markets using a multidisciplinary framework that considers community values, resources, capabilities, and infrastructure. Coordinated efforts by researchers near the TerraPower Natrium demonstration site investigate how local communities view the cost, benefits, procedures, and justice elements of the project.
The DOE also works to improve stakeholder and community engagement across multiple offices and initiatives. Most notably, the Office of Nuclear Energy is using a consent-based siting process, developed with extensive public input, to select sites for interim storage and disposal of spent nuclear fuel. The office distributed $26 million to universities, nonprofits, and private partners to facilitate engagement with communities considering the costs and benefits of hosting a spent fuel site. DOE requires all recipients of funds from the Infrastructure Investment and Jobs Act and the Inflation Reduction Act, including companies hosting advanced nuclear demonstration projects, to submit community benefits plans outlining community and labor organization engagement. The DOE's new Commercial Liftoff Reports for advanced nuclear and other clean energy technologies are detailed and actionable policy documents strengthened by the inclusion of critical societal considerations.
Through the CHIPS and Science Act, Congress established or expanded DOE programs that promote both the development of advanced nuclear on sites of former coal plants and the research of public engagement for nuclear energy. The Nuclear Energy University Program (NEUP) has funded technical nuclear energy research at universities since 2009. The CHIPS Act expanded the program to include research that supports community engagement, participation, and confidence in nuclear energy. The Act also established, but did not fund, a new advanced nuclear technology development program that prioritizes projects at sites of retiring coal plants and those that include elements of workforce development. An expansion of an existing nuclear energy training program was cut from the final CHIPS Act, but the expansion is proposed again in the Nuclear Fuel Security Act of 2023.
More coordination is required among DOE, the nuclear industry, and utilities. Congress should also take action to fund initiatives authorized by recent legislation that enable the coal-to-nuclear transition.
Plan of Action
Recommendations for Federal Agencies
Recommendation 1. A sizable coordinating body, such as the Foundation for Energy Security and Innovation (FESI) or the Appalachian Regional Commission (ARC), should support the project developer's efforts to include community engagement in the siting, planning, design, and construction process of advanced nuclear power plants.
FESI is a new foundation to help the DOE commercialize energy technology by supporting and coordinating stakeholder groups. ARC is a partnership between the federal government and Appalachian states that supports economic development through grantmaking and conducting research on issues related to the region's challenges. FESI and ARC are coordinating bodies that can connect disparate efforts by developers, academic experts, and the DOE through various enabling and connecting initiatives. Efforts should leverage existing resources on consent-based siting processes developed by the DOE. While these processes are specific to siting spent nuclear fuel storage facilities, the roadmap and sequencing elements can be replicated for other goals. Stage 1 of the DOE's planning and capacity-building process focuses on building relationships with communities and stakeholders and engaging in mutual learning about the topic. FESI or ARC can establish programs and activities to support planning and capacity building by utilities and the nuclear industry.
FESI could pursue activities such as:
Hosting a community of practice for public engagement staff at utilities and nuclear energy companies, experts in public engagement methods design, and the Department of Energy
Conducting activities such as stakeholder analysis, community interest surveys, and engagement to determine community needs and concerns, across all coal communities
Providing technical assistance on community engagement methods and strategies to utilities and nuclear energy companies
ARC could conduct studies such as stakeholder analysis and community interest surveys to determine community needs and concerns across Appalachian coal communities.
Recommendation 2. The DOE should continue expanding the Nuclear Energy University Program (NEUP) to fund programs that support nontechnical nuclear research in the social sciences or law that can support community engagement, participation, and confidence in nuclear energy systems, including the navigation of the licensing required for advanced reactor deployment.
Evolving processes to include effective community engagement will require new knowledge in the social sciences and shifting the culture of nuclear education and training. Since 2009, the DOE Office of Nuclear Energy has supported nuclear energy research and equipment upgrades at U.S. colleges and universities through the NEUP. Except for a few recent examples, including the University of Wyoming project cited above, most projects funded were scientific or technical. Congress recognized the importance of supporting research in nontechnical areas by authorizing the expansion of NEUP to include nontechnical nuclear research in the CHIPS and Science Act. DOE should not wait for additional appropriations to expand this program. Further, NEUP should encourage awardees to participate in communities of practice hosted by FESI or other bodies.
Recommendation 3. The DOE Office of Energy Jobs and the Department of Labor (DOL) should collaborate on the creation and dissemination of training standards focused on the nuclear plant jobs for which extensive training, licensing, or experience is required for former coal plant workers.
Sites of former coal plants are promising candidates for advanced nuclear reactors because most job roles are directly transferable. However, an estimated 23% of nuclear plant jobs—operators, senior managers, and some technicians—require extensive licensing from the Nuclear Regulatory Commission (NRC) and direct experience in nuclear roles. It is possible that an experienced coal plant operator and an entry-level nuclear hire would require the same training path to become an NRC-licensed nuclear plant operator.
Supporting the clean energy workforce transition fits within existing priorities for the DOE's Office of Energy Jobs and the DOL, as expressed in the memorandum of understanding signed on June 21, 2022. Section V.C. asserts the departments share joint responsibility for "supporting the creation and expansion of high-quality and equitable workforce development programs that connect new, incumbent, and displaced workers with quality energy infrastructure and supply chain jobs." Job transition pathways and specific training needs will become apparent through additional studies by interested parties and lessons from programs such as the Advanced Reactor Demonstration Program and the Clean Energy Demonstration Program on Current and Former Mine Land. The departments should capture and synthesize this knowledge into standards from which industry and utilities can design targeted job transition programs.
Recommendations for Congress
Recommendation 4. Congress should fully appropriate key provisions of the CHIPS and Science Act to support coal communities' transition to nuclear energy.
Appropriate $800 million over FY2024 to FY2027 to establish the DOE Advanced Nuclear Technologies Federal Research, Development, and Demonstration Program: The CHIPS and Science Act established this program to promote the development of advanced nuclear reactors and prioritizes projects at sites of retiring coal power plants and those that include workforce development programs. These critical workforce training programs need direct funding.
Appropriate an additional $15 million from FY2024 to FY2025 to the NEUP: The CHIPS and Science Act authorizes an additional $15 million from FY 2023 to FY 2025 to the NEUP within the Office of Nuclear Energy, increasing the annual total amount from $30 million to $45 million. Since CHIPS included an authorization to expand the program to include nontechnical nuclear research, the expansion should come with increased funding.
Recommendation 5. Congress should expand the Nuclear Energy Graduate Traineeship Subprogram to include workforce development through community colleges, trade schools, apprenticeships, and pre-apprenticeships.
The current Traineeship Subprogram supports workforce development and advanced training through universities only. Expanding this direct funding for job training through community colleges, trade schools, and apprenticeships will support utilities' and industries' efforts to transition the coal workforce into advanced nuclear jobs.
Recommendation 6. Congress should amend Section 45U, the Nuclear Production Tax Credit for existing nuclear plants, to require apprenticeship requirements similar to those for future advanced nuclear plants covered under Section 45Y, the Clean Energy Production Tax Credit.
Starting in 2025, new nuclear power plant projects will be eligible for the New Clean Energy Production and Investment Tax Credits if they meet certain apprenticeship requirements. However, plants established before 2025 will not be eligible for these incentives. Congress should add apprenticeship requirements to the Nuclear Production Tax Credit so that activities at existing plants strengthen the total nuclear workforce. Credits should be awarded with priority to companies implementing apprenticeship programs designed for former coal industry workers.
Conclusion
The ambitious goal of reaching net-zero emissions globally requires the rapid deployment of clean energy technologies, in particular firm clean energy such as advanced nuclear power. Since the 1980s, communities around coal power plants have suffered from industry shifts and will continue to accumulate disadvantages without support. Coal-to-nuclear transition projects advance the nation's decarbonization efforts while creating benefits for developers and revitalizing coal communities. Utilities, the nuclear industry, the DOE, and researchers are advancing community engagement practices and methods, but more effort is required to share best practices and ensure coordination in these emerging practices. FESI or other large coordinating bodies should fill this gap by hosting communities of practice, producing knowledge on community values and attitudes, or providing technical assistance. DOE should continue to promote community engagement research and help articulate workforce development needs. Congress should fully fund initiatives authorized by recent legislation to promote the coal to nuclear transition. Action now will ensure that our clean firm power needs are met and that coal communities benefit from the clean energy transition.
Frequently Asked Questions
What paths are open to coal miners in the coal-to-nuclear transition?
Transitioning coal miners directly into clean energy is challenging considering the difference in skills and labor demand between the sectors. Most attempts to transition coal miners should focus on training in fields with similar skill requirements, such as job training for manufacturing roles within the Appalachian Climate Technology Coalition. Congress could also provide funding for unemployed coal miners to pursue education for other employment.
What are other challenges in transitioning the coal power plant workforce to nuclear energy?
A significant challenge is aligning the construction of advanced nuclear plants with the decommissioning of coal plants. Advanced nuclear project timelines are subject to various delays and uncertainties. For example, the first commercial demonstration of small modular reactor technology in the United States, the TerraPower plant in Wyoming, is delayed due to the high-assay low-enriched uranium supply chain. The Nuclear Regulatory Commission's licensing process also creates uncertainty and extends project timelines.
How is radioactive spent fuel from existing nuclear power plants managed?
Methods exist to safely contain radioactive material as it decays to more stable isotopes. The waste is stored on site at the power plant in secure pools in the shorter term and in storage casks capable of containing the material for at least 100 years in the longer term. The DOE must continue pursuing interim consolidated storage solutions as well as a permanent geological repository, but the lack of these facilities should not pose a significant barrier to constructing advanced nuclear power plants. The United States should also continue to pursue recycling spent fuel.
How will the construction of new SMR plants impact spent fuel management?
More analysis is required to better understand these impacts. A study conducted by Argonne National Laboratory found that while the attributes of spent fuel vary by the exact design of reactor, overall there are no unique challenges to managing fuel from advanced reactors compared to fuel from traditional reactors. A separate study found that spent fuel from advanced reactors will contain more fissile nuclides, which makes waste management more challenging. As the DOE continues to identify interim and permanent storage sites through a consent-based process, utilities and public engagement efforts must interrogate the unique waste management challenges when evaluating particular advanced nuclear technology options.
How will the construction of new advanced nuclear plants affect nuclear proliferation?
Similar to waste output, the risk of proliferation from advanced reactors varies on the specific technologies and requires more interrogation. Some advanced reactor designs, such as the TerraPower Natrium reactor, require the use of fuel that is more enriched than the fuel used in traditional designs. However, the safeguards required between the two types of fuel are not significantly different. Other designs, such as the TerraPower TWR, are expected to be able to use depleted or natural uranium sources, and the NuScale VOYGR models use traditional fuel. All reactors have the capacity to produce fissile material, so as the United States expands its nuclear energy capabilities, efforts should be made to expand current safeguards limiting proliferation to fuel as it is prepared for plants and after it has been used.