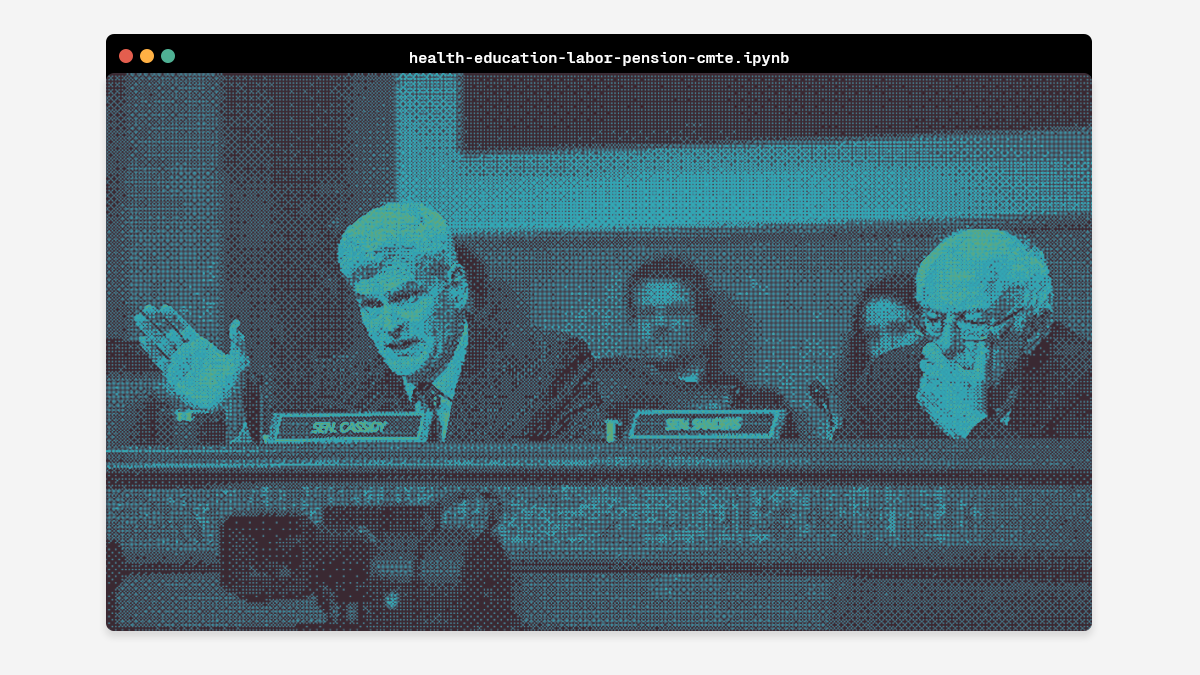 AI in Action: Recommendations for AI Policy in Health, Education, and Labor
The Ranking Member of the Senate Committee on Health, Education, Labor, & Pensions (HELP) recently requested information regarding AI in our healthcare system, in the classroom, and in the workplace. The Federation of American Scientists was happy to provide feedback on the Committee's questions. Targeted investments and a clear-eyed vision of the future of AI in these domains will allow the U.S. to reap more of the potential benefits of AI while preventing some of the costs.
This response provides recommendations on leveraging AI to improve education, healthcare, and the future of work. Key points include:
In education, the federal government should fund more AI research and establish initiatives like the National Center for Advanced Development in Education.
For healthcare, Congress should update regulations to enable safe innovation and establish AI Centers of Excellence, starting with maternal health. These can coordinate data sharing and develop AI tools to tackle disparities.
Regarding labor, AI creates opportunities for job growth and workforce transition. The NIST AI Risk Framework enables responsible adoption. Industry can self-regulate using shared standards to ensure worker protections.
Overall, with thoughtful oversight and human-centric design, AI promises immense benefits across these sectors. But responsible governance is crucial, as is inclusive development and ongoing risk assessment. By bringing together stakeholders, the U.S. can lead in advancing ethical, high-impact applications of AI.
Education
The Federation of American Scientists (FAS) co-leads the Alliance for Learning Innovation (ALI), a coalition of cross-sector organizations seeking to build a stronger, more competitive research and development (R&D) infrastructure in U.S. education. As was noted in the ALI Coalition's response to White House Office of Science & Technology Policy's "Request for Information: National Priorities for Artificial Intelligence," FAS sees great promise and opportunity for artificial intelligence to improve education, equity, economic opportunity, and national security. In order to realize this opportunity and mitigate risks, we must ensure that the U.S. has a robust, inclusive, and updated education R&D ecosystem that crosscuts federal agencies.
What Should The Federal Role Be In Supporting AI In Education?
Research And Development
The U.S. government should prioritize funding and supporting R&D in the field of AI to ensure that the U.S. is on the cutting edge of this technology. One strong existing federal example are the AI Institutes supported by the National Science Foundation (NSF) and the U.S. Department of Education (ED). Earlier this year, NSF and the Institute of Education Sciences (IES) established the AI Institute for Exceptional Children, which capitalizes on the latest AI research to serve children with speech and language pathology needs. Communities would benefit from additional AI Institutes that meet the moment and deliver solutions for today's teaching and learning challenges.
Expanding Research Grant Programs
Federal agencies, and specifically IES, should build upon the training programs it has for broadening participation and create specific research grant programs for minority-serving institutions with an emphasis on AI research. While the IES Pathways program has had success in diversifying education research training programs, more needs to be done at the predoctoral and postdoctoral level.
National Center For Advanced Development In Education
Another key opportunity to support transformational AI research and development in the United States is to establish a National Center for Advanced Development in Education (NCADE). Modeled after the Defense Advanced Research Projects Agency (DARPA), NCADE would support large-scale, innovative projects that require a more nimble and responsive program management approach than currently in place. The Center would focus on breakthrough technologies, new pedagogical approaches, innovative learning models, and more efficient, reliable, and valid forms of assessments. By creating NCADE, Congress can seed the development and use of artificial intelligence to support teaching, personalize learning, support ELL students, and analyze speech and reading.
How Can We Ensure That AI Systems Are Designed, Developed, And Deployed In A Manner That Protects People's Rights And Safety?
First and foremost, we need to ensure that underserved communities, minors, individuals with disabilities and the civil rights organizations that support them are at the table throughout the design process for AI tools and products. In particular, we need to ensure that research is led and driven locally and by those who are closest to the challenges, namely educators, parents, students, and local and state leaders.
When thoughtfully and inclusively designed, AI has the potential to enhance equity by providing more personalized learning for students and by supporting educators to address the individual and diverse needs in their classrooms. For example, AI could be utilized in teacher preparation programs to ensure that educators have access to more diverse experiences during their pre-service experiences. AI can also provide benefits and services to students and families who currently do not have access to those resources due to a lack of human capital.
Labor
What Role Will AI Play In Creating New Jobs?
AI can serve as a powerful tool for workforce systems, employers, and employees alike in order to drive job creation and upskilling. For instance, investment in large language learning models that scrape and synthesize real-time labor market information (LMI) can be used to better inform employers and industry consortia about pervasive skills gaps. Currently, most advanced real-time LMI products exist behind paywalls, but Congress should consider investing in the power of this information as a public good to forge a more competitive labor market.
The wide-scale commercialization of AI/ML-based products and services will also create new types of jobs and occupations for workers. Contrary to popular belief, many industries that face some level of automation will still require trained employees to pivot to emerging needs in a way that offsets the obsoletion of other roles. Through place-based partnerships between employers and training institutions (e.g., community colleges, work-based learning programs, etc.), localities can reinvest in their workers to provide transition opportunities and close labor market gaps.
What Role Will AI Standards Play In Regulatory And Self-Regulatory Efforts?
AI standards will serve as a crucial foundation as the U.S. government and industries navigate AI's impacts on the workforce. The NIST AI Risk Management Framework provides a methodology for organizations to assess and mitigate risks across the AI lifecycle. This could enable more responsible automation in HR contexts—for example, helping ensure bias mitigation in algorithmic hiring tools. On the policy side, lawmakers drafting regulations around AI and employment will likely reference and even codify elements of the Framework.
On the industry side, responsible technology leaders are already using the NIST AI RMF for self-regulation. By proactively auditing and mitigating risks in internal AI systems, companies can build public trust and reduce the need for excessive government intervention. Though policymakers still have an oversight role, widespread self-regulation using shared frameworks is at this point the most efficient path for safe and responsible AI across the labor market.
Healthcare
What Updates To The Regulatory Frameworks For Drugs And Biologics Should Congress Consider To Facilitate Innovation In AI Applications?
Congress has an opportunity to update regulations to enable responsible innovation and oversight for AI applications in biopharma. For example, Congress could consider expanding the FDA's mandate and capacity to require upfront risk assessments before deployment of particularly high-risk or dual-use bio-AI systems. This approach is currently used by DARPA for some autonomous and biological technologies.
Additionally, thoughtful reporting requirements could be instituted for entities developing advanced bio-AI models above a certain capability threshold. This transparency would allow for monitoring of dual-use risks while avoiding overregulation of basic research.
How Can The FDA Improve The Use Of AI In Medical Devices?
Ensuring That Analysis Of Subpopulation Performance Is A Key Component Of The Review Process For AI Tools
Analyzing data on the subpopulation performance of medical devices should be one key component of any comprehensive effort to advance equity in medical innovation. We appreciate the recommendations in the GOP HELP white paper asking developers to document the performance of their devices on various subpopulations when considering updates and modifications. It will be essential to assess subpopulation performance to mitigate harms that may otherwise arise—especially if an argument for equity is made for a certain product.
Clarifying The Role Of Real-World Evidence In Approvals
Locating concerns regarding performance in subpopulations and within different medical environments will most likely involve the collection of real-world evidence regarding the performance of these tools in the wild. The role of real-world evidence in the regulatory approval process for market surveillance and updates should be defined more clearly in this guidance.
How Can AI Be Best Adopted To Not Inappropriately Deny Patients Care?
AI Centers of Excellence could be established to develop demonstration AI tools for specific care populations and care environments. For example, FAS has published a Day One Memo proposing an AI Center of Excellence for Maternal Health to bring together data sources, then analyze, diagnose, and address maternal health disparities, all while demonstrating trustworthy and responsible AI principles. The benefits of AI Centers of Excellence are two-fold: they provide an opportunity for coordination across the federal government, and they can evaluate existing datasets to establish high-priority, high-impact applications of AI-enabled research for improving clinical care guidelines and tools for healthcare providers.
The AI Center of Excellence model demonstrates the power of coordinating and thoughtfully applying AI tools across disparate federal data sources to address urgent public health needs. Similar centers could be established to tackle other complex challenges at the intersection of health, environmental, socioeconomic, and demographic factors. For example, an AI Center focused on childhood asthma could integrate housing data, EPA air quality data, Medicaid records, and school absenteeism data to understand and predict asthma triggers.
Harnessing the Promise of AI
Artificial intelligence holds tremendous potential to transform education, healthcare, and work for the better. But realizing these benefits in an equitable, ethical way requires proactive collaboration between policymakers, researchers, civil society groups, and industry.
The recommendations outlined here aim to strike a balance—enabling innovation and growth while centering human needs and mitigating risks. This requires robust funding for R&D, modernized regulations, voluntary standards, and inclusive design principles. Ongoing oversight and impact evaluation will be key, as will coordination across agencies and stakeholders.