Over the Line: The Implications of China's ADIZ Intrusions in Northeast Asia
When China established its first ADIZ in the East China Sea on November 23, 2013, the move was widely seen as a practice run before establishing one in the South China Sea to strengthen its controversial territorial claims. However, examining China's use of its ADIZ the way its treatment of those of Japan, South Korea, and Taiwan has evolved over the past seven years reveals that China's East China Sea ADIZ has effectively given China new latitude to extend its influence in Northeast Asia.
Since 2013, China has committed more than 4,400 intrusions into the ADIZs of Japan, South Korea, and Taiwan. Often, Chinese forces violate multiple countries' ADIZs on their flights, flying routes that consecutively transgress South Korea's and Japan's ADIZs or Taiwan's and Japan's. While each country has so far managed the issue in its own way by scrambling jets, discussing the issue with China in bilateral meetings, and publicizing some information about the intrusions, the issue has become a regional one impacting all three countries.
This report uses data gathered from multilingual sources to explore China's motivations behind these intrusions as well as the implications for Japanese, South Korean, Taiwanese, and U.S. forces operating in Northeast Asia.
Israel's Official Map Replaces Military Bases with Fake Farms and Deserts
Somewhat unexpectedly, a blog post that I wrote last week caught fire internationally. On Monday, I reported that Yandex Maps—Russia's equivalent to Google Maps—had inadvertently revealed over 300 military and political facilities in Turkey and Israel by attempting to blur them out.
In a strange turn of events, the fallout from that story has actually produced a whole new one. 
After the story blew up, Yandex pointed out that its efforts to obscure these sites are consistent with its requirement to comply with local regulations. Yandex's statement also notes that "our mapping product in Israel conforms to the national public map published by the government of Israel as it pertains to the blurring of military assets and locations."
The "national public map" to which Yandex refers is the official online map of Israel which is maintained by the Israeli Mapping Centre (מרכז למיפוי ישראל) within the Israeli government. Since Yandex claims to take its cue from this map, I wondered whether that meant that the Israeli government was also selectively obscuring sites on its national map.
I wasn't wrong. In fact, the Israeli government goes well beyond just blurring things out. They're actually deleting entire facilities from the map—and quite messily, at that. Usually, these sites are replaced with patches of fake farmland or desert, but sometimes they're simply painted over with white or black splotches.
Some of the more obvious examples of Israeli censorship include nuclear facilities:
Tel-Nof Air Base is just down the road from a suspected missile storage site, both of which have been painted over with identical patches of farmland.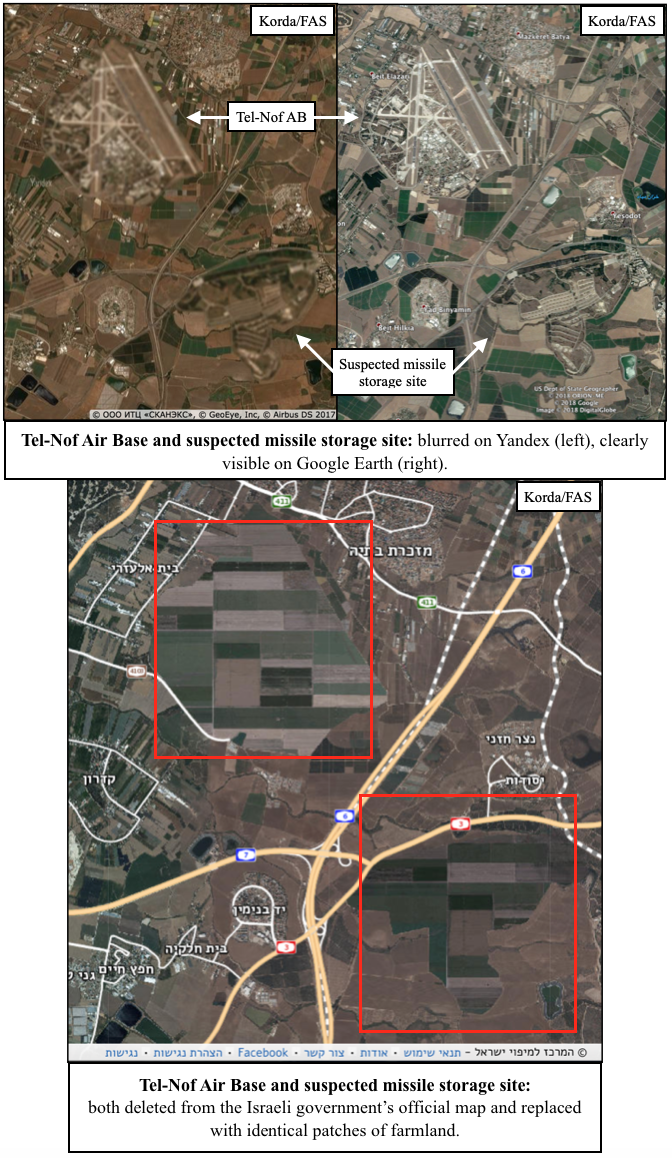 Palmachim Air Base doubles as a test launch site for Jericho missiles and is collocated with the Soreq Nuclear Research Center, which is rumoured to be responsible for nuclear weapons research and design. The entire area has been replaced with a fake desert.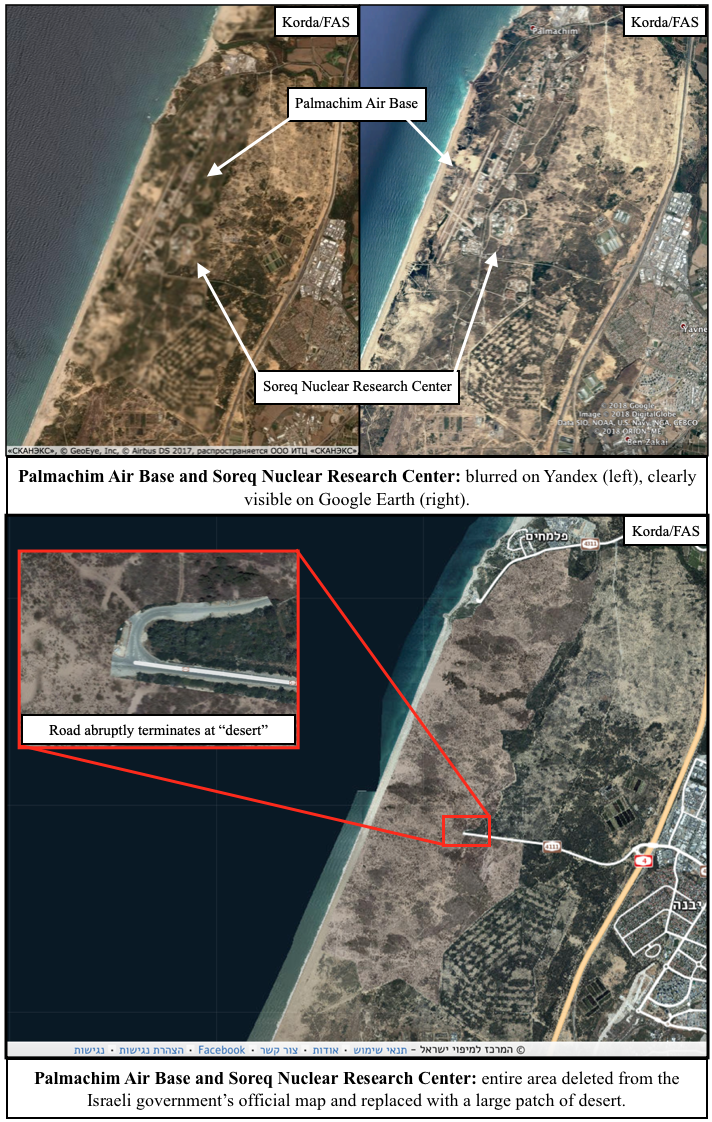 The Haifa Naval Base includes pens for submarines that are rumoured to be nuclear-capable, and is entirely blacked out on the official map.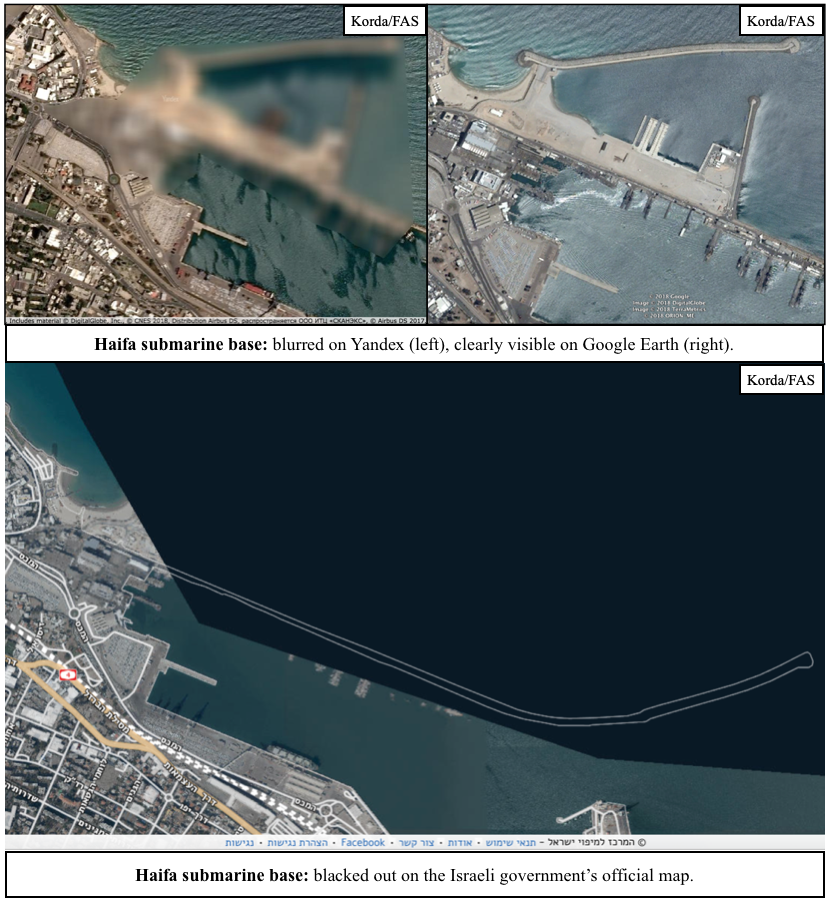 The Negev Nuclear Research Center at Dimona is responsible for plutonium and tritium production for Israel's nuclear weapons program, and has been entirely whited out on the official map.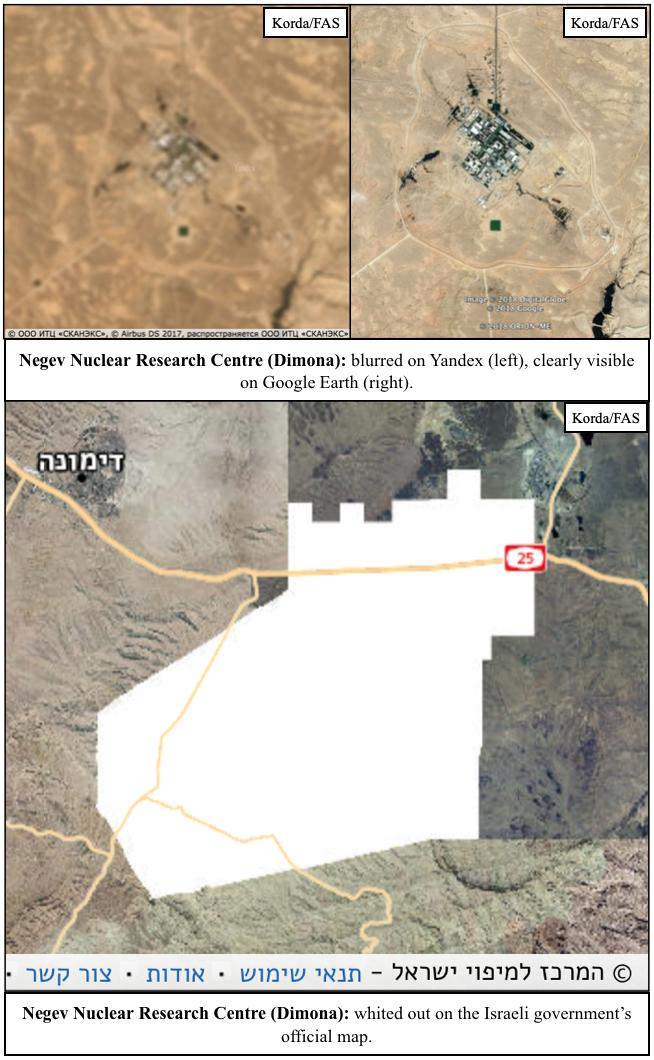 Hatzerim Air Base has no known connection to Israel's nuclear weapons program; however, the sloppy method that was used to mask its existence (by basically just copy-pasting a highly-distinctive and differently-coloured patch of desert to an area only five kilometres away) was too good to leave out.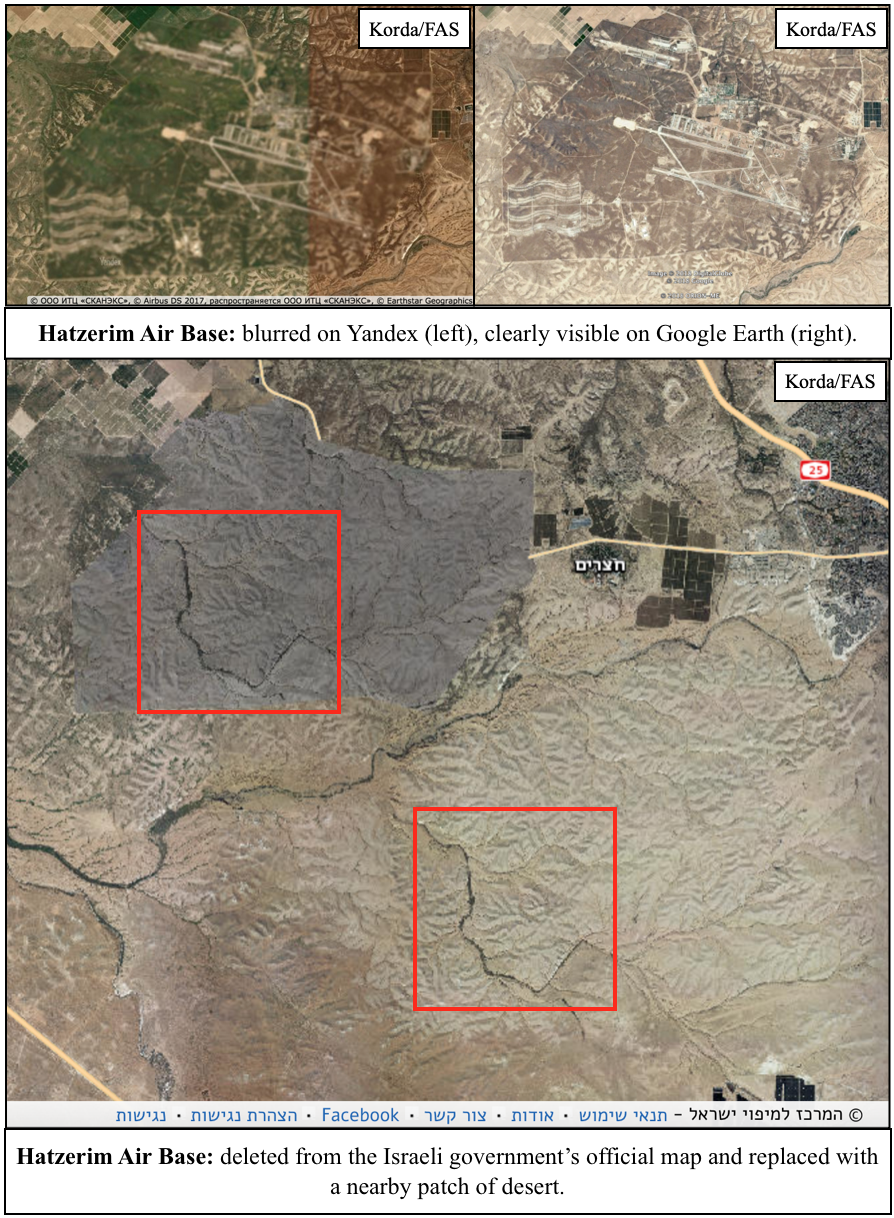 Given that all of these locations are easily visible through Google Earth and other mapping platforms, Israel's official map is a prime example of needless censorship. But Israel isn't the only one guilty of silly secrecy: South Korea's Naver Maps regularly paints over sensitive sites with fake mountains or digital trees, and in a particularly egregious case, the Belgian Ministry of Defense is actually suing Google for not complying with its requests to blur out its military facilities.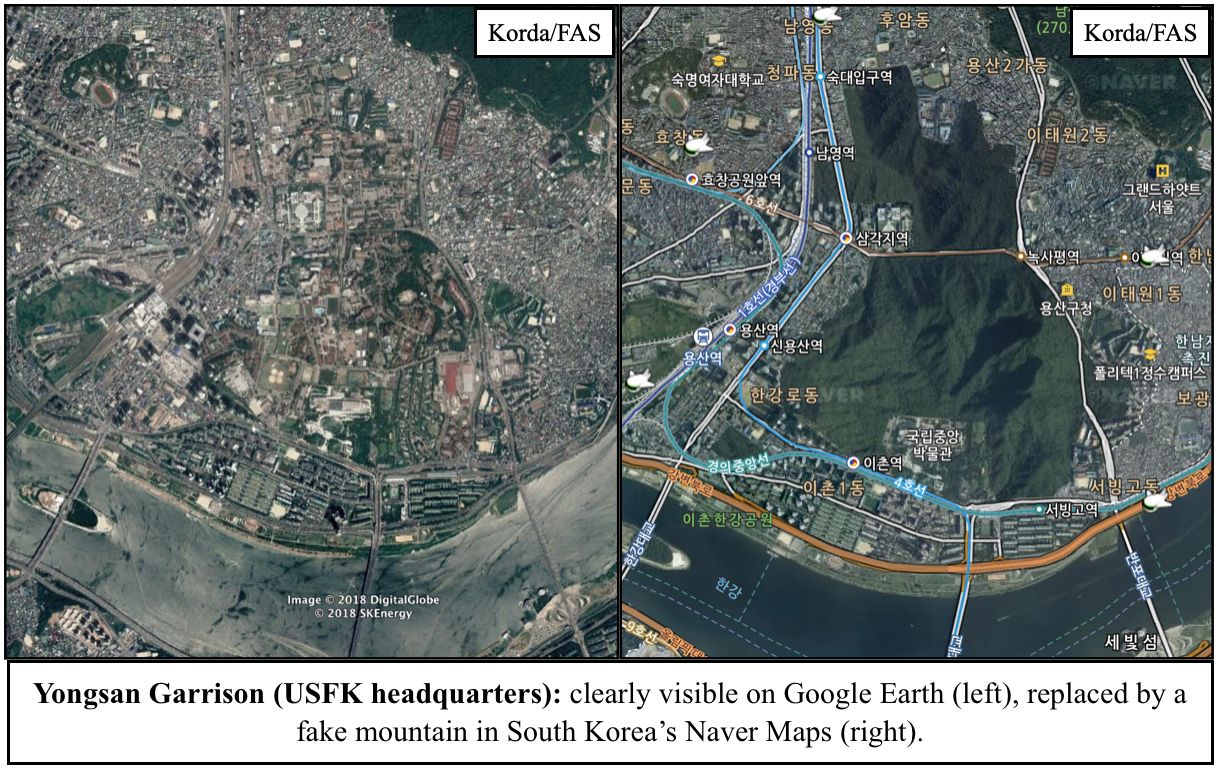 Before the proliferation of high-resolution satellite imagery, obscuring aerial photos of military facilities was certainly an effective method for states to safeguard their sensitive data. However, now that anyone with an internet connection can freely access these images, it simply makes no sense to persist with these unnecessary censorship practices–especially since these methods can often backfire and draw attention to the exact sites that they're supposed to be hiding.
Case studies like Yandex and Strava—in which the locations of secret military facilities were revealed through the publication of fitness heat-maps—should prompt governments to recognize that their data is becoming increasingly accessible through open-source methods. Correspondingly, they should take the relevant steps to secure information that is absolutely critical to national security, and be much more publicly transparent with information that is not—hopefully doing away with needless censorship in the process.