Where There's Smoke, There's Fire: Using Effective Communication To Bridge the Gap Between Wildfire Science and Policy
04.24.23
|
5 min read
|
Text by Alex Griffith
In an environment where fire seasons are turning to fire years, and summer skies across North America are filled with wildfire smoke from as far away as another coast, the need for scientifically accurate wildland fire policy has never been greater.
Over the past several months, COMPASS Science Communication has been working in collaboration with the Federation of American Scientists, Conservation X Labs, and the California Council on Science and Technology to address the gap between science and wildland fire policy. Through FAS's Wildland Fire Policy Accelerator, COMPASS has been working with its partner organizations to help scientists draft recommendations for the Wildland Fire Mitigation and Management Commission, a federal commission tasked by the 2021 Bipartisan Infrastructure Law that will report its findings to Congress by the end of 2023. Throughout the Accelerator process, COMPASS has acted as a capacity-building organization, helping experts from a variety of disciplines hone and focus their messages to speak to the Commission as an audience.
How did we get here?
Fire is a natural process that plays a role in many terrestrial ecosystems. However, a century of fire suppression has led to a buildup of organic matter that would otherwise have been burned by naturally-occurring fire. Fire allows ecosystems to recycle nutrients, clear out waste, and prevent high-intensity fires that do more harm than good.
The buildup of organic matter, or fuel, coupled with a drier, warmer climate and burgeoning development in fire prone landscapes means that when fires start — and they will, either due to human activity, lightning, or even spontaneous combustion when conditions are right — they tend to be larger, more destructive, and faster growing than natural fires in the historical record. The last decade has seen record-setting wildfires across the western United States, with millions of acres burned, thousands of homes destroyed, and hundreds of deaths.
In the face of this challenge, the Commission has a large task: to offer recommendations to revise federal fire policy, which affects everything from fuel treatment strategies such as prescribed fire or thinning, to public health guidelines around smoke, to aviation policy for aerial firefighting efforts. This challenge, however, comes with a huge opportunity to create lasting change that will foster more equitable and sustainable fire practices.
Communication strategies for scientists
It goes without saying that there's a communication gap between wildland fire science and policy, and about wildfire writ large. Historically, communication about fire has focused on total wildfire prevention, epitomized by Smokey Bear. Throughout FAS' Wildland Fire Policy Accelerator process, COMPASS has helped scientists refine their message to bridge that gap, namely through a Message Box training. Within the framework of a federal policy opportunity, understanding how to communicate effectively is crucial — policymakers have limited time, and ensuring that a message is both relevant and trustworthy is at the root of the science communication challenge.
Understanding the intent of the audience is vital: the federal wildland fire space is incredibly complex, touching on many different agencies with often-competing jurisdictions. In order to articulate a compelling, effective message, it must be targeted at the right audience, and be tailored towards what they care about. Is the targeted agency tasked with managing forests for logging and recreation, for promoting public health, or something else entirely? Understanding the nuance of the federal space is vital for pitching an idea, and through the Accelerator, scientists have had an opportunity to work with policy experts to better understand how their research can be most effectively applied.
Leading with the message is key: the classic bottom-up approach to writing often used in scientific publications doesn't always work, especially when communicating with outcome-driven policymakers. The study design and research context is not necessarily the place to start in a 400 word policy recommendation — what's the "what," how does it address the challenge at hand, and why should this route be taken? These questions are the basis of policy-driven science communication, and the Message Box addresses them head-on.
Developing a Science Message
In COMPASS trainings, scientists have the opportunity to workshop their ideas and apply them with specific communication tools. In the specific case of the Wildland Fire Accelerator, COMPASS offered a Message Box training for experts whose work ranged from implementation of aerial data collection, to Indigenous cultural burning, to fire modeling.
The Message Box is a tool used to present an idea in a focused, audience-relevant way, and Dr. Meg Krawchuk, who leads the Landscape Fire and Conservation Science Research Group at Oregon State University, was kind enough to share hers. Dr. Krawchuk is a fire ecologist who specializes in forest disturbance, the spatial distribution of fire, and cultural and land management decisions. Her message box addresses a key, simple issue: that science and forest and wildland fire management are often disconnected from one another, leading to a failure to integrate the most up-to-date science and data with on-the-ground efforts. Identifying the issue at the heart of the message box, Dr. Krawchuk explains succinctly that there's a gap between wildfire and its implementation. The benefit is clearly linked to the solution: there's already federal momentum to connect science delivery to forest managers to develop effective forest prescriptions, and the solution is to expand funding and support so scientists and forest managers have more opportunities for collaboration.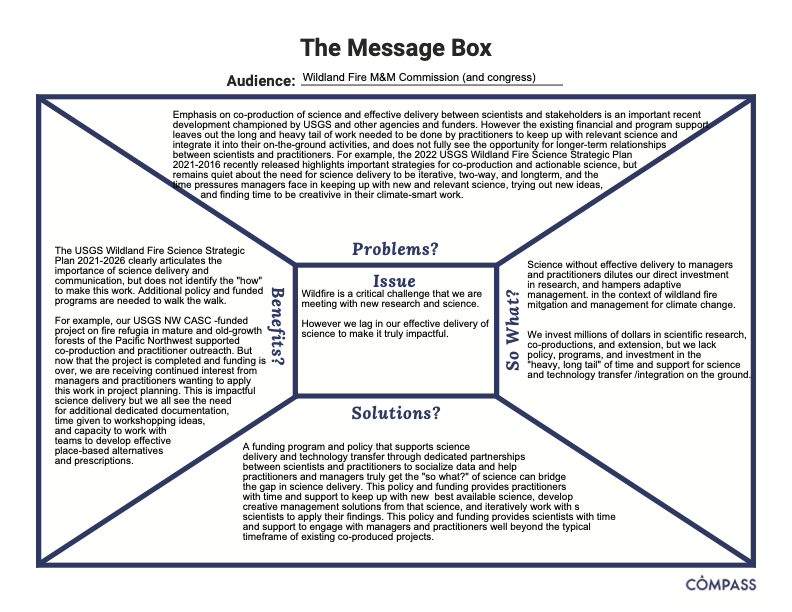 In breaking down her work into chunks, Dr. Krawchuk's work becomes much easier to craft into a recommendation further on down the line. By iterating on her message box through successive drafts and consultation with policy and communications experts, Dr. Krawchuk distilled her message into an actionable policy recommendation, summarized below:
The federal government should expand financial and institutional support for co-production of wildland fire science and science communication to help natural resource managers make evidence-based decisions in the context of the wildfire crisis.
Specifically, Congress should: direct the Government Accountability Office to address gaps and capacity needs at the agency level to best utilize evidence-based policymaking in wildland fire management; and allocate funding to the Department of Interior and US Department of Agriculture for investment in science integration.
Specifically, the DOI US Geological Survey and USDA US Forest Service should expand support for coprodution and science translation.
To read the full recommendation please visit FAS' Wildland Fire Recommendations. Dr. Krawchuk's recommendation is located under the "Science, Data, and Technology" heading.
Upon the publication of the expert recommendations, it's easy to see how Dr. Krawchuk's individualized, specific suggestions for the federal government fit into the overarching theme of her message box. The message box defines the overarching point of her facet of the issue, while the individualized recommendations are much more specific, with a clear focus on objectives and implementation for targeted audiences: Congress, the USGS, and the USFS.
Wildfire science is complex, with broad implications for the environment and society. In providing scientists with the tools to communicate their work and reach the right audience, COMPASS and its partners in the Wildland Fire Policy Accelerator — FAS, Conservation X Labs, and CCST — are working to make sure that science can inform policies that need to change to help us adapt to a shifting planet.