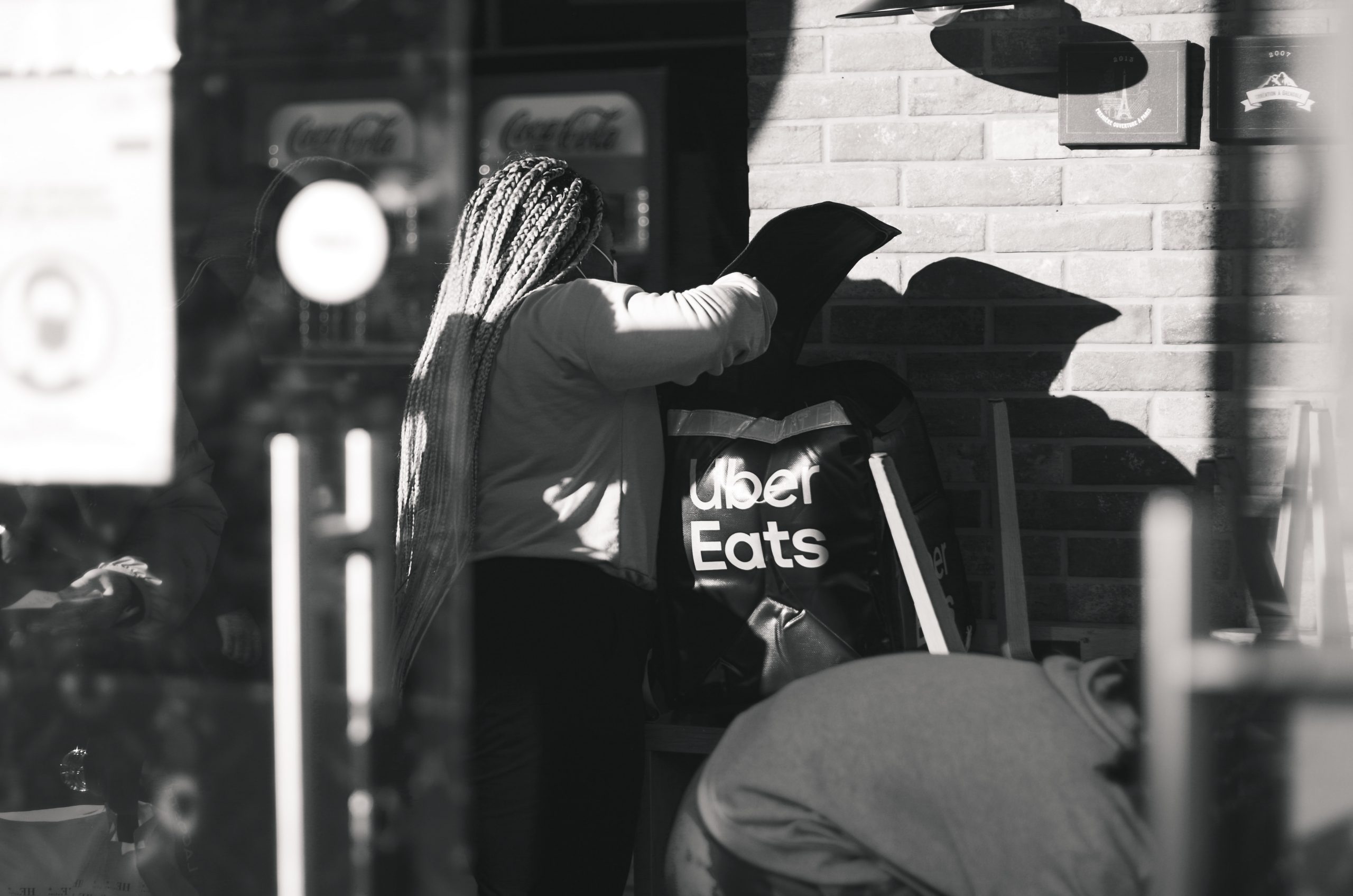 Social Innovation
day one project
Creating a Fair Work Ombudsman to Bolster Protections  for Gig Workers
05.02.23
|
9 min read
|
Text by Swathi Ramprasad, Kyle Barnes & Sahana Srinivasan
Summary
To increase protections for fair work, the U.S. Department of Labor (DOL) should create an Office of the Ombudsman for Fair Work. Gig workers are a category of non-employee contract workers who engage in on-demand work, often through online platforms. They have had historic vulnerabilities in the U.S. economy. A large portion of gig workers are people of color, and the nature of their temporary and largely unregulated work can leave them vulnerable to economic instability and workplace abuse. Currently, there is no federal mechanism to protect gig workers, and state-level initiatives have not offered thorough enough policy redress. Establishing an Office of the Ombudsman would provide the Department of Labor with a central entity to investigate worker complaints against gig employers, collect data and evidence about the current gig economy, and provide education to gig workers about their rights. There is strong precedent for this policy solution, since bureaus across the federal government have successfully implemented ombudsmen that are independent and support vulnerable constituents. To ensure its legal and long-lasting status, the Secretary of Labor should establish this Office in an act of internal agency reorganization.
Challenge and Opportunity
The proportion of the U.S. workforce engaging in gig work has risen steadily in the past few decades, from 10.1% in 2005 to 15.8% in 2015 to roughly 20% in 2018. Since the COVID-19 pandemic began, this trend has only accelerated, and a record number of Americans have now joined the gig economy and rely on its income. In a 2021 Pew Research study, over 16% of Americans reported having made money through online platform work alone, such as on apps like Uber and Doordash, which is merely a subset of gig work jobs. Gig workers in particular are more likely to be Black or Latino compared to the overall workforce.
Though millions of Americans rely on gig work, it does not provide critical employee benefits, such as minimum wage guarantees, parental leave, healthcare, overtime, unemployment insurance, or recourse for injuries incurred during work. According to an NPR survey, in 2018 more than half of contract workers received zero benefits through work. Further, the National Labor Relations Act, which protects employees' rights to unionize and collectively bargain without retaliation, does not protect gig workers. This lack of benefits, rights, and voice leaves millions of workers more vulnerable than full-time employees to predatory employers, financial instability, and health crises, particularly during emergencies—such as the COVID-19 pandemic.
Additionally, in 2022, inflation reached a decades-long high, and though the price of necessities has spiked, wages have not increased correspondingly. Extreme inflation hurts lower-income workers without savings the most and is especially dangerous to gig workers, some of whom make less than the federal minimum hourly wage and whose income and work are subject to constant flux.
State-level measures have as yet failed to create protections for all gig workers. In 2020, California passed AB5, legally reclassifying many gig workers as employees instead of independent contractors and thus entitling them to more benefits and protections. But further bills and Proposition 22 reverted several groups of gig workers, including online platform gig workers like Uber and Doordash drivers, to being independent contractors. Ongoing litigation related to Proposition 22 leaves the future status of online platform gig workers in California unclear. In 2022, Washington State passed ESHB 2076 guaranteeing online platform workers—but not all gig workers—the benefits of full-time employees.
This sparse patchwork of state-level measures, which only supports subgroups of gig workers, could trigger a "race to the bottom" in which employers of gig workers relocate to less strict states. Additionally, inconsistencies between state laws make it harder for gig workers to understand their rights and gain redress for grievances, harder for businesses to determine with certainty their duties and liabilities, and harder for states to enforce penalties when an employer is headquartered in one state and the gig worker lives in another. The status quo is also difficult for businesses that strive to be better employers because it creates downward pressure on the entire landscape of labor market competition. Ultimately, only federal policy action can fully address these inconsistencies and broadly increase protections and benefits for all gig workers.
The federal ombudsman's office outlined in this proposal can serve as a resource for gig workers to understand the scope of their current rights, provide a voice to amplify their grievances and harms, and collect data and evidence to inform policy proposals. It is the first step toward a sustainable and comprehensive national solution that expands the rights of gig workers.
Specifically, clarifying what rights, benefits, and means of recourse gig workers do and do not have would help gig workers better plan for healthcare and other emergent needs. It would also allow better tracking of trends in the labor market and systemic detection of employee misclassification. Hearing gig workers' complaints in a centralized office can help the Department of Labor more expeditiously address gig workers' concerns in situations where they legally do have recourse and can otherwise help the Department of Labor better understand the needs of and harms experienced by all workers. Collecting broad-ranging data on gig workers in particular could help inform federal policy change on their rights and protections. Currently, most datasets are survey based and often leave out people who were not working a gig job at the time the survey was conducted but typically otherwise do. More broadly, because of its informal and dynamic nature, the gig economy is difficult to accurately count and characterize, and an entity that is specifically charged with coordinating and understanding this growing sector of the market is key.
Lastly, employees who are not gig workers are sometimes misclassified as such and thus lose out on benefits and protections they are legally entitled to. Having a centralized ombudsman office dedicated to gig work could expedite support of gig workers seeking to correct their classification status, which the Wage and Hour Division already generally deals with, as well as help the Department of Labor and other agencies collect data to clarify the scope of the problem.
Plan of Action
The Department of Labor should establish an Office of the Ombudsman for Fair Work. This office should be independent of Department of Labor agencies and officials, and it should report directly to the Secretary of Labor. The Office would operate on a federal level with authority over states.
The Secretary of Labor should establish the Office in an act of internal agency reorganization. By establishing the Office such that its powers do not contradict the Department of Labor's statutory limitations, the Secretary can ensure the Office's status as legal and long-lasting, due to the discretionary power of the Department to interpret its statutes.
The role of the Office of the Ombudsman for Fair Work would be threefold: to serve as a centralized point of contact for hearing complaints from gig workers; to act as a central resource and conduct outreach to gig workers about their rights and protections; and to collect data such as demographic, wage, and benefit trends on the labor practices of the gig economy. Together, these responsibilities ensure that this Office consolidates and augments the actions of the Department of Labor as they pertain to workers in the gig economy, regardless of their classification status.
The functions of the ombudsman should be as follows:
Establish a clear and centralized mechanism for hearing, collating, and investigating complaints from workers in the gig economy, such as through a helpline or mobile app.
Establish and administer an independent, neutral, and confidential process to receive, investigate, resolve, and provide redress for cases in which employers misrepresent to individuals that they are engaged as independent contractors when they're actually engaged as employees.
Commence court proceedings to enforce fair work practices and entitlements, as they pertain to workers in the gig economy, in conjunction with other offices in the DOL.
Represent employees or contractors who are or may become a party to proceedings in court over unfair contracting practices, including but not limited to misclassification as independent contractors. The office would refer matters to interagency partners within the Department of Labor and across other organizations engaged in these proceedings, augmenting existing work where possible.
Provide education, assistance, and advice to employees, employers, and organizations, including best practice guides to workplace relations or workplace practices and information about rights and protections for workers in the gig economy.
Conduct outreach in multiple languages to gig economy workers informing them of their rights and protections and of the Office's role to hear and address their complaints and entitlements.
Serve as the central data collection and publication office for all gig-work-related data. The Office will publish a yearly report detailing demographic, wage, and benefit trends faced by gig workers. Data could be collected through outreach to gig workers or their employers, or through a new data-sharing agreement with the Internal Revenue Service (IRS). This data report would also summarize anonymized trends based on the complaints collected (as per function 1), including aggregate statistics on wage theft, reports of harassment or discrimination, and misclassification. These trends would also be broken down by demographic group to proactively identify salient inequities. The office may also provide separate data on platform workers, which may be easier to collect and collate, since platform workers are a particular subject of focus in current state legislation and litigation.
Establishing an Office of the Ombudsman for Fair Work within the Department of Labor will require costs of compensation for the ombudsman and staff, other operational costs, and litigation expenses. To reflect the need for a reaction to the rapid ongoing changes in gig economy platforms, a small portion of the Office's budget should be set aside to support the appointment of a chief innovation officer, aimed at examining how technology can strengthen its operations. Some examples of tasks for this role include investigating and strengthening complaint sorting infrastructure, utilizing artificial intelligence to evaluate contracts for misclassification, and streamlining request for proposal processes.
Due to the continued growth of the gig economy, and the precarious status of gig workers in the onset of an economic recession, this Office should be established in the nearest possible window. Establishing, appointing, and initiating this office will require up to a year of time, and will require budgeting within the DOL.
There are many precedents of ombudsmen in federal office, including the Office of the Ombudsman for the Energy Employees Occupational Illness Compensation Program within the Department of Labor. Additionally, the IRS established the Office of the Taxpayer Advocate, and the Department of Homeland Security has both a Citizenship and Immigration Services Ombudsman and an Immigration Detention Ombudsman. These offices have helped educate constituents about their rights, resolved issues that an individual might have with that federal agency, and served as independent oversight bodies. The Australian Government has a Fair Work Ombudsman that provides resources to differentiate between an independent contractor and employee and investigates employers who may be engaging in sham contracting or other illegal practices. Following these examples, the Office of the Ombudsman for Fair Work should work within the Department of Labor to educate, assist, and provide redress for workers engaged in the gig economy.
Conclusion
How to protect gig workers is a long-standing open question for labor policy and is likely to require more attention as post-pandemic conditions affect labor trends. The federal government needs a solution to the issues of vulnerability and instability experienced by gig workers, and this solution needs to operate independently of legislation that may take longer to gain consensus on. Establishing an office of an ombudsman is the first step to increase federal oversight for gig work. The ombudsman will use data, reporting, and individual worker cases to build a clearer picture for how to create redress for laborers that have been harmed by gig work, which will provide greater visibility into the status and concerns of gig workers. It will additionally serve as a single point of entry for gig workers and businesses to learn about their rights and for gig workers to lodge complaints. If made a reality, this office will be an influential first step in changing the entire policy ecosystem regarding gig work.
Frequently Asked Questions
Why would this be an effective way to handle the vulnerabilities gig workers face?
There is a current definitional debate about whether gig workers and platform workers are employees or contractors. Until this issue of misclassification can be resolved, there will likely not be a comprehensive state or federal policy governing gig work. However, the office of an ombudsman would be able to serve as the central point within the Department of Labor to handle gig worker issues, and it would be the entity tasked with collecting and publishing data about this class of laborers. This would help elevate the problems gig workers face as well as paint a picture of the extent of the issue for future legislation.
How long would the ombudsman's tenure be?
Each ombudsman will be appointed for a six-year period, to ensure insulation from partisan politics.
Why should this be a federal and not state-level issue?
States often do not have adequate solutions to handle the discrepancies between employees and contractors. There is also the "race to the bottom" issue, where if protections are increased in one state, gig employers will simply relocate to states where the policies are less stringent. Further, there is the issue of gig companies being headquartered in one state while employees work in another. It makes sense for the Department of Labor to house a central, federal mechanism to handle gig work.
The tasks of ombudsmen are often broad in scope. How will the office of the Ombudsman for Fair Work ensure protections for gig workers?
The key challenge right now is for the federal government to collect data and solve issues regarding protections for gig work. The office of the ombudsman's broadly defined mandate is actually an advantage in this still-developing conversation about gig work.
What are key timeline limitations for this proposal?
Establishing a new Department of Labor office is no small feat. It requires a clear definition of the goal and allowed activities of the ombudsman. This would require buy-in from key DOL bureaucrats. The office would also have to hire, recruit, and train staff. These tasks may be speed bottlenecks for this proposal to get off the ground. Since DOL plans its budget several years in advance, this proposal would likely be targeted for the 2026 cycle.