Widespread Blurring of Satellite Images Reveals Secret Facilities
Want to know how to make a satellite imagery analyst instantly curious about something?
Blur it out.
Google Earth occasionally does this at the request of governments that want to keep prying eyes away from some of their more sensitive military or political sites. France, for example, has asked Google to obscure all imagery of its prisons after a French gangster successfully conducted a Hollywood-inspired jailbreak involving drones, smoke bombs, and a stolen helicopter(!)—and Google has agreed to comply by the end of 2018. In similar fashion, an old Dutch law requires Dutch companies to blur their satellite images of military and royal facilities—even to the point where a satellite imagery provider once doctored an image of Volkel Air Base after it was purchased by FAS' very own Hans Kristensen.
Yandex Maps—Russia's foremost mapping service—has also agreed to selectively blur out specific sites beyond recognition; however, it has done so for just two countries: Israel and Turkey. The areas of these blurred sites range from large complexes—such as airfields or munitions storage bunkers—to small, nondescript buildings within city blocks.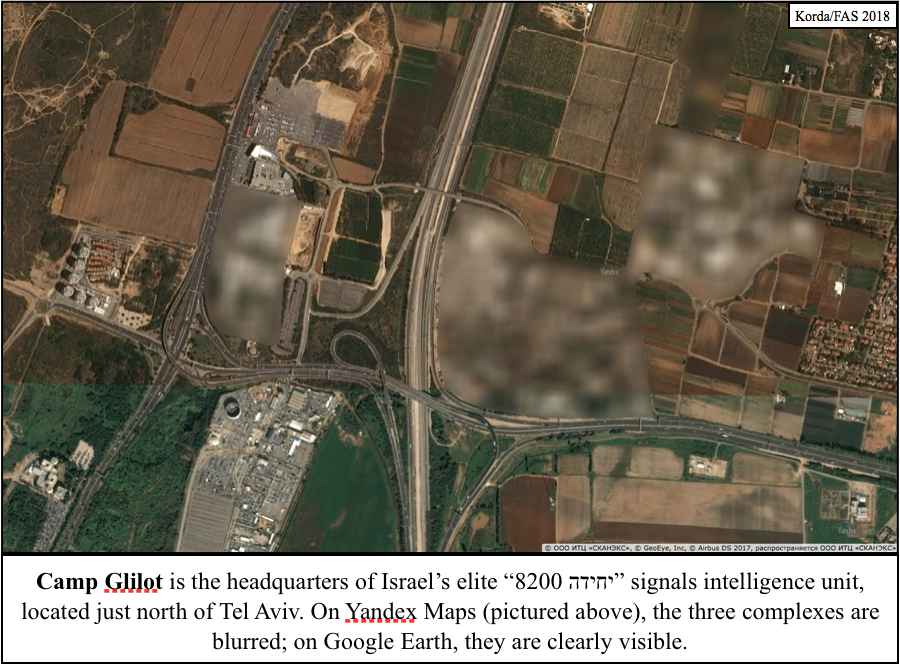 Although blurring out specific sites is certainly unusual, it is not uncommon for satellite imagery companies to downgrade the resolution of certain sets of imagery before releasing them to viewing platforms like Yandex or Google Earth; in fact, if you trawl around the globe using these platforms, you'll notice that different locations will be rendered in a variety of resolutions. Downtown Toronto, for example, is always visible at an extremely high resolution; looking closely, you can spot my bike parked outside my old apartment. By contrast, imagery of downtown Jerusalem is always significantly blurrier; you can just barely make out cars parked on the side of the road.

As I explained in my previous piece about geolocating Israeli Patriot batteries, a 1997 US law known as the Kyl-Bingaman Amendment (KBA) prohibits US companies from publishing satellite imagery of Israel at a Ground Sampling Distance lower than what is commercially available. This generally means that US-based satellite companies like DigitalGlobe and viewing platforms like Google Earth won't publish any images of Israel that are better than 2m resolution.
Foreign mapping services like Russia's Yandex are legally not subject to the KBA, but they tend to stick to the 2m resolution rule regardless, likely for two reasons. Firstly, after 20 years the KBA standard has become somewhat institutionalized within the satellite imagery industry. And secondly, Russian companies (and the Russian state) are surely wary of doing anything to sour Russia's critical relationship with Israel.
However, Yandex has taken a step well beyond simply downgrading its Israeli imagery, as is typical for most mapping services. Yandex itself—or perhaps its imagery provider ScanEx—has blurred out specific military installations in their entirety. Interestingly, it has done the same to Turkey, a country that benefits from no special standards and is therefore almost always shown in very high resolution.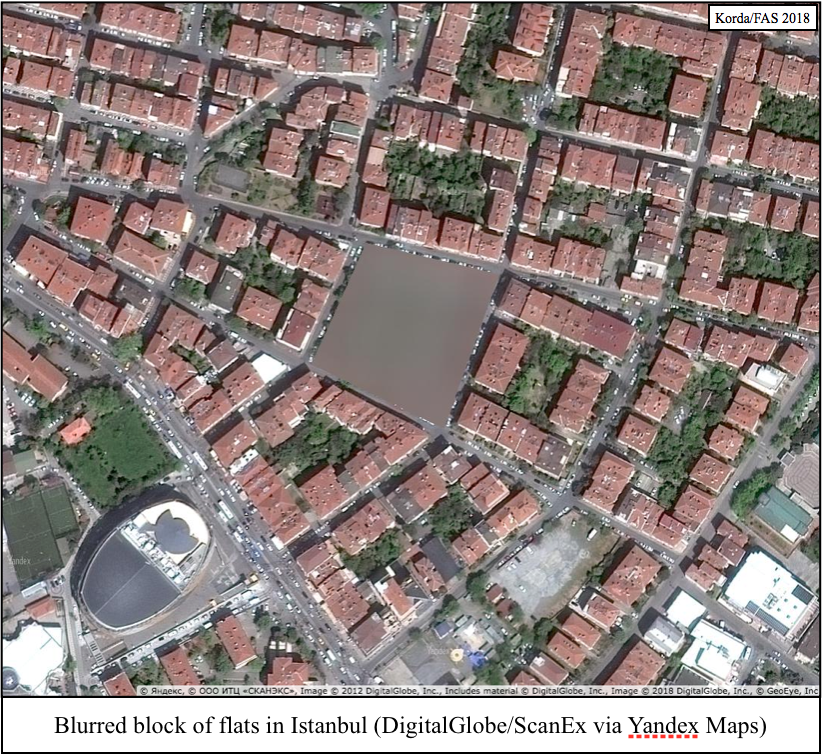 This blurring is almost certainly the result of requests from both Israel and Turkey; it seems highly unlikely that a Russian company would undertake such a time-consuming task of its own volition. Fortunately (from an OSINT perspective), this has had the unintended effect of revealing the location and exact perimeter of every significant military facility within both countries, if one is obsessive curious enough to sift through the entire map looking for blurry patches. Matching the blurred sites to un-blurred (albeit downgraded) imagery available through Google Earth is a method of "tipping and cueing," in which one dataset is used to inform a more detailed analysis of a second dataset.
My complete list of blurred sites in both Israel and Turkey totals over 300 distinct buildings, airfields, ports, bunkers, storage sites, bases, barracks, nuclear facilities, and random buildings—prompting several intriguing points of consideration:
Included in the list of Yandex's blurred sites are at least two NATO facilities: Allied Land Command (LANDCOM) in Izmir, and Incirlik Air Base, which hosts the largest contingent of US B61 nuclear gravity bombs at any single NATO base. 

Strangely, no Russian facilities have been blurred—including its nuclear facilities, submarine bases, air bases, launch sites, or numerous foreign military bases in Eastern Europe, Central Asia, or the Middle East.
Although none of Russia's permanent military installations in Syria have been blurred, almost the entirety of Syria is depicted in extremely low resolution, making it nearly impossible to utilize Yandex for analyses of Syrian imagery. By contrast, both Crimea and the entire Donbass region are visible at very high resolutions, so this blurring standard applies only selectively to Russia's foreign adventures.
All four Israeli Patriot batteries that I identified using radar interference in my

previous post

have been blurred out, confirming that these sites do indeed have a military function.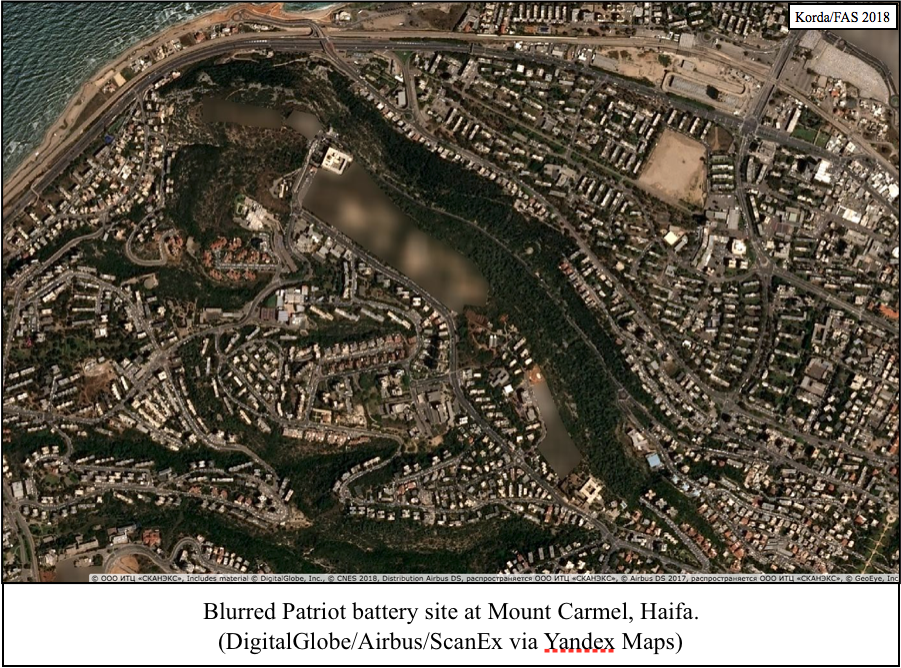 Putting aside the geopolitical intrigue of Russia's relations with both Israel and Turkey, Yandex's actions are a prime example of what is known as the Streisand Effect. In 2003, Barbra Streisand attempted to sue a photographer who posted photos of her Malibu mansion online, claiming $10 million in damages and demanding that the innocuous photo be taken down. Her actions completely backfired: not only did Streisand lose the case and have to cover the defendant's legal fees, but the attention raised by her lawsuit directed significant traffic to the photo in question. Before the lawsuit, the photo had only been viewed six times (including twice by Streisand's lawyers); a month later, the photo had accumulated over 420,000 views—a prime example of how attempting to obscure something is actually likely to result in unwanted attention.
So too with Yandex. By complying with requests to selectively obscure military facilities, the mapping service has actually revealed their precise locations, perimeters, and potential function to anyone curious enough to find them all.