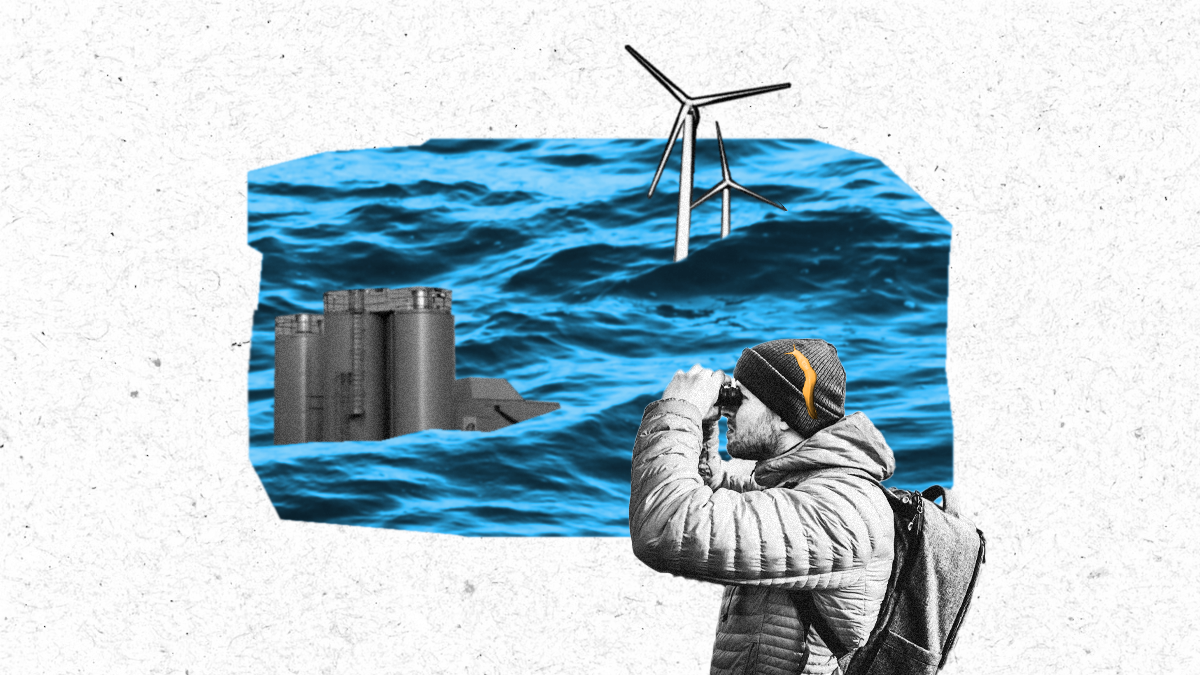 Ecosystems & Entrepreneurship
One Ocean, One Blue Economy with Maritime Blue Coalition
Washington Maritime Blue aims to scale its blue economy innovation cluster in the Pacific Northwest Region. The coalition is supporting an invigorated and resilient regional blue economy by connecting clean energy production and storage technologies to maritime and ocean economies. They are working across the innovation spectrum, incubating early-stage ventures and advancing large-scale technologies being deployed in the region. Including projects related to hydrogen production and storage.
Joshua Berger is the President/CEO of Washington Maritime Blue, an organization committed to the development of maritime business, technology, and practices that promote a sustainable future contributing to economic growth, ecological health, and thriving communities.
This interview is part of an FAS series on Unleashing Regional Innovation where we talk to leaders building the next wave of innovative clusters and ecosystems in communities across the United States. We aim to spotlight their work and help other communities learn by example. Our first round of interviews are with finalists of the Build Back Better Regional Challenge run by the Economic Development Administration as part of the American Rescue Plan.
Ryan: Could you tell us a little bit about how your build back blue coalition started, and the history of your organization as an overview?
Joshua: Our origin story is not wholly unique, but certainly pretty specific to the success of growing out an innovation cluster organization and the breadth of the relationships and concentric circles that build out from that. In my former role I was working for our Governor Jay Inslee. I was both policy and economic development lead on all things related to our Maritime and Ocean industries. We recognized that we had a $40 billion maritime industry here. That's been a legacy sector here in the state but closely nestled—literally and figuratively—with a booming and growing tech sector, certainly one of the most advanced and comprehensive manufacturing sectors that's tied to Boeing and aerospace more broadly, and a significant amount of capital and a growing startup ecosystem in this region.
And all that was growing and being recognized alongside a major transition happening in maritime, oceans and fisheries and the growth of this term: the 'blue economy.' And so the governor put together a high level advisory committee and asked for us to create a stakeholder driven statewide strategy for the blue economy. How could Washington State Lead nationally, if not globally on the growth of the blue economy? This was about eight years ago now at this point.
So we spent 18 months gathering up hundreds of stakeholders in formal and informal facilitated discussions and meetings. And as we were doing that, recognizing where all our all our assets were and where we had some real significant opportunity to compete and grow.
We went around the globe to places like Norway and Portugal and Hamburg and Singapore, and asked, 'Okay, how are you leading in this innovation economy? How are you driving capital? How are you helping corporates work with research facilities, institutions, community partners, and public partners'? They all had these things called 'Innovation Cluster' organizations—formally organized clusters, but in a way where you very deliberately tied your industry partners with research institutions, university, public agencies (everything from federal state agencies, ports, municipalities, transit authorities), with other NGOs and community based organizations.
Add that together very intentionally and we could drive forward and lead in the blue economy. So we raised our hand and said 'yes, we would like one of those.' And we formed it and spun it out of our state Department of Commerce. And so that organization has been running Washington Maritime Blue for five years now. We have multiple program areas, have grown to 130 plus members, with 12 full time staff, supporting demonstration projects, supporting the entrepreneurial and startup ecosystem, working on career pipeline, workforce development efforts, as well as being a conduit for delegations and knowledge sharing and business development opportunities all broadly focused on the blue economy. It's really about profitability, sustainability, and equity as the core focus areas of maritime and oceans.
That's a great overview, thank you. So you had a coalition forming for several years before the EDA came out with their Build Back Better Regional Challenge award? How did you approach that given that you already had a partnership and had an innovation cluster that was in development?
Well, we've already been running on our second round of EDA support as well as state support, local ports and municipalities. It was an EDA regional innovation strategy grant that supported the state, the development of the strategy and the formation of the cluster organization. We were then awarded an EDA build to scale award which we're still engaged in. It helps us operationalize and take the cluster organization and its goal is to the next level. And when the build back better process came along, we sort of said okay, how do we shape what's now already a rich and effective cluster—which is itself a coalition of partners focused on innovation—and broaden that out, so that we are very intentionally helping build and focused on the intersection of the blue economy and the green economy on the energy transition side of the house. Our organization will work on everything from kelp, to digital drayage truck solutions to the future of fuels. And this was a real attempt to support the innovation happening in those multiple sectors in concentric circles around the blue economy.
How did you decide to focus on the intersection of energy projects, specifically clean and green energy, with the blue economy? And when you were making that decision, who was at the table/ who informed that choice?
We have close partners around these multiple spaces. If we just look at maritime decarbonization, which has been a heavy focus for us, we continue to recognize one of the more challenging aspects is to actually make that transition across maritime (for example ferry electrification and future fuels). I mean ships, drayage trucks, port operations. It's one thing to have the technology on board vessels so that a vessel could run low to zero emissions. It's another thing to have the infrastructure across the community that supports an entire system of those vessels.
We have hundreds of different types of vessels, thousands of different vessels that are part of the maritime economy that works here. What we recognized quickly was utilities have a strong role to play. Certainly the future of fuel has a role to play. At the same time, we're seeing that transition in the EV and transportation markets, we're seeing that transition happening in the aerospace markets with sustainable aerospace fuel and the like. A lot of this infrastructure is shared. So if we're going to truly be able to make this transition and move beyond demonstration projects we need a larger ecosystem and infrastructure to support it.
And so, we've worked closely with other organizations like the Clean Tech Alliance, the newly forming CHARGE consortium which is focused on electrically generated e-fuels, and the aerospace industry and others. So we recognize if we can form this larger coalition focused on the clean energy transition, and we take it through a blue economy lens, we can support an ecosystem that supports all of this. Whether it's the actual fuel production and infrastructure to get it to a working waterfront, as well as the startup ecosystem and workforce ecosystems that ultimately help that help that continue to grow.
So this was this stuff we were already working on with partners and as the opportunity came along we as an organization have the operational infrastructure in place, coordination infrastructure in place, already have all the industry and research partners at the table. And if we can bring in our partners in those adjacent sectors, then we felt we had a strong coalition to build.
What are a few of the main projects that you proposed to work on and are you still working on them, even though you didn't wind up winning the full phase two award?
The projects are all still ongoing. Some we have a lead on some others have leads on. The actual infrastructure capital projects that are moved forward are fuel production, a tribal facility on the border of Washington and Oregon, another is a transition from the final coal plant in Washington State on the fuel production side. On the demonstration side is a demonstration of being able to utilize formic acid as a liquid hydrogen carrier that supports port and terminal operations. And another is building out the infrastructure to support a connected maritime and manufacturing area of our state. So the Tacoma tide flats— the Port of Tacoma and many other manufacturing facilities including a fuel production site is there. What we are proposing and are continuing to build is a 5G and edge-enabled area that could support the efficient flow of fuel, chips, manufacturing, and the like.
And then another innovation center on the east side of our state, which is more of a hub around where fuel production is happening: electrically generated hydrogen for the most part. So we're building out the hydrogen infrastructure and demonstrations of where that would be able to be used. We also had programmatic projects which continue to enable our organizations to work together to have a pipeline of new projects into that ecosystem. How do we support them and build out new demonstration projects, the startup ecosystem, and then the workforce development to support it. So there were capital and programmatic projects as well.
You've talked a little bit about entrepreneurs, you mentioned how you have startups in house. And you've talked about how you work with more established players like utilities. You started out of a state level commerce program. That's several of the stakeholders that are important in an innovation ecosystem, but two that I haven't heard as much about that I would love to know how you interact with are research institutions and sources of risk capital.
They are all part of the quintuple helix of how we do innovation for sure. We have close working relationships with multiple different research institutions that are actually members of our organization. So our membership is made up of that quintuple helix as well.
The research institutions we engage are our national lab here, the Pacific Northwest National Lab (PNNL), multiple centers at the University of Washington include the Applied Physics Lab, Pacific Marine Energy Center, Washington State University's CHARGE Consortium and JC Dream Consortium, which are really focused on new fuels. Then other research institutions outside of our area, including the Middlebury Institute for the blue economy. And then, actually through the pandemic, we did a lot of work with the Institute of Health Metrics and Evaluation at the University of Washington as we were helping our maritime and fishing industry work through the pandemic. So they are a core part of this.
One example which is a capital project that was proposed in our build back better application and is continuing on with various funding was the ability to capture carbon to store high density hydrogen in a safe, transportable manner and the ability to extract that hydrogen out of it and utilize it for multiple different purposes. For us, a maritime use case is to be able to run and support basically a one megawatt generator, zero energy generator. And so a startup that's part of our ecosystem figured out the way to essentially have a single carbon capture moment. Capture some carbon, shoot it full of electricity and create formic acid with high density hydrogen inside of it. The Pacific Northwest National Lab had the reformer on the other side to then pull the hydrogen out of the formic acid and utilize it in multiple different ways. So this was a partnership between the startup, the national lab, the utility who's going to own and operate it, and two different maritime operators in the port that we're going to actually utilize the energy. And then a global engineering firm to do some wraparound support services.
That's a quintessential joint innovation project where our role is to help layer public private capital, bring the value chain of partners, we have the relationship with the terminal operators and the truck drivers, the labs, the startups, the utilities, etc. So that's a critical way in which one example of how the national labs and research institutions broadly play a part. We do a lot of work to bring those research institutions together. We're working now to essentially create a charter between the research institutions involved in our organization, and how they're gonna work together to focus on ocean based climate solutions: Oregon State University, University of Alaska-Fairbanks, University of Washington, WSU, and others to have some formality across some of that too. The research institutions, like the rest of that quintuple helix, are critical.
On the capital side, it's all about getting capital to get this stuff moving. We believe that there's an important role for layering public and private capital. On the private side we have growing relationships with all the different flavors of capital, whether it's debt equity, risk, others. And they're mostly relationships who are interested in the projects and looking at different ways to finance them. That started with a capital landscape study—we were looking across our region and across the country asking who's funding things in the blue economy and at what stages and what levels and what mechanisms. Certainly we have a pipeline of venture risk capital interested in the startups that come through our programs. So we've done a lot of work to energize that pipeline, as well as educate that pipeline on the opportunities in the blue economy and oceans. And we're now forming our own early stage investment fund. So we've now partnered with a longtime impact venture capital managing partner and collectively created a new fund that will invest directly into our marquee accelerator program, which are all venture scale companies.
You mentioned that you did a roadshow across the globe at the start—Norway and other port facilities across Europe. What are those relationships like today and do you still keep in touch? Whether that's with colleagues in the US, like the Port of LA, or the Pacific, or globally?
This is critical. There is one ocean and so therefore there is one blue economy, right? We're intricately tied. Norway in particular, primarily because of the leadership they have in maritime electrification and offshore wind development. As we were developing this work and in my former role I helped negotiate an MOU (Memorandum of Understanding) between Norway and the state of Washington, which we continue to build off of and update. We also have one with Finland, Singapore and Korea and a number of others that we're engaged with- France, Portugal. We look at opportunities, through the clusters and then into their state run economic development and innovation agencies. My friend from Norway is here this week. I'll be in Iceland next week. Through the startup community we run a program called the One Ocean accelerator, which is specifically designed for international startups who are a little further along and looking for a soft entry landing point into the US market. So we run a 12-week program dedicated to international startups. We've had them from Korea and Finland and Norway and Portugal. And then we'll be expanding this year as well. We have international delegations that come and go through this region and that we also bring across the globe. So those relationships are integral, absolutely.
If you're successful with the projects that you're working on, what is your end vision for what Washington state looks like in 10-15 years? How would you like to see it look different because of your impact?
Washington State has probably the most aggressive climate goals in the country, and have made some significant strides to set up the incentives and infrastructure and investments to be able to do that here. One of those things is we have the cleanest and cheapest electrons in the country. And so if you're going to make a business model work for this clean energy transition, whether it's fuel production or operations or use, you can make it work here first. And so if we are able to effectively couple our climate incentives, the capital landscape that's here, and the infrastructure to support this work we're going to see significant innovation coming to this region. Whether it's to support it or build it from the inside up. We see it as being an aggressively welcoming home for innovation across the clean energy transition, which is going to allow us to meet our climate goals here by 2025 – 2030 and beyond. Active growing legacy sectors that are doing it in new, clean, equitable and sustainable fashions and continued growth across this region. That's certainly our goal.