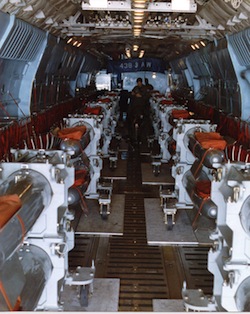 By Hans M. Kristensen
Only a few years before U.S. nuclear bombs deployed at Volkel Air Base in the Netherlands are scheduled to be airlifted back to the United States and replaced with an improved bomb with greater accuracy, the U.S. and Dutch governments are in a dispute over how to deal with the environmental consequences of a potential accident.
The Dutch government wants environmental remediation to be discussed in the Netherlands United States Operational Group (NUSOG), a special bilateral group established in 2003 to discuss matters relating to the U.S. deployment of nuclear weapons in the Netherlands.
But the United States has refused, arguing that NUSOG is the wrong forum to discuss the issue and that environmental remediation is covered by the standard Status of Forces Agreement from 1951.
The disagreement at one point got so heated that a Dutch officials threatened that his government might have to consider reviewing US Air Force nuclear overflight rights of the Netherlands if the United States continue to block the issue from being discussed within the NUSOG.
The dispute was uncovered by the Brandpunt Reporter of the TV station KRO (see video and also this report), who discovered  three secret documents previously released by WikiLeaks (document 1, document 2, and document 3).
The documents not only describe the Dutch government's attempts to discuss – and U.S. efforts to block – the issue within NUSOG, but also confirm what is officially secret but everyone knows: that the United States stores nuclear weapons at Volkel Air Base.  Continue reading →