Dr. Yousaf Butt, a nuclear physicist, is professor and scientist-in-residence at the James Martin Center for Nonproliferation Studies at the Monterey Institute of International Studies. The views expressed are his own.
Dr. George N. Lewis is a senior research associate at the Judith Reppy Institute for Peace and Conflict Studies at Cornell University.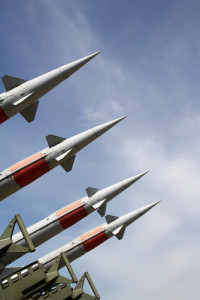 Researchers from the Federation of American Scientists (FAS) asked two physicists who are experts in missile defense issues, Dr. Yousaf Butt and Dr. George Lewis, to weigh in on last week's announcements on missile defense by the Obama administration.
Before exploring their reactions and insights, it is useful to identify salient elements of U.S. missile defense and place the issue in context. There are two main strategic missile defense systems fielded by the United States: one is based on large high-speed interceptors called Ground-Based Interceptors or "GBI's" located in Alaska and California and the other is the mostly ship-based NATO/European system. The latter, European Phased Adaptive Approach (EPAA) to missile defense is designed to deal with the threat posed by possible future Iranian intermediate- and long-range ballistic missiles to U.S. assets, personnel, and allies in Europe – and eventually attempt to protect the U.S. homeland.
The EPAA uses ground-based and mobile ship-borne radars; the interceptors themselves are mounted on Ticonderoga class cruisers and Arleigh Burke class destroyers. Two land-based interceptor sites in Poland and Romania are also envisioned – the so-called "Aegis-ashore" sites. The United States and NATO have stated that the EPAA is not directed at Russia and poses no threat to its nuclear deterrent forces, but as outlined in a 2011 study by Dr. Theodore Postol and Dr. Yousaf Butt, this is not completely accurate because the system is ship-based, and thus mobile it could be reconfigured to have a theoretical capability to engage Russian warheads.
Indeed, General James Cartwright has explicitly mentioned this possible reconfiguration – or global surge capability – as an attribute of the planned system: "Part of what's in the budget is to get us a sufficient number of ships to allow us to have a global deployment of this capability on a constant basis, with a surge capacity to any one theater at a time."
In the 2011 study, the authors focused on what would be the main concern of cautious Russian military planners —the capability of the missile defense interceptors to simply reach, or "engage," Russian strategic warheads—rather than whether any particular engagement results in an actual interception, or "kill." Interceptors with a kinematic capability to simply reach Russian ICBM warheads would be sufficient to raise concerns in Russian national security circles – regardless of the possibility that Russian decoys and other countermeasures might defeat the system in actual engagements. In short, even a missile defense system that could be rendered ineffective could still elicit serious concern from cautious Russian planners. The last two phases of the EPAA – when the higher burnout velocity "Block II" SM-3 interceptors come on-line in 2018 – could raise legitimate concerns for Russian military analysts.
A Russian news report sums up the Russian concerns: "[Russian foreign minister] Lavrov said Russia's agreement to discuss cooperation on missile defense in the NATO Russia Council does not mean that Moscow agrees to the NATO projects which are being developed without Russia's participation. The minister said the fulfillment of the third and fourth phases of the U.S. 'adaptive approach' will enter a strategic level threatening the efficiency of Russia's nuclear containment forces." [emphasis added]
With this background in mind, FAS' Senior Fellow on State and Non-State Threat, Charles P. Blair (CB), asked Dr. Yousaf Butt (YB) and Dr. George Lewis (GL) for their input on recent developments on missile defense with eight questions.
---
Q: (CB) Last Friday, Secretary of Defense Hagel announced that the U.S. will cancel the last Phase – Phase 4 – of the European Phased Adaptive Approach (EPAA) to missile defense which was to happen around 2021. This was the phase with the faster SM-3 "Block IIB" interceptors. Will this cancellation hurt the United State's ability to protect itself and Europe? Continue reading →