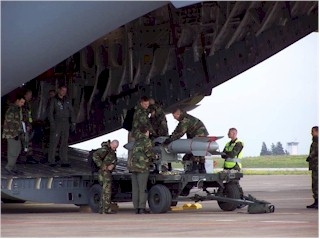 The United States appears to have quietly removed nuclear weapons from Ramstein Air Base. Here a B61 nuclear bomb is loaded unto a C-17 cargo aircraft.
By Hans M. Kristensen
The U.S. Air Force has removed its main base at Ramstein in Germany from a list of installations that receive periodic nuclear weapons inspections, indicating that nuclear weapons previously stored at the base may have been removed and withdrawn to the United States.
If correct, the withdrawal reduces the number of U.S. nuclear weapons deployed in Europe to an estimated 350 B61 bombs, or roughly equivalent to the size of the entire French nuclear weapons inventory.
Continue reading →