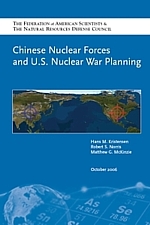 An incipient nuclear arms race is emerging between China and the United States, according to a new report published today by the Federation of American Scientists and the Natural Resources Defense Council.
The 250-page report, Chinese Nuclear Forces and U.S. Nuclear War Planning, outlines the status and possible future development of China's nuclear weapons, describes the history of U.S. nuclear targeting of China, and simulates nuclear strike scenarios between the two nuclear powers.
Both countries are pointing to the other as an excuse to modernize nuclear forces. In the United States the report finds that the Pentagon, the intelligence community, congressional committees, private institutes and the news media frequently overstate Chinese capabilities or present dramatic new developments out of context to underscore a threat.
China, for its part, cloaks its nuclear forces in a veil of secrecy, which creates suspicion and fear in other countries about Chinese intentions.
The report, which is based on analysis of declassified and unclassified U.S. government documents as well as commercial satellite images of Chinese installations, urges both countries to take steps to halt and reverse the tension and military build-up.
Continue reading →