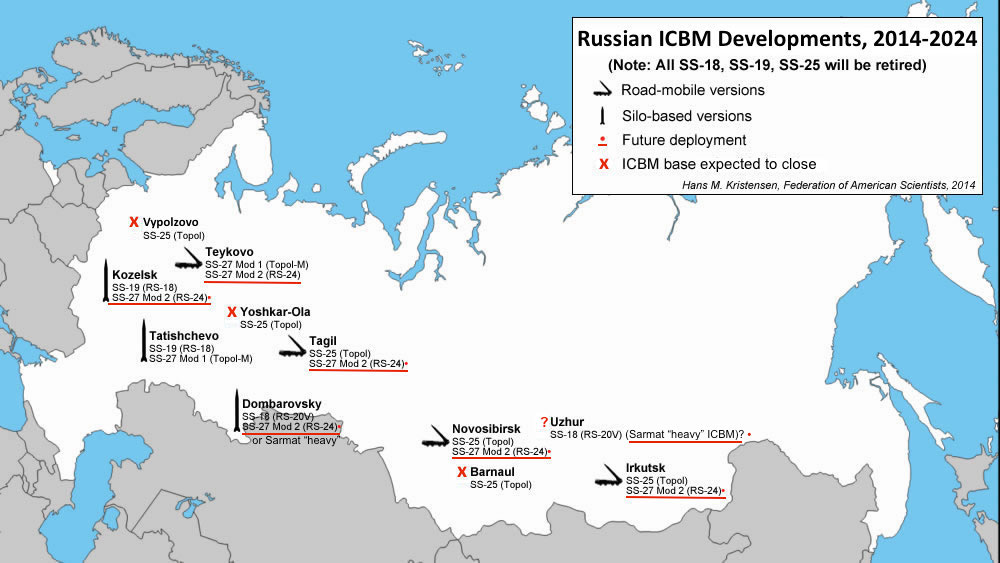 By Hans M. Kristensen
In our Nuclear Notebook on Russian nuclear forces from March this year, Robert S. Norris and I described the significant upgrade that's underway in Russia's force of land-based intercontinental ballistic missiles (ICBMs).
Over the next decade, all Soviet-era ICBMs will be retired and replaced with a smaller force consisting of mainly five variants of one missile: the SS-27.
After more than a decade-and-a-half of introduction, the number of SS-27s now makes up a third of the ICBM force. By 2016, SS-27s will make up more than half of the force, and by 2024 all the Soviet-era ICBMs will be gone.
The new force will be smaller and carry fewer nuclear warheads than the old, but a greater portion of the remaining warheads will be on missiles carried on mobile launchers.
The big unknowns are just how many SS-27s Russia plans to produce and deploy, and how many new (RS-26 and Sarmat "heavy") ICBMs will be introduced. Without the new systems or increased production of the old, Russia's ICBM force would probably level out just below 250 missiles by 2024. In comparison, the U.S. Air Force plans to retain 400 ICBMs.
This disparity and the existence of a large U.S. reserve of extra warheads that can be "uploaded" onto deployed missiles to increase the arsenal if necessary drive top-heavy ICBM planning in the Russian military which seeks to maximize the number of warheads on each missile to compensate for the disparity and keep some degree of overall parity with the United States.
This dilemma suggests the importance of reaching a new agreement to reduce the number deployed strategic warheads and missiles. A reduction of "up to one-third" of the current force, as recently endorsed by the new U.S. nuclear employment strategy, would be a win for both Russia and the United States. It would allow both countries to trim excess nuclear capacity and save billions of dollars in the process.  Continue reading →